Most of you know by now that the reason for my silence is that Cheese has arrived. Though, we don't call her Cheese anymore. Even after her umbilical cord ponged of Stinking Bishop for a couple of days there.
Before we get into the details, I will explain how this all happened. Not the getting pregnant bit, but the becoming unpregnant bit.
We last left off with us reaching June and celebrating with a delightful membrane sweep. Although it kicked something into action, Cheese wasn't quite ready to make an appearance. So as scheduled, we all packed into the car on Wednesday the 3rd and went to Banbury for my midwife appointment at the hospital. I explained that I'd had the sweep done and that I'd been extra crampy and felt that things had started a bit and she decided to take a look. Or feel rather, but investigate nonetheless.
She said that I was now at least 2cm dilated and the cervix was all ready. While she was at "the business end" she decided to give me another sweep. She explained that they were no good unless they brought tears to your eyes and when she was done she took off her gloves, apologised but stated that you had to be cruel to be kind and whispered that she was quietly confident that I'd have a baby in the next 24 hours. This was around 2pm on 3rd June.
From there, we went to Bicester Village. I'd been crampy all day and the sweep did indeed stir things up almost immediately and we decided it was best to eat early just in case. On the way I felt things were getting more intense and while we ate I made a whole lot of unflattering faces as my body did things that left me feeling very uncomfortable .. unless I could be sat on a toilet. For some reason that was the only place I could relax.. even if I wasn't doing anything whilst I was there. Having not experienced proper labour with Noah, I was convinced that we were in the early stages.
We walked around and then went home to get some sleep and just as I was about to fall asleep, things seem to have stopped. Or perhaps it was just that I fell asleep. But I woke up around 12.45am and started making trips to the bathroom. I didn't feel "right", but there were no obvious Your Water Just Broke signs that I had with Noah. Just a really uncomfy stomacheache that faded in and out and in and out. At around 3am I decided that I needed to have a bath to see if the warmth would take away the pains. When I got in, I immediately felt better …..
… and then they came.
Lee started to time, and what I had guessed were 30 second contractions were already a minute long and only 5 minutes apart. We kept timing just in case, but they seemed to get a bit longer each time and stayed at most 5 minutes apart. By the time we showered (Noah and I) and got in the car, they were 4 minutes apart. It was quite an uncomfortable journey and poor Noah who was torn from his sleep never even came close to going back to slumberland with his mother mumbling and moaning in the front seat.
We arrived at the hospital at 4.50am and instead of being taken in to the room where they check that you're actually in labour, I was taken straight into a delivery room. I hopped up on the bed, the midwife did an exam and said that I was 3cm dilated. WHAT? All of that pain and normal contractions for THAT? Sure it took me about 12 hours to get that far with Noah, but still. I sensed another long day.. of pain and sleeplessness ahead and buckled. I asked for the epidural. I begged really.
While I had to wait for the butcher anaesthetist the midwife hooked me up with the gas and air. I was so excited to try it. I was so mistaken to be so excited. I felt drunk. I felt like my head was filled with 1000 helium balloons, but I could feel the contractions just as much, if not even more so than before. It was almost like the rest of my body was drunk, but the Contraction Zone intensified. Not cool at all. So I ditched it and went without anything until the epidural.
The first attempt by the midwife to insert the cannula/iv into my wrist was not successful, so we waited some more for the anaesthetist who "is a professional at this". Tell that to the massive hole that was left in my hand…
After the cannula/IV was inserted, she got to work on getting the epidural going. With Noah the whole process took no longer than 2 minutes. If it was even that long. A quick "you'll feel a pinch. now a sting.. maybe a shock/shooting pain.. you're done". This time I was complaining that it hurt and then she'd ask "hurt or pressure". At first I answered pressure, then it graduted to pressure with some pain.. and then to full blown IT HURTS. She tried again and after numbing the area, I could feel her shoving the tube in my back and wondered to myself if I'd be walking or rolling out of the hospital when I went home.
We waited for it to kick in and although some of the edge was taken off, I could feel everything. I kept saying that it didn't work, but no one believed me. They kept telling me to hit my Top Up button, not realising that topping up nothing with nothing meant I was getting nothing.
Then, I started to feel it. The "excuse me, but I think I need a poo" feeling. I never had it with Noah (seeing as I had a proper full blown epidural that numbed me from my waist to my toes) and was getting a little nervous that we were going to have some Push Push Poo in my future. The midwife I had, then changed shifts and handed my care over to Jo. Jo said she would examine me at 9 something, even though it was just about to turn 8am. I didn't understand the reason for waiting, but what did I know?
Then she started looking at Cheese's heartbeat getting lower and lower and hearing my explain where I was feeling things, decided to check me out then instead. AHA … 7cm. She was not expecting it, my Mom was not expecting to hear it, and Lee and I definitely weren't. She guessed that the baby would be there by noon. Woo hoo 4 more hours.
This meant I didn't need a full on catheter, though I did have to have internal monitoring to ensure they had a trace of the baby's heart. After complaining some more about feeling it all and not liking it and wanting to have a poo, she decided to check again. At 9 something, I was 10cm!! I had made it all on my own without the drip helping me. We let the contractions do their thing for a little bit but I told her the pressure was not nice and she let me start to push at 9.50am. 10 minutes and 5 pushes later …..
Amy ________ ____________ Brotherston slid into the world at 10.00am exactly, looking JUST like her older brother had 15 months and one week before. Yes, even the same grey skin tone. This led to the double blank middle name as it was impossible to choose a girl name when all I could see was Noah.
So the story of Cheese has come to an end and the story of Amy has just begun…
To follow Amy through her life as the baby sister of the family, she can be found here: Box of Squawks!
And now for the last round of photos:
3rd June – In early labour on a balance beam at Bicester Village – 39+6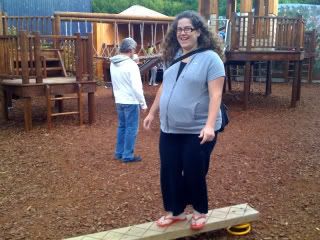 4th June – Holding my Due Date Baby Girl: Amy Sophia Elise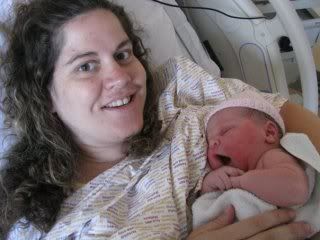 4th June – Noah's first cuddles with his little sister

4th June – The first official family photo