I have discovered a whole new world. No, not the world of routines.. or food.. or that I like baby girls… a world that is full of colours and singing and playing. It's like what I imagined… well, I've never imagined much, but if I could redecorate our house, it would be in reds, oranges and purples… with slides and mats and stuffed clowns!!!
That's right, I've discovered Gymboree!!
After Mommy and I went to get weighed and I was done impressing the Health Visitors, we went to the mall. Now normally I hate it. What's the point of shopping?! It is so B O R I N G!
This time was different though. This time Mommy sat down with me by the big tree and gave me my bottle. I don't usually eat on these trips! It was nice: just me and my Mommy and my milk. Good times.
And then… and then… and then she went to buy socks. I was starting to get confused. We came all the way out here to get socks and have milk? She's got socks at home. I know this because when I sit in my Bumbo in the kitchen while she folds laundry she tells me ever single thing that she is folding and I know that she's said "sock" more than once!
Put it was soon to make sense. We rolled up to this place where she got me out of my stroller and lifted me above the counter and I saw it…. and it was beautiful. There were little people. They were bigger than me, but not that big. Not even as big as my cousins in Canada (and they're all pretty big compared to me). But they were leaving. And all of a sudden it was me and Mommy. Then another mother brought in a baby girl (Martha.. my second hand holder – Luca not included.. I'm talking girls here). And then more mothers and babies showed up. Next thing I know, I'm on my back (I usually don't like that) and there is singing and rocking and swinging me about in a towel…. and a clown named Gymbo. I LOVE Gymbo. He's the coolest person EVER! My Mommy was too busy laughing to be jealous and I couldn't have been happier.
It was so much fun that I tired myself out. My Mommy went to put me in my stroller and before she buckled me in I was fast asleep!
She told Daddy about this and he wanted to go. Unfortunately for him, there are no classes on the days that he is home. BUT… oh and this is a big big BUT… you can go in and play on Sundays.
Do you know what day it is today? That's right, Sunday. Sunday was Funday for us!!!
Daddy and I played on the saucer shaped thing…
I wasn't too thrilled about it, but that's only because we'd just arrived and I was trying to remember what was going on again. I knew it was familiar, but it was taking a while to come to me.
Next I went on a slide!
That was too crazy. I think I need to be a little bigger. Or at least have some warning about what happens. I can usually get places by rolling, but moving just by sitting?! CRAZY!
From the slide we went to the inner tube thing which was filled with butterflies and bees. It was like they knew I was coming!!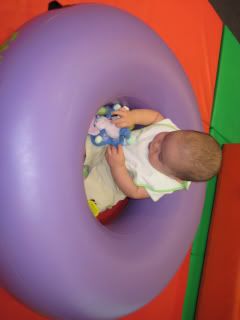 From there I practised my kneeling. I just wanted to touch the big squishy orange mat.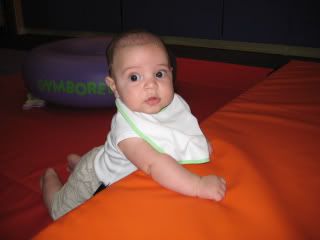 One day I am going to be big enough to jump on that mat!! I will!!
That mat got me a little excited, so I chilled out on this rocking thing while Daddy moved it back and forth for me..
Next, I went for a peek in the red tunnel.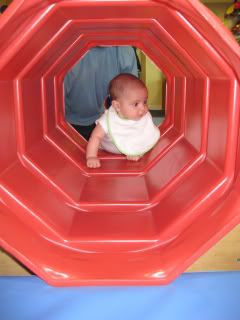 Now I love red, but this was a lot of it. And it was not so soft on my poor belly. Wait until I can crawl. I'll show that tunnel who the boss is! That's right, I'll be back Red Tunnel!!
After the red tunnel, the best thing EVER happened. Gymbo appeared. It was as if he knew that I had been quietly awaiting his appearance all along. I couldn't contain my excitement!!!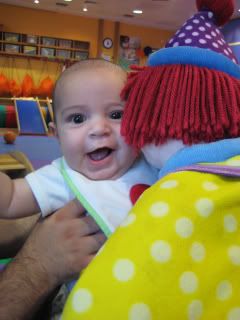 I'll be honest. I squealed with delight. Mommy and Daddy looked at me and each other because apparently they'd never heard the noise before. That's because neither of them look like Gymbo!
Gymbo even got in on a photo with me and Daddy. I'm not smiling much because I didn't realise that Gymbo was still around. I thought he'd left…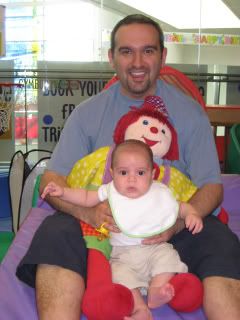 But he came back…oh yes he did!! And I was once again the happiest little dude on the planet!
And then Mommy got a photo with me and Gymbo. Why were they trying to steal my time with him? How rude!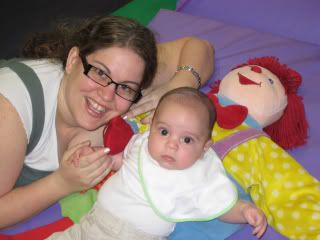 Gymbo had to go and Mommy distracted my by rolling me down this big purple cheese wedge. Maybe it is not made of cheese. I don't know what cheese is like, Mommy won't share hers with me. How rude again!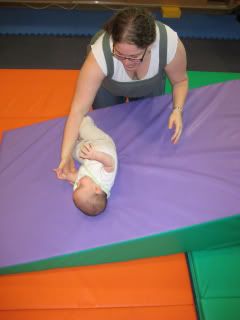 After that we left. I was tired and cranky and they had to get somewhere to get something and I wasn't interested so I slept.
I slept until I smelled that we were inside Toys R Us, home of the Fischer Price Rainforest Jumperoo. It's almost as awesome as Gymbo. I played in it for a bit, but play time was ending and Daddy had to get his mow on.
So while he battled the forest of grass, I lounged outside and had a bottle under the gazebo he put up for me, and then I had some wind down time in my travel cot…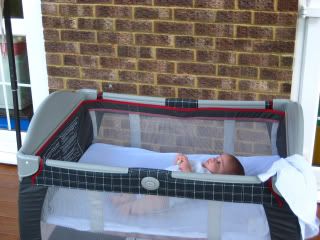 That's me checking out the green sky. I swear it used to be blue!
But I wasn't too bothered…in fact, I loved it! The noises, the breeze, the colours of the trees and flowers…and the camera…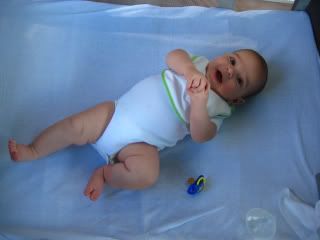 But there was something missing. Actually, there wasn't something missing so much as one thing that didn't belong…
Oh that's it…my clothes!! That's right, I took in the 24 degree weather in my diaper. Because I'm hardcore. Because I'm a furnace with a heartbeat and 24 may be nice to the average man, but it is like sticking me in a volcano.
That and I love to have no clothes on. In fact, tonight I intend to sleep the entire night like this. Mommy says I have to put pyjamas on after my late bottle but I'm hoping she's asleep and forgets to tell Daddy. Come on, every now and then a man… or a baby boy… needs a little freedom. It's not like I want no-nappy time. Though that would be great too. Somehow I don't think my Mommy will fall for that one.
So, if you don't hear from me for a little while, you know why. I'm still sleeping after my exhausting day. Or I'm trying to commando crawl my way back to Gymbo!
Ooh.. I almost forgot…thank you to Luca's Mum for telling my parents about the awesome Mothercare bibs. The coverage is perfect for my overexcited drooley self!!