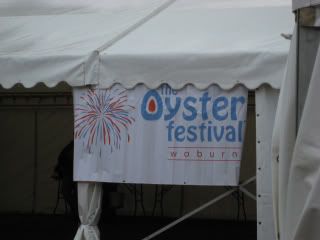 Despite the cool, rainy weather, we headed off to Woburn today to make sure that the poor oysters that were plucked from the sea were given a nice home in our bellies.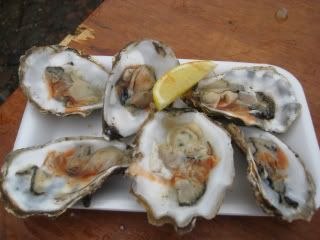 Last year I had to hear about the Oyster Festival from other people because I had Noah on Board (though at that time he was not Noah, in fact he could have been a she for all we knew…anyway…) and although I broke a lot of the Do Not Eat Whilst Pregnant rules, I dutifully avoided the oyster.
This year, not so much.
We bundled a teething and grumpy Noah into the car (note the enthusiastic look upon his face) and made our way to Woburn.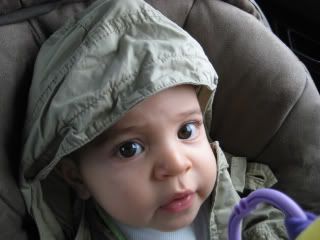 Once we got there, we took a quick look at what was on offer and made our way to the oyster bar.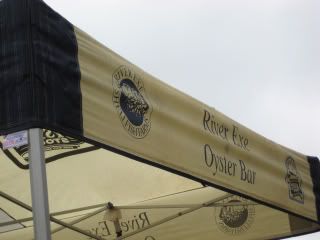 The first order was a dozen oysters and a half pint of something they called Oyster Stout. I didn't ask if oysters featured in the drink because some things are better left unknown. That, and I wasn't drinking it.
We wolfed them down so quickly, that by the time I remembered the camera, Lee only had two remaining…
The two lonely oysters soon joined their friends in Lee's tummy…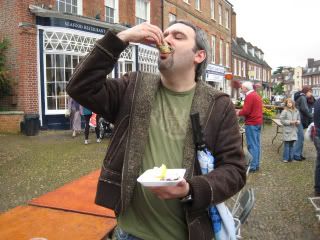 By this point Noah was slightly degrumping. And by slightly, I mean that he saw that there was food and forgot to be a complete grump.. until he realised that he wasn't allowed to suck back any creatures from the sea. Unlike the little girl (possibly 5 years old..maybe 4) who was just devouring her cup of baby octopus like it was cotton candy. I am still in awe of her, and the two kids with her that tried it based solely on how much she loved it. I am sad that I didn't get a photo of that, but I did get a photo of some children with their mother tucking into shrimp…complete with heads..
Those shrimp/prawns came from the stall next to the oyster stand which sold our second purchase of the day, Garlic Mussels!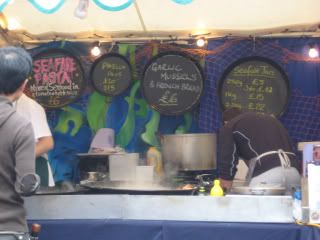 Mmm. Mmm. Mmm. That is the only way I can sum up the mussels that were put before me in their temporary styrofoam home accompanied by a chunk of french bread.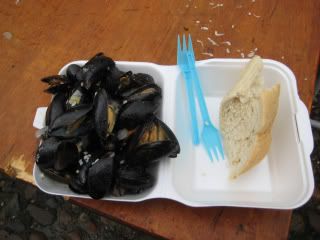 While I tucked in, Noah decided to ungrump as he too got to eat for the first time since we arrived there. No, not mussells… the bread.
Lee was feeling a little left out of the action and after much deliberation (or about 30 seconds of Should I? Okay, how many?) he returned to the oyster bar. After all, that's what we were there for right?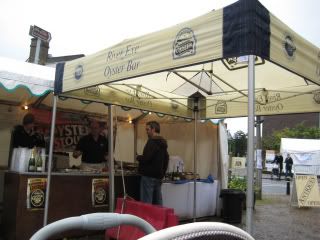 Once again there were a dozen oysters before us and another half pint of the Oyster Stout. This time I had a sip due to over Tabascoing of one of my slippery friends, but I wasn't too worried about the ingredients at that time, just that there was some relief to my stinging taste buds.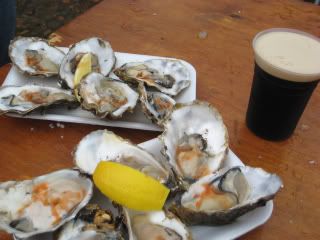 Lee was the warrior this time. I looked down at my six and noticed this creamy stuff in one of the shells. Lee took them up to Mr. Oyster Man and asked what in the world was going on. That is when he was given a lesson on the make-up of an oyster and given the choice to swap or swallow. He came back to me and presented the options… he added that if I didn't want it, he'd have it. So I swapped sixes.
Apparently, I won.
He described it as creamier than usual and that I probably wouldn't have like it, though it was not that bad. Fast forward a few hours and apparently the quarter of a coconut rum cake he later ate couldn't kill the taste that kept coming back.
As I said, I won.
On the way in we had noticed that there was an empty stall that had a sign for Caribbean food. They were advertising patties, roti, "Trinidad" chicken, rice and peas, etc. It wasn't open yet, but I kept watching it and waiting as the people were obviously running on West Indian Time.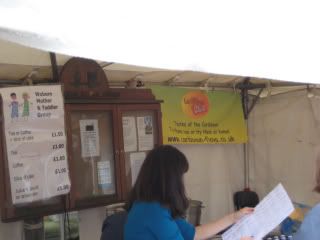 I saw a man going from the stall to a van and I couldn't tell if he was opening up or packing up. Closer inspection showed that he was in fact removing the stuff from the stand. No patties or roti for us. Boo!!!
It was alright though because it was Pimms O'Clock.
Okay, so no Pimms was had by any of us three. Instead we moved along to the parking lot behind The Inn at Woburn (where we went for Lee's birthday last year and fell in love with the restaurant, though haven't been able to brave it avec le bébé) where they had a couple food stands, some kiddie rides and a craft fair. At the craft fair I was about to get Lee to aid my obsession with buying ridiculous things when I decided that Noah needed a hooded sweater that was knit from 100% alpaca wool. Luckily, Lee had found a photographer who specialised in casual family shots instead. Not what you think you'll find at an Oyster festival, but hey, we were looking to have the photos done anyway!
The craft fair was under a tent in which there was very little light. Noah, though not afraid of total darkness, seems to fear the semi-dark and was not happy in there. We exited and headed off toward the Pimms tent again as they were setting up the steel band.
We decided to stop and have a listen, much to the delight of Noah who once again had the chance to break free from the restraints of his stroller.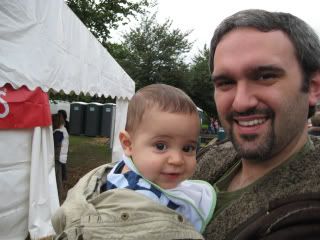 The steel band started up whilst I enjoyed a nose around at the people attending the Oyster Festival and the surroundings. If we had moved to Woburn instead of Milton Keynes, I am not so sure that we'd be so eager to relocate already. It is "proper" England. By that I mean that it has buildings older than my mother (hey, Milton Keynes is only two years older than my aunt, Cathy) and people were wearing wellies because they knew there was going to be hay in the Pimms tent. Woburn is great.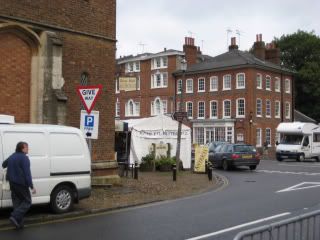 The looking around didn't last long as Mr. My Gums Hurt People And I Don't Want To Be Around Smiling People Right Now got progressively grumpier…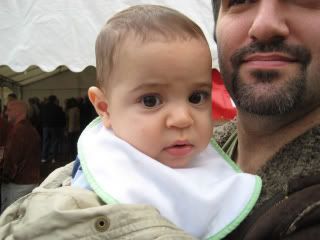 Aside from when Lee's colleague walked past with his wife and son and Noah decided that he loved the wife and her glasses. All of a sudden he wanted to smile. But they were just arriving and didn't chat long which meant we got The Grump back.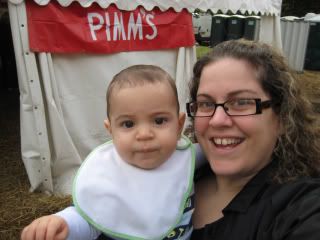 So we packed it in and strolled back to the car. Even with The Grump, we had a very good family day out; the rain pretty much stayed away once we arrived in Woburn so there was no trying to work the rain cover on the stroller or negotiating small sidewalks with one hundred umbrellas, Lee and I got our much missed oysters and Noah got fresh air and to see his first person on stilts (not that he gave a shit at all about him).
And now, if these teeth would just come through, we'd have three much happier people in the house. I can't wait to see how much Noah and the Aching Gums are going to love waiting around in a courthouse for me to testify tomorrow.