Oh what a day!
When my Parents started getting everything in our house clean and tidy and picking up after themselves RIGHT AWAY, I knew that meant people were coming to the house. At first I was a bit nervous. I like when it is just me and my Parents because I get to be the boss. What if a new boss was coming? What if I had to do things I don't like? Like… umm.. well I'm sure there are things I just can't think now. Then I was worried because all I was wearing was a diaper. I got over that worry really quickly though. The thought of wearing clothes just isn't appealing most of the time. When it is cold I don't mind throwing something on.
Anyway, I was on my Mommy's lap and I was eagerly looking out the window to see who would be arriving and you'll never guess who it was!!! My friend Luca! He came along with his Parents to spend the day with us. I was so excited I couldn't stop smiling. Even when Luca decided to pull a "Calleigh" on me and suck my fingers. Even when he tried to steal the bib off of my neck. Sure, I'm bigger, but I know who the boss is when Luca's around… and it's not me. But I don't mind because he's got silly parents and they make me laugh. Plus, it is nice to have another person my size… well sort of.. around.
Now, there was one strange thing. I couldn't stop smiling. Something I haven't done for a while. I mean I smile, but I've been a super grump. But today I was smiling more than Luca. And he's always the happy one. But he's got teeth on the move and he wasn't happy about that. So, I knew just the thing to cheer him up … a spin in my Jumperoo!!!
It so worked. That thing will bring a smile to anyone's face!!
After we played a bit, my Parents made me get dressed, and Luca got changed and we headed off to Gymboree!!! Once again there weren't a lot of people. Actually, we were the only ones. It was great. We had all of the playmats, slides, wedges, monkey bars, and Gymbos to ourselves!!!
First we hung out with little Gymbo on that rolly polly half ball thing that I am not a fan of:

Then we moved on to the big wedge that I rolled down when my Daddy first came with me to Gymboree. But we didn't roll this time. Instead our Parents thought it would be nice to try and get us to crawl uphill. Yeah right.


I did my best to try and swim up it. It was as fruitful as their attempt to get me crawling.
After that we moved all over. My Mommy sat me on this GIANT ball and wobbled me about:

Then I made a new friend in The Nipple Ball. It was a teething baby's dream!!!!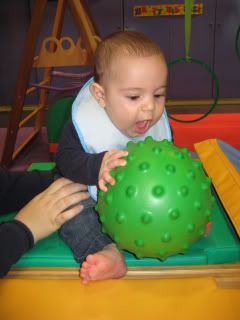 Knowing how Luca was feeling with the teeth, I invited him for a nibble!

Then Luca's Daddy blew bubbles all over the place. I was trying to take a nap but couldn't help watching them, and Luca chilled out on another wedge taking in the display..

Luca's Daddy seemed to like playing with everything there, because the next thing you know, he's playing with a pop-up Gymbo all by himself:

As I continued to look on, Luca and his Mummy made some music together with some jingley bells:

When we got home, my Daddy and Luca's Daddy went outside and cooked some food… which they did not share with me. Other than an already eaten corn cob that they tried to pass to me. How rude. But Luca and I were so well behaved. We sat there and …okay.. Luca sat there in my highchair and played by himself and looked out the window and I jump jump jumped about in the Jumperoo. It was great.
But the day took its toll on me and as I was standing on my Daddy's lap I decided that I was tired and just put my head down and fell asleep.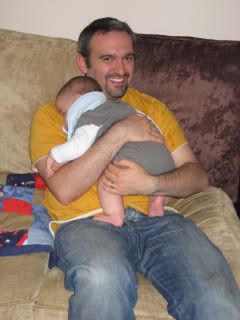 It was a much needed sleep, but it meant I didn't get to say goodbye to Luca properly and tell him how much fun I had! They can come back anytime!!!
After I woke up, I had my dinner and then it was time for bed… just after I had a shower and showed my Daddy that I'd only been tricking them this whole time by never sticking my tongue out. But I was deliriously happy that day and couldn't hold back any longer…
What a good day it was…