Well, I think it does. To be fair, I spent my time in Woodbridge, Thornhill, Pickering and Oakville. Technically I only drove though Toronto .. except maybe when we had breakfast that one morning, but it might be cutting it close.
My Mommy and I flew to Canada last month to see our family. My Daddy had to work, so my Mommy was all kinds of nervous about dealing with me on the plane .. especially since there were no empty seats and that baby in her belly is taking up lots of room!
But I was great!
Until we got into the car. I am not sure what it is, but Kadie's car and I.. we don't really get along. Maybe I knew that there was a car seat waiting for me and I was busy trying to enjoy the freedom of not sitting down after that long airplane ride. Whatever it was… I cried .. a lot.
Though to be fair, there were time changes to contend with and last time I saw Kadie and Zed it was in a completely different place .. with sunshine and palm trees and sandy beaches. It was all so confusing.
But I slept well the first night…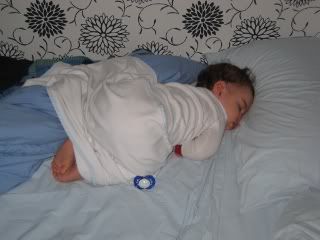 And woke up to find Crazy Uncle Jamie on the sofa…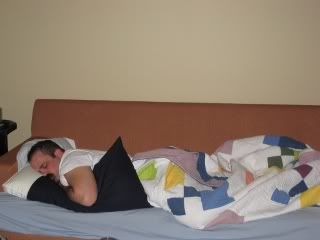 I knew that things were going to start looking up when I saw him and his crazy moustache.
We all got ready to go to my great-uncle Al's house because they were having a surprise party for my great-auntie Cathy. That's why we were in Canada. There were so many people there and at first it was overwhelming, but there was so much food. In case anyone has missed the memo.. I love food!
Ooh and we got to sing Happy Birthday too!!
I didn't have cake, but I did get to sample some lemon squares made by G.G Margaret and Lemon Fluff made by great-auntie Sue. Oh my oh my oh my. I know my Mommy loves salty stuff, but this sugar thing is just the best!!! I couldn't get enough!!! Luckily, my great-auntie Cath let me sit up on the stools with her and some of my cousins and she gave me some of hers. I LOVE birthdays!
After not seeing her for a few months, I even got to hang out with Calleigh! And this time we got along better. Mostly. She still tried to bully me and kept stealing my soother, but I held my own this time and even pushed back. In the end we came to a compromise and found out that by sharing with each other, we get twice the amount of fun than if we were being selfish!
Calleigh and I with our own soothers:

After the swap: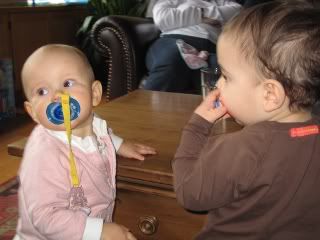 And even though he didn't know I was coming, my cousin Adam made me feel at home by wearing an England shirt!!
The rest of the week seemed to be dominated by eating. Not that I mind. I tried SO many things that I'd never heard of before, never mind tasted. I even had … octopus!!! In my short time there I discovered that I love Rye Bread, Blackberries, Frosted Mini-Wheats, Thai Food, Dim Sum, Samosas and Chicken Roti to name a few things….
In fact, here I am enjoying some turnip cake and rice noodle roll with shrimp:

Last time I was in this restaurant I cried and cried and even Kadie couldn't control the flow of my tears. This time I was all smiles and sat on her lap happily while she managed to eat around my wriggling self!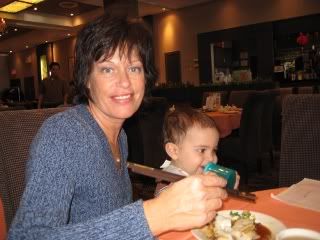 Not everything that I did was food related. Although sometimes when I was just chilling out at Zed and Kadie's I found it hard to escape food…
Oh that's right. That is me, sat between two Karnatzels. The weirdest thing about that is.. I never tried to eat them. I pulled on them like they were ropes used to gong church bells, but they never made a sound and every time Zed or my Mommy would go into the kitchen, they'd get smaller and smaller, until there was nothing left for me to play with.
Well, there was always something to play with really. I got to sit on Zed's lap a lot and we read all about what was going on with the stock market, and we watched a lot of You Tube and laughed. And when he would try and relax on the sofa, I put him to work entertaining me and making him drum on the coffee table!
Kadie couldn't escape either when she tried to sit down. I had my own orchestra of performing monkeys! It was great and we clapped and hip hip hoorayed and drummed some more. Though, Kadie was pretty crafty and had a box of toys in the living room which often distracted me from harassing them. Espcially the string of pearls. That's right, I said pearls… got a problem with that?! They were the best!
Apart from eating and playing, I also got to see a lot of family. Not only did I see all of my Mommy's aunts and uncles and cousins on Kadie's side of the family, I got to meet Zed's sister and her kids (though they were all way older than me, so more big kids than little ones) and I got to see my great-uncle Chickie again at his house! Calleigh must have heard that there was going to be food, because as soon as I sat down to start eating my samosa… there she was at the table next to me! I don't even know where she came from. It was like magic!! We ate samosas and cakes together and then we played the best we ever have. And even hugged. We fell over from the shock of it, but we were not hurt. It's okay, you do not have to worry!!
It was a great vacation and I loved seeing everyone that I hadn't seen in nearly a year.. which is almost my whole life!!
The only ba dpart was that my Mommy was so carried away with the excitement of being there and being ableto eat so many things she hadn't had in ages, that she forgot to give everyone thank you cards for all of my amazing birthday presents. So now I look like I am an ingrate, when really it is down to her!
Since we got back, her belly has grown even more and I think that is what has taken her so long to write this down for me! I've been trying, but what more can a little dude do?!
I cannot wait to go back and see everyone again. Apparently next time we'll be travelling with my brother or sister, so hopefully they are as well behaved as I am .. and don't try to steal my pearls!!!
Get those fingers ready, Zed and Kadie… I will be back!!!
Until then… it might be easier to reach me on my phone…