I am a whole month old today. I celebrated by smiling a lot, eating quite a bit, sleeping a little and definitely living up to the name Grumpy Pumps. All of the excitement really took it out of me, so I don't have much to write here. However, my Mommy has written something about it all in her blog. If you want to read it, it is here:
This morning I had another first. A first I might be embarrassed about had it happened when I was 16, but at 25 days old I was more than happy to have this experience: I had a bath with my Daddy. It was so much more fun than when my parents sit me in my own bath or the kitchen sink. Don't get me wrong, I enjoy getting clean and I really like warm water, but this was better. I got to float on my back (with my Daddy's help) and there was SO MUCH ROOM. When I sat in the water, so much more of my body was covered.. it was GREAT!
That is, until my parents decided to wet my head by dunking me. There was a short conversation that went as follows:
Daddy: I don't want to be the first person to dunk him.
Mommy: Oh just do it, he won't care.
Daddy: Babies are instinctively supposed to hold their breath under water.
Mommy: They are, but probably not this one.
That's right, she acknowledged that I wouldn't do it… and they did it anyway. There was a brief moment there that I wished I could have new parents. It was about the moment when they brought me back up and water was shooting out of my nose. Luckily for them, my memory is akin to a goldfish's at this point in my life and once they started to shampoo my head it was all good. Well mostly. My coos turned into unhappy noises, but I was no longer angry, just confused as to why people who say they love me all day long would do such a thing to me.
My Mommy saved me from it all and warmed me up in a towel and got me dressed in some sweats and it was like nothing ever happened.
I dread the day where I remember what they do to me for longer than a minute at a time.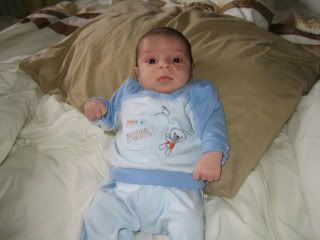 Once upon a time there was a baby waiting to be born that everyone called "BoB". That guy was me. At least until the 28th February 2008 at 3.13am when I arrived and my Mommy and Daddy found out that I was a boy and changed my name to Noah Alexander James.
This was me then: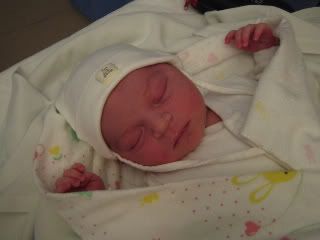 I am now 24 days old and it has taken my Mommy and Daddy this long to get this page going. I've learnt that they can be a bit slow at getting around to doing things, such as ordering my birth announcements (that's right, I'm talking about you Mommy!!).
A lot has happened in the past three weeks and my Mommy has wanted to write about it, but doesn't want to start this off with 40 posts, so we will start fresh from here. So Happy Easter to everyone (that celebrates it) and I hope you enjoy my adventures as I discover the world outside of my parents' bedroom day by day…. and enjoy the photos of my parents being cruel to me and dressing me up in assorted outfits that I will grow up to hate them for doing.