Two Thumbs Up for another great month!
Just thinking about this month makes me want to scoop you out of bed, hug you so tight and do whatever I can to make you stop growing up. You are amazing as you are right now. Perhaps a little more progress with your verbal communication would be welcome, rather than the constant hand flapping that we are getting. Mind you, if you ever decide to become a professional horse racing bookie, you've got Tic Tac covered!
You are at the stage where you can let us know what you want and if needs must, you will come over to one of us and drag us to something to show us what you want. It is very handy for you and can be quite tiring for us. Especially for your Daddy as he seems to give in to this game of Do What I Say/Want easily, where I am a little harder to persuade as it takes me a lot longer to get up from wherever I am due to this ever increasing size of my belly.
I am convinced that your advancements this month have been due to the extended periods we have spent outside, along with your increasing desire to grow up, graduate school and move out so you can eat all of your Easter eggs in their foil wrapping before coming out of your room … or so that you can have a bathroom all to yourself where people won't take pictures of your constant love to preen yourself.
Speaking of prettying up yourself… you have developed this new, not so pretty, smile that you think is absolutely hilarious and which is nearly impossible to catch on camera because you close your eyes so tightly and smile at a random object (see photo above). This smile goes along with the dozens of new faces you pull, most consisting of pushing your tongue against your four bottom teeth as hard as you can without it popping out of your mouth. Your facial expressions never fail to amuse us, even when we're trying to be serious with you. And your Clever Level has been reaching near Maximum Capacity! There are moments when we are being serious and you don't want to hear it and we can actually see you go from starting to have a tantrum to realising the easier way to end this talking to would be to give out cuddles and kisses.
So smart. So very very smart. That must be your Daddy's genes kicking in. So far you appear to be getting his brain and his bathroom habits. Though I am not sure that the latter isn't because you've become his shadow when he's at home and so you're just learning what the "men" of the family do. I guess that it is something I will have to look over and accept because seeing the two of you together is too sweet. Hearing the two of you laughing it up in the shower or watching you every morning as you realise that he is getting dressed to leave and demanding that he pick you up right then and there for cuddles is starting to erase all of the months of wondering whether I'd ever start to enjoy motherhood. Seeing how you look at him and look at me too makes me realise that perhaps I am not totally crap at this and that there have to be parts that I am doing right. Then again, you don't really know better right now, which is another reason to keep you just as you are!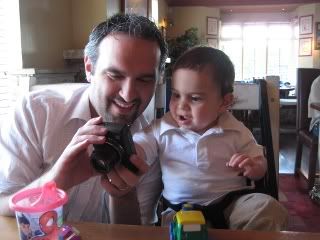 Daddy and Son Looking Over the Photos
This month has seen the milestone of your moving into your own bed. Not a crib or even a toddler bed, but your own double bed. It has only been a few nights plus your daily naps, but you are doing amazingly. We are so proud of you. Your independence has shone through this month. It is as though you not only learned to physically open doors for yourself (which has shocked and scared us!), but you are doing it metaphorically too. You've realised that you can do things without one of us being right by your side and you can still have fun.
A lot of this has been due to the weather getting a bit nicer and being able to be outside more. You definitely love it out there. Some mornings you have gone out on the deck after breakfast and stayed there until you could no longer hold out on a nap any longer. You don't even need toys out there because you seem to find ways to entertain yourself without .. even if sometimes this means trying to catch bees with your bare hands.
The only downside to this month that I can come up with, is that it is over. That means the time I get to spend alone with you is winding down and I'm starting to worry that I am going to miss all of these magical moments that I catch now because I am going to be back in a panic wondering what it is your baby brother or sister is telling me that they need. And I fear that you are going to think that we love you less because you will be sharing us. We do not want you to ever think that. We are amazed every day that our love for you continues to grow, that we find you even cuter than you were yesterday and funnier than anyone we've ever known.
So, although month 15 is going to seem hectic as we try and get ready for the new arrival and we may even have a new family member before the month is up, I am going to do whatever it is that I can to make sure that we have another great month! Thank you for being so patient with me this far, it has taken me a while to get into the groove of this Mommy thing and I couldn't have asked for a better baby boy to take this journey with. So bring on the sunshine and cuddles and faces …and okay, you can even stick your tongue out at me every once in a while.
Happy Fourteen Months, GrumpyPumps!!!
Mommy Loves You!!