My Kadie is coming to England and we are going to spend a few days in London. Now when she came with Zed and Adam in August, this meant a lot of stroller time for me. This time, I'm going to show her that I am a big boy and that I can walk … all … by … myself!
I took my first two steps when she was on the phone last Monday just so she would know that I was getting ready for her. From then I didn't feel the need to do more than two at a time or even two per day because I thought I had a while to go. But then I heard my Mommy and my Daddy talking and it would appear I've got less than two weeks to get this down.
After hearing the news I thought I'd better formulate a plan. I took yesterday off to do this. But this morning I decided to Shock and Awe my Mommy. We were playing in the living room and I was cruising along the sofa as I do when I decided to show off my talents. I let go and just started walking. I took four steps, threw my hands in the air and fell on my bum laughing.
Since then we've been trying to recreate the moment on video. We're getting there, but the draw of the camera is distracting and after a couple of steps I lunge for the shiny goods. Below is the best we've got so far, but my Mommy is working on more!

Walking Schtick from Kirsty B on Vimeo.
Now that I've got this crawling thing down and am starting to get braver and braver with my standing, I thought I'd take the opportunity to explore the stairs.
My first attempt was on Sunday, where I successfully got from the bottom to the top in under one minute! Although, at the beginning I stopped to spend time posing for the camera. My Mommy quickly realised that to get me moving again she'd have to wait at the top for me … and it worked. Only she used the camera that she doesn't know how to get the videos off of, so I had to wait a while before I could share the news with everyone.
Luckily, they gave me a second chance today. And when the opportunity presented itself, there was no holding me back. Aside from the few seconds when my Daddy thought it might help me to remove my pants. Good thinking! I was off like a shot!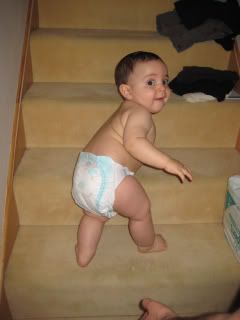 Once again, my Mommy decided to wait for me at the top. What she didn't realise is that this time, I was on a mission. I wanted to beat my previous time, so there was not much time for staring at the camera.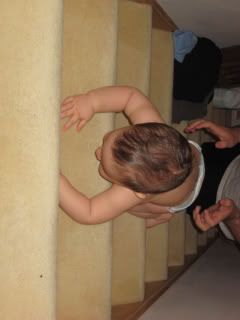 And I was successful. Though my Parents were faced with one problem when I got to the top. I wanted to do it AGAIN! And I've not quite mastered the art of going down the stairs, so my Daddy had to keep blocking me from doing my normal dive/lunge/jumping off of the edge.
It was exhausting, yet exhilarating and as a reward … I got to have a bath! How amazing is that?!
My Mommy managed to get a few seconds of my ascent on a video she knows how to put on her computer, so you can watch me in action.
I cannot wait until I can take more than two steps at a time and I can try this WALKING! My Parents aren't as excited as I am about that for some reason!

Stairmaster from Kirsty B on Vimeo.