Luca turned a whole entire year old on the 10th of this month! To celebrate, his Mummy and Daddy had a little party at their house on the 15th where there were lots of toys, a ball pool I was not so sure of and …. cake! Oh and Luca was there too of course. Duh, I mean it was his party after all!
Luca's Daddy brought out a cake with candles on it. I've seen a candle before, but never one that had FIRE on it!!!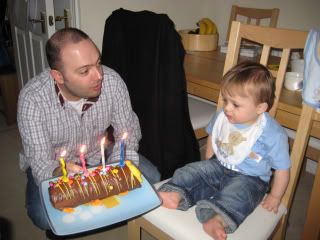 Luca seemed to like when they were on fire, but was not so sure when his Daddy helped him blow them out.
Luca's Daddy even set the candles on fire again so that Sam could practice blowing out the candles since his is turning THREE in April!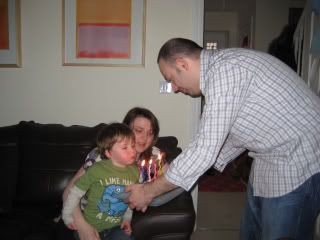 When Luca's Daddy set them on fire again to give me practice, I decided that the other boys were silly to try and blow the candles out. Obviously the better way would be to actually grab the fire with my hand and throw it away.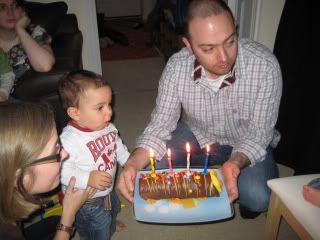 Lucky for me, Luca's Mummy was on hand to keep me from doing anything too crazy! My Parents were too busy taking photos and laughing like usual.
But the fire wasn't all bad. I learnt that when you blow out the candles, you get to eat the cake!!! Now until today, I had only been able to share pieces of cake or cupcakes with my Mommy or Daddy. I was never given a slice or cupcake of my own. So when I had the chance, I was making sure that it was not going to be wasted!!!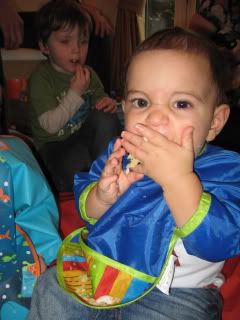 It was great! Cake is so tasty and I got to make whatever mess I wanted to! Luca and I were just having a great time and then I realised that I was running short on cake, and Luca was double fisted.
Seeing that Luca is smaller than me, I thought I'd help him out by taking the chunk of icing from his left hand and eating it for him. I'm so nice, right?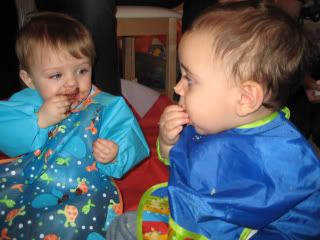 Luca let my Mommy know that he was not impressed with my "helping" skills by giving her a wicked look. I'm so glad I was oblivious, because I may just have cried if I knew that I had been doing something wrong.. or that I got caught doing it.
Don't feel too bad for Luca though. I know it was his birthday and now I know that you don't get to decide when someone else wants to share, but he got me back. I think he mistook one of my curls for a piece of that icing because I was sitting there playing and the next thing I know… my head was in the grips of those D'Ambrosio hands and I was in tears.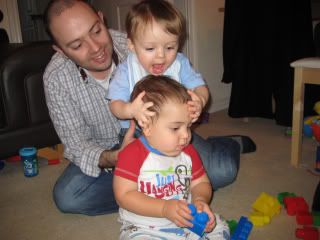 But the tears soon ended and by the end of the party, we were back playing nicely together.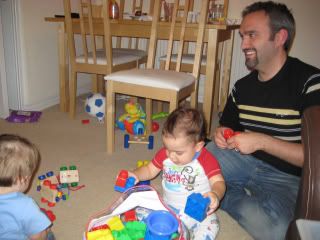 Now I've got to work on this food stealing thing before my birthday party because even Sam was scared that I was going to try and eat his orange. But he was safe because I don't even know what an orange is and at that moment I was just hoping to find more cake hidden somewhere.
So apologies for my smash and grab, but thank you for inviting me to your party, Luca!
I hope I enjoy my birthday as much as I enjoyed Luca's!!!!