Cocktails and moonlit nights
That dreamy look in your eye
Give me a tropical contact high
Way down in kokomo…..
Kokomo …. St.Lucia.. what's the difference other than a blessed lack of Tom Cruise behind the bar?
After a wedding that was made for one of those bloopers shows or an example of Why Everyone Should Just Elope, we headed off to St.Lucia. As much as I loved that so many people flew out for our wedding, it became hard to spend the right amount of time with everyone and still have any time to see each other. In fact, the day after the wedding we spent apart… other than breakfast, but NO ONE is getting in the way of me and my food. Especially on the first day where I didn't have to worry about fitting into a dress.
But I digress.
We headed off to St.Lucia for some peace and quiet. Lots of quiet. Especially when my ear infection kicked in and I couldn't hear out of my left ear.
Anyway.
We headed off to a little resort in Anse Cochon called Ti Kaye Village. After and very winding (as in wrapping around not as in releasing trapped gas) and bumpy drive we arrived at our hotel. The first thing we did was run to the bar (okay it was not more than a few steps) for some celebratory (and free) drinks.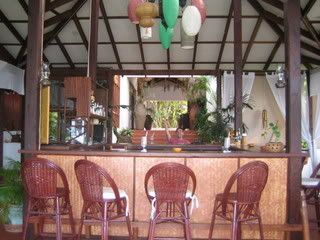 Lee is actually in that photo …just put your nose to the monitor.
Afterwards we took a peek at the view from the bar/main restaurant and decided … I was a fucking superstar for finding this place!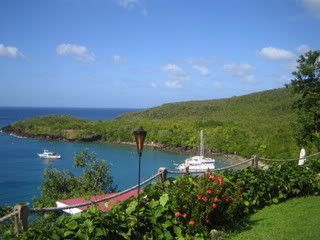 Yeah, I thought you might agree.
We spent the next three days just relaxing.
There was nothing to do but relax when you have a villa with a hammock built for two, an outdoor shower, plunge pool and this amazing bed: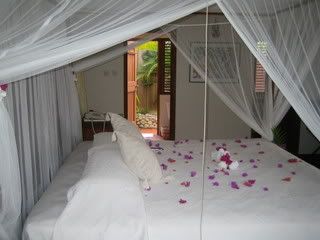 In fact you can even see the shower in that photo. That door that opens to tiles and trees… that's it!
We watched the sun set from the balcony after spending some time lazing about in the pool….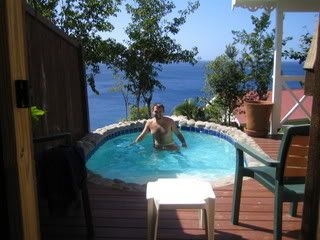 That shot was in fact taken out of the shower!
Okay so there were a few other things to do….a few hours of snorkelling and securing a proper sunburn: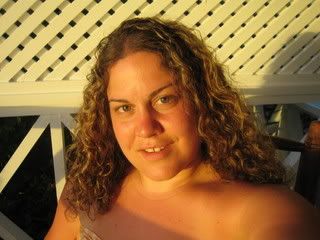 ….and a few hours spent touristising around the place with Noel the cab driver who so thoughtfully brought his girlfriend along for the tour. What the poop was that about? Nevermind that he dropped us off at some botanical gardens and then said "see you in an hour" and drove off… or that by saying "I'll take you to the drive in volcano" he meant he would drive us just past the gate and then let us experience the extreme stench of the bubbling sulfer pits with a massive group of cruise ship tourists.
But we got nice photos out of the deal:
Even if we did take them ourselves.
all in all it was the perfect break we needed. It allowed us to get some much needed sleep… relax… unwind… and unwind. We also got to spend time together. Lots of it. And we LOVED it!!
It is really strange to me. As someone who cannot be around one person too much without snapping and flying into a hatred fueled rage, nothing in the world makes me happier than spending 24 hours doing absolutely nothing with Lee by my side.
Having a sunshiney tropical setting doesn't hurt either.
Going to Get Maaaaaaried.
Well. Sort of. There was no chapel, and we already got married. That is right. As of today we have been married for a whopping 25 days. Last night we congratulated each other on making further than a lot of Hollywood marriages. More of a bonus is that we didn't even have the Fairy Tale start that most of them get.
Sure there was a big dress, flowers, lots of guests, cake, music and food. On the other hand, there was also torrential downpours that led from the ceremony being here:
to here: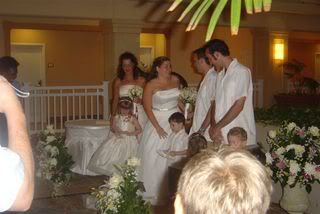 Yes, those are hotel rooms you can see as we ended up getting married in the hallway of the Marriott as opposed to the beach that had washed away or the garden where you can see we had the rehersal.
I even got the ultimate bridal experience of hanging out in a stairwell:
Unfortunately, or fortunately I do not have a sample of the musical genius that was behind the controls of the cd player at the ceremony. As I walked down the aisle, he decided to stop the song and start it all over again. The same genius must have decided he wasn't a big fan of the song we chose to depart the ceremony with (Its the End of the World as We Know It by REM) and threw back on the song that I had walked down to.
This was all after I had been delayed in getting to my wedding, even though I was only staying a floor above AND was ready an hour early!!!!!!!!!!!!!!!!!!
Anyway….
There was more. Lots more.
In fact, most disturbingly, there was …. a little person.
By this I am not meaning a person under a certain age. There were plenty of those kind and I adore those kind. What I am referring to, is a person who forgot to grow. Those of you who know me well, know that I have a deep-seated fear of people who forget to grow…. as evident by the cry for help emanating from my mouth in the next photo where He Who Forgot To Grow is holding my hand.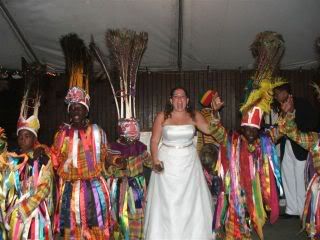 Now you would think that people who love me and want my day to be special would be helping me. No. They all ran to get their cameras.
At least he didn't slap me on the backside as he did to Lee. Though I told him (and everyone else that listens to me) "not every groom gets to say that he had his ass slapped by a midget on his wedding day". It is true. Millions of grooms around the world would be jealous if they ever found this blog and discovered what they had missed out on!
I guess I couldn't ask for much support though. Taking a peek at the next photo will explain the state of many people. Unfortunately these are my two brothers…. before the reception even.
Although the ceremony wasn't what was planned, the weather was a bitch, the cake was not what I expected…at all, the reception was decorated exactly how I begged for it not to be, the photographer was horrible and the reception ended with a power outage, we had a memorable day where (although this may be hard to believe for anyone who saw me pre-ceremony) more smiles were shared than tears shed.
And most importantly… we're legal.
That's right. We did it.
No more stressing.
No more having to remember to take our rings off before we leave the house.
No more people asking if we are excited/looking forward to it/ready.
We are husband and wife.
It is a scary thought that.
But don't we look happy to be?