So, I started to write this post last month after Kenna and I returned from the Olympics. I pressed a key or two that caused it to become a draft and just couldn't quite be arsed to actually come back and fix it.
But Kenna has left which means I have no one to lounge about with and do absolutely nothing all day, so I've downloaded a shitload of BNL and I am getting down to business.
Here is a brief Summary of Two Canadian Chicks Invade Italy. I say invade because we didn't enter or leave quietly. We were loud… we laughed.. A LOT. We drank… EVEN MORE. We saw a lot of hockey which mean A LOT of screaming, cheering, booing and even getting to sing Oh Canada as the Canadian Women's Hockey Team received their gold medal. Yeah yeah yeah, the men blew chunks, and no I am not talking about your pet from primary school OR the dude from Goonies. But we shall pretend the last game they played was the one we went to. The superb game played against the Czech Republic. One of the only games that they won. The game that everyone told me was going to be the only one they may lose. Everyone LIES!
Anyway… on with the story….
So.. two little Canadian girls headed off in the far too wee hours of the morning for the supposed fashion metropolis that is Milan. Showers were had, train tickets bought and the World's Best Sandwich was discovered. Alas, it was Kenna that scored it and not me.
I digress…
We headed off to Torino. Home of the 2006 Winter Olympics. Just to prove it… here is the flame:

Kenna looked at it and couldn't understand how people could be inspired to be athletes by seeing it. I saw it and thought .oO(WOW! It's real.. and I am right by it. COOL!!!!!!!!!!) Guess it depends on whether you were brought up with the Olympics crammed down your throat like I was. Not that I actually participate in sports from anywhere other than the stands.
So we picked up the tickets for the Women's Gold Medal Game, headed off to eat some chocolates (Torino is the Chocolate Capital of Italy I'll have you know) and wander around. Who knew we were going to find the mother of all bars… HOCKEYLAND. Yes, it was called Hockeyland and had the most massive sign out front luring us in.. and this dude: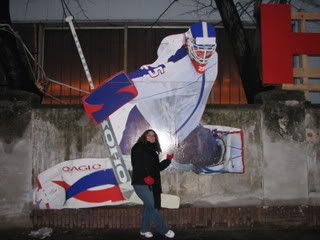 Like I could hold back!
Upon entering it was obvious that it was a Czech bar.. but luckily the only patrons at that time were some Canadians in red afro wigs. As you do. They had been there for a few days and hadn't seen anything yet due to not being able to get tickets. I have no idea how they couldn't score them as nothing seemed sold out and there were scalpers galore! Hockeyland wasn't the only place we bumped into them though…
That's right.. being true Canadians, we found them in the beer tent once we passed through security to go to the game. We also met two girls in line, Meredith and Hailey, who became our sidekicks for the night. They were equally ready to see some hockey and equally mental. I mean that in a good way of course.
Here is Kenna with Hailey:

and me having a tender moment with Meredith:

And Kenna and I also hung out together. She'd be the one pointing to herself so she could remember who she was when she sobered up and saw the photos. At least that is the only explanation I have come up with for why she is pointing at herself:

We also met Paolo, the only fucking Brazilian at the Olympics perhaps, definitely the only one at the hockey game that night. We ran into him in the beer tent where we proceeded to give him shit for having both a Swedish flag and a Canadian flag painted on his face. He laughed it off and tried to say he was neutral. Little did he realise he was going to have to sit next to us at the game. As he should have, he returned from the washroom with only a Canadian flag on his cheeks. Though I think it was more of a silent thank you for getting the poor bastard shitfaced.

As for the game itself. We won. Well THEY won with our support. Convincingly. And they were very gracious winners. Sweden deserved to be there next to them getting the silver because those girls played their hearts out and their asses off. I was quite proud of the Canadians at the end when they were doing the shaking hands thing. They were hugging the Swedes as if they had won co-golds. It was so cute.. but then again I was drunk.
Here they are getting the winners photo taken… and a question to the tossers we had parading as the Men's Team…

…. lots happened…..
Then we went the next afternoon to the men v Czech game. It was FAN-FUCKING-TASTIC! Although it was not for a medal it was one of the most highly charged hockey games I have ever seen. People on the edges of their seat, chanting constantly, drums, horns, scream and thundersticks. And Tie Domi's wife?????

A) What the hell?
B) What the hell?
and
C) HUH?
These dudes (that's right, I have no idea what their names are despite having met themon two different days and hanging out with them before the men's game) had a rougher time than us. Like us they missed the last train back to Milan… unlike us… they didn't know they were going to.. and they missed it for CURLING. How hardcore of a Canadian can you get!?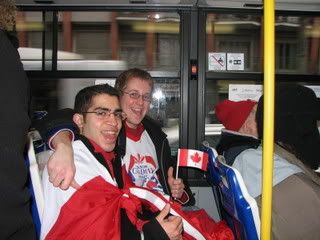 We sat up in the nosebleeds surrounded by Czechs. Czechs with drums. Load drums. Poor guys had no idea that I could be louder than a drum, and that everytime they started a pro-Czech chant, I would turn it to fit Team Canada and drown them out. Ahhh….. Life was good those couple of days. We saw a gold medal game… the men's team won:

And we were in Hockey Heaven.
This was longer than I expected and I left out 75% of the trip.
I guess all you need to know, is that we came, we saw, we rocked that country and we left.
Oh.. and the food is shit except for the sandwiches from that one place across from the Central Station.
Ciao For Now!