call my friends make some plans
findin' out what time the party begins
hangin' out for the weekend
Well this weekend didn't turn out as planned, but we enjoyed it all the same. We had been invited to go back up to Stratford for Rob's birthday, but seeing as it was Sally's (not you, Sally..another Sally) first weekend here, we wanted her to feel at home so had made plans ages ago to meet up with her.
Friday night, we just relaxed… as far as I can remember!
Instead of sleeping away the day on Saturday we woke up and decided to get some stuff done. Since it was sunny, we'd have to come up with things that we could accomplish outside. Lee jumped on lawn duty (you know it had to be sunny for that to happen) which left me struggling. So I … I… washed all of the windows. It is times like this that I am thankful for all of the glass doors we have. At least I was for the first 5 minutes. But I got them done and then did some laundry while I waited for Lee to finish.
Then we headed off to Asda for a curry and some cheap ass nibbles. Seriously. Oh soooo close to Ikea, but I wasn't going to push my luck two weeks in a row. When we returned we decided to eat outside and enjoy the rare English sunshine.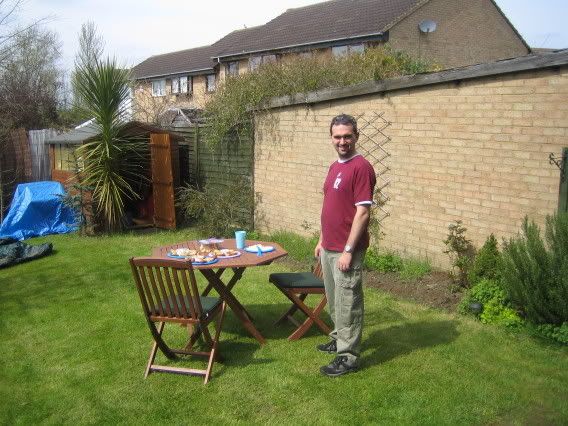 Check out the sexy blue tarp on the BBQ. Doesn't it blend in well with the rest of the backyard? :/
After lunch Lee washed the car, I chatted on the phone (shock shock) and then we got ready and headed off to London. Woohoo!!
We got there early and walked around a bit. We decided to head back to the tube station early just in case Sally was also early. And we waited… and waited … and waited.
See… here is Lee waiting…
Of course I didn't bring my phone because I figured as she doesn't have one, she couldn't call anyway. Yeah Yeah phonebooths/boxes.. Lee reminded me later. If I had brought the phone, I would have received the message saying that they were all hanging out in a different part of town and to head there.
So we decided to go ahead and follow the original plan and headed to the Maple Leaf for some beer and wings,
After we watched a little hockey and had a couple pints we decided to head back via a disjointed walk around Leicester Square and Covent Garden, whilst enjoying some strawberry filled doughnuts…
Yeah.. my camera handling skills were a little shot at this point.
The rest of the evening consisted of one hilarious train journey home ( we had the world's most entertaining little children on board), but not after chasing Lee through Leicester Square tube station.
Sunday we awoke even earlier and headed off to the National Bowl. No, not for some awesome gig, but for what is supposedly England's Largest Car Boot Sale. All I know is that we bought England's Largest Tin of Expired Refried Beans and only for 20p!!! Can't beat that with a bat!
Without going into the details of all of the chavs and general dirties we saw there, I will just put up some photos to tell it for me.
Here we are excited about our journey. See the anticipation in our eyes: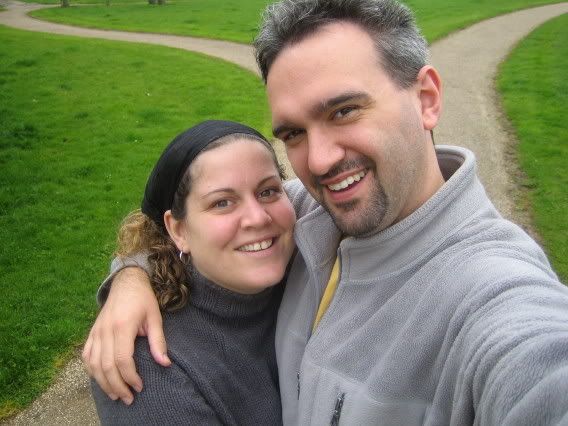 We felt safe because we found out that the Ghostbusters had thoroughly checked the area beforehand: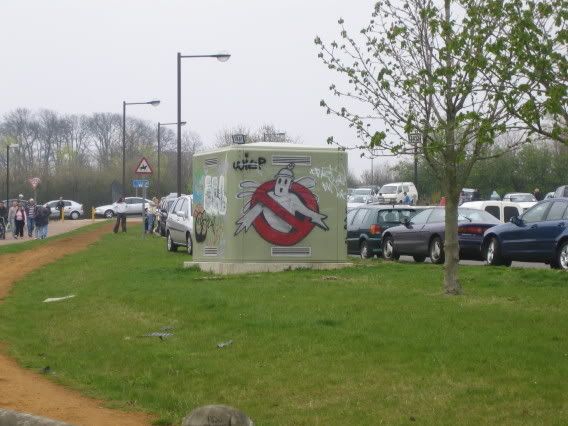 And then we just let ourselves loose on this playground of used shoes, broken vacuums and lost souls. And scored 8 mango/passionfruit KitKats for £1!
So yes, it may not have gone as planned, but gosh darnit, we enjoyed the Sleeman's Honey Brown, the wings, the doughnuts, the pork and stuffing on buns and most of all each other's company.
Now if only we had some more pickled onion cheddar left, the weekend would have been perfect!