But what I really love is my scotch
Its the power, the power of positive drinking…
Intercontinental Pub Crawl 2006 Hits the UK
London Leg err…. Milton Keynes Leg.
It doesn't have quite the same ring to the title or evoke the images of finding hidden gems down foggy alleyways, but damn it we made it happen.
At 10something AM my husband (henceforce known as Lee, and sometimes as dickhead)and I set off for the Big Smoke. We arrived at the train station already pissed (off not up) because the cab driver dropped us at the bus station. How dare he make us walk across a little parkette? Didn't he know what we were in for that day?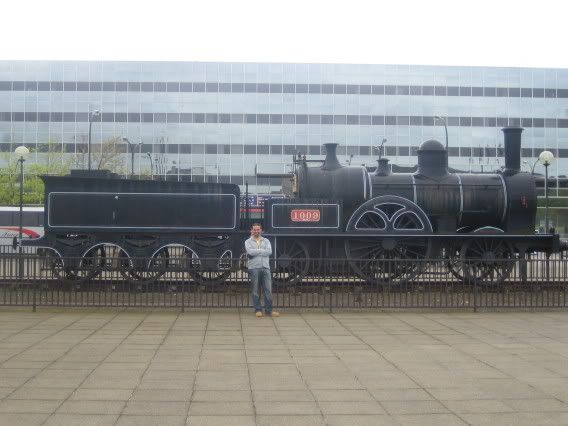 Apparently he did. When we walked into the train station we were excited at the relative emptiness. No fighting for a cash machine or waiting for incoherent chavs and chavettes to fight over 20p and their mother's honour before we could buy a ticket. And then… and then… this little bundle of a lady comes over and asks if she can help us. Jumping right in our way so we had no option but to acknowledge her. "No thanks, we're just going to buy a train ticket".
That's when we heard… "there are no trains leaving here today or tomorrow. You can take a bus replacement service bladdy bladdy effing blah"
What were we going to do? The travel time would have been 3 hours each end and we would have had to leave London early to catch the last coach back to the MK. Would we be able to handle a 3 hour journey if we were that pissed? Who said I would really be able to walk or to wake up to get off of the coach!? But what about the people. Not that there were many, but you know what they say Quality over Quantity. How could we let them down? We'd already texted to say we were on our way. Never mind the fact that I had taken on the task and was determined that I was going to do this damned leg of the Pub Crawl, even if I had never met nor seen the people organising it. I couldn't let these strangers down could I?
I had to make a decision and quickly.
We asked if there was a discount for the disruption of the service and they said no. Well "Screw you, Buddies!" I do not take a coach for train prices! Are you out of your flipping mind?!
So we cancelled. We texted the masses (or the few anyway) and let them know what was going on. We were going to do the crawl ourselves, in Milton Keynes. And by golly, that is what we did!!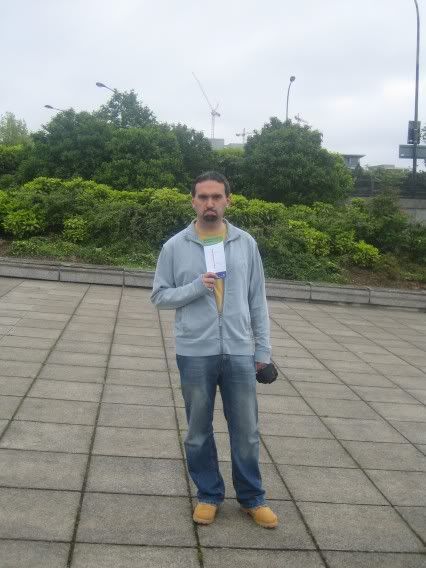 So with our Replacement Service leaflet in hand in case we changed our minds half way through and wanted to make the trek to London, we walked to our first stop of the day. We needed breakfast to help us make it through the day and as it was pre-legal drinking time this would help kill a minute or two. Never you mind though! We arrived at Weatherspoons on Midsummer to see that there were people already downing alcoholic beverages. PERFECT! We grabbed a table and then hit up the bartender for an order of breakfasts and booze. I thought a nice super strong pint of cider would start the day off nicely. Like apple juice with a bite. However it tasted like the smell of cheese, but it did the job!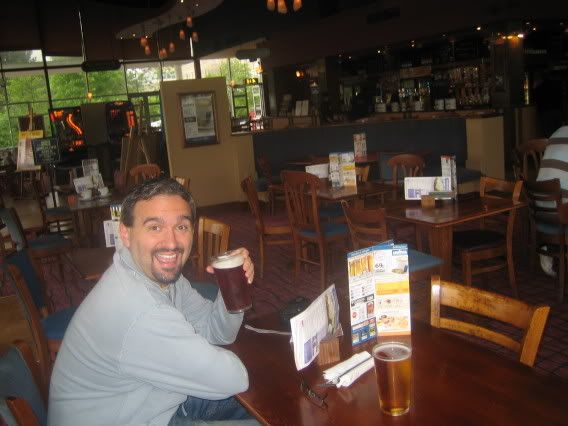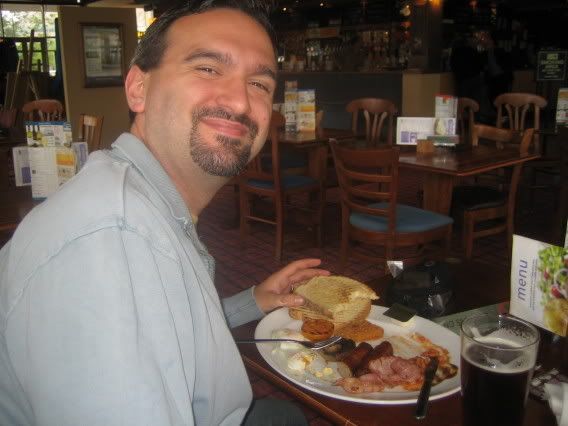 After we had prepared ourselves for the day, we decided to dash across the parking lot in the pissing rain to Chiquitos. A little Spanish influence before noon cannot be a bad thing. That is unless the place is closed. Damn you, Faux Tex Mex Fools! We didn't need your crappy drinks anyway!
So we crossed the street. Thought we'd hit Crawler's Heaven when we reached Hundred Secklow, a building with three bars connected to each other. We waltzed into the first one, Lloyds No.1 Hundred Secklow. Let's be honest, we ran into it because it was now chucking down the rain on us. We decided that after the heavy start, we'd change to Corona to settle our tummies down a bit. It worked and we stuck with this theme for the rest of the day.
Here is Lee showing how hardcore he is. Or just really being happy to be out of the rain and to be holding onto some girly goodness in a bottle.
Just to show that I really was there…. and to help you see the progression of our day. You will notice my hair begins down, then reaches a single ponytail and then makes it into pig tails. Not sure when, where or why, but it did.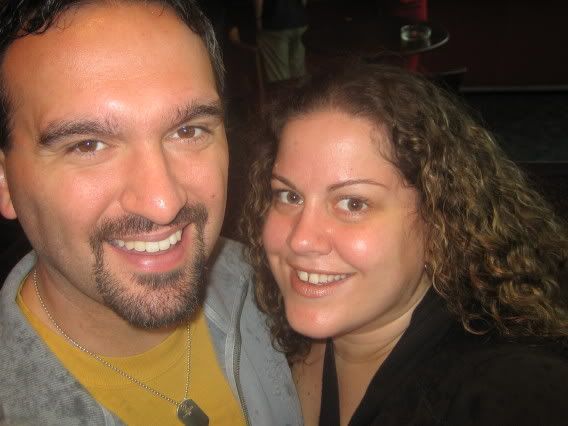 After Lloyds we decided to pop in next door to All Bar One. We had received special mention for find the pub with the best name on it when I set out the list for London, so we didn't want to let our people down. The owners however had a different outlook and were not set to open before 12:30, no matter how wet or polite we were. We took a photo anyway.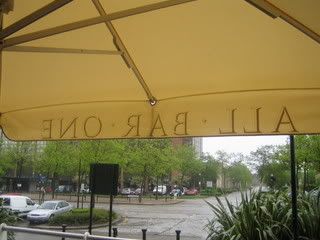 From there we tried Rodeo Bar next door. There wasn't even the slightest hint of an open door and there were not any people inside to harass. It looked like our day was going from shit to shit. We went inside the next building to see if there were any bars hidden in there. We even tried to find one in a fitness centre. No luck. So we hightailed it to the shopping centre for a Break The Seal Stop and then proceeded to walk up to the Theatre District. We knew we would be in luck there.
First stop Hog's Head. Note the relief on Lee's face to be reunited with his alcohol.
Where I look like I am just getting down to business and doing my duty with some really bad posture.
There were some dodgy characters trickling in so we decided not to make this stop a long one. We shot out of there across the way to TGI Fridays. The Coronas were considerably more expensive here. £3 a bottle!? WTF!!!! But we enjoyed ourselves none the less.
Lee got his rocks off…
After a few there we decided for a less "classy" or maybe a less "family" type place and went to yet another Lloyds No. 1.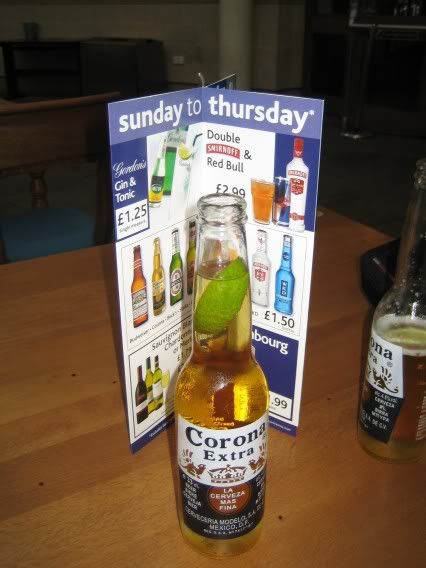 This time there was this kinda outdoor but not really section where you sat in a covered bit with loads of skylights. But as there was no one there and I was having problems not laughing randomly, we sat out there. All was going well until this weird looking couple joined up and I attempted to let out a discreet burp which rattled the joint. High domed ceilings + burps do not an echoless sound make. After nearly peeing my pants and doing my best to make Lee take the blame, which he was refusing to do, we downed the drinks and dashed on out of there.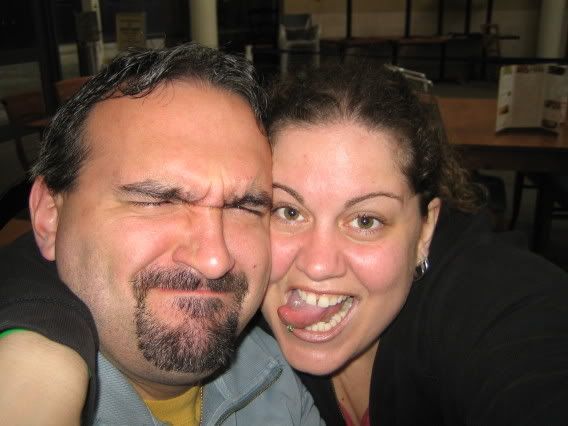 We went along to Yates where we gave in to some Fruit Machine itches that needed scratching. I won a load of coins and then I set off to the toilet and Lee proceeded to lose the coins. We'll the ones that I hadn't stuck in my pocket anyway. There only exists one photo of this stop even though it was a rather lengthy one.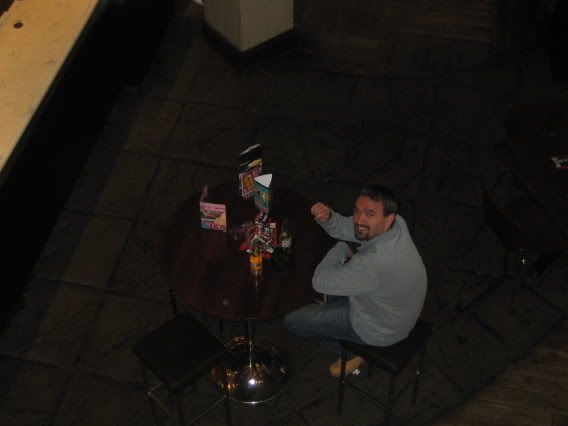 After Yates we left for the wonderfully skanky world of the Rat and Parrot. This brief stop provided loads of entertainment as it was where I found that vending machines in England do not only sell breath mints and tampons, and Lee fell over backwards after tripping on the karaoke stage.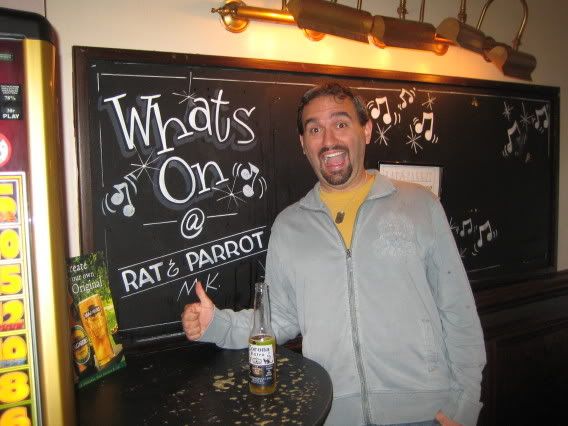 As you may be able to tell by the sozzled expression on Lee's face. At this point vision was blurring but our passion was burning. We were going to see this through to the end. In fact Lee was going on and on about a Pub Crawl having to have at least 15 to 20 stops on it to be authentic, and me wondering if he wanted me to a) make these extra pubs appear from my arse or b) to die of alcohol poisoning.
We left the Theatre District at this time for the MegaWonderland that is Xscape. First stop, Moon Under Water. This was when we came to realise that we were pushing the threshold of drunkeness. The line where Lee turns from Happy Drunk into Dickhead. And let's be honest, I do not put up with Dickhead when I am sober, never mind when I've been consuming Liquid Courage! So after a brief domestic that was actually well controlled with whispers and dirty looks at each other we made our way along.
Here is a photo that wasn't really taken at the Moon Under Water, but we will pretend it was as no others actually exist.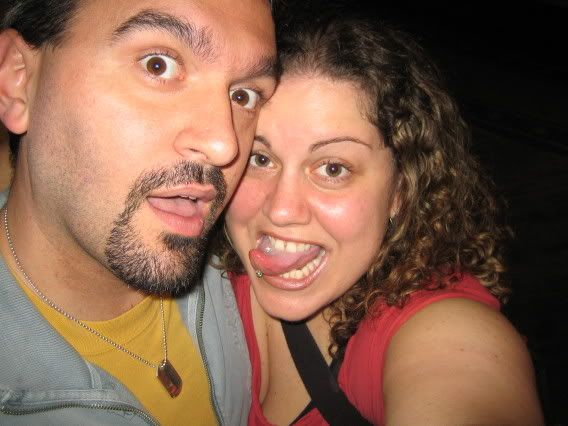 Next Stop .. First Base. A sports bar with pool tables and the rugby on. We didn't partake in any pool, nor did we bite when the bartender offered us 5 Coronas for a tenner. Though the way he laughed when we declined I believe spoke volumes about the state we were obviously in but oblivious that other people could tell. It was at this stop that I decided to present the ex-Dickhead with a present. Something I had picked up in a Break The Seal Stop along the way. Something that made me laugh like a hyena all by myself in the toilet because I had never seen one sold there before.
Lee looks amused but I think we more relieved when he realised it was a joke and that I wasn't expecting him to use it.
Righty ho. Upstairs to Old Orleans we went. We wanted this to be the penultimate stop as we thought it would be appropriate to end it at "Harbourside Sydney". The closest we could get to Australia without actually leaving the town centre. However, it was closed. So we sat in Old Orleans and drank and drank….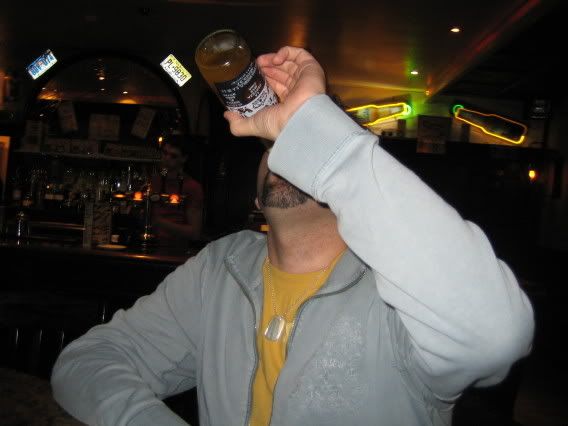 Until we would decide what to do. At this point we were starving. It was past 5 and we had been drinking for 6 hours straight. Everywhere we stopped we were going to get something to nibble, but when we'd arrive we'd remember that we hated the food there. So I decided to make my own meal…
We thought we may as well call it quits. 10 pubs done and loads of alcohol consumed. So we headed down the escalator when we .. well Lee.. realised that the indoor skihill had a bar! So we went to Sno Bar and had our last drink and took our last photo to commemorate the day.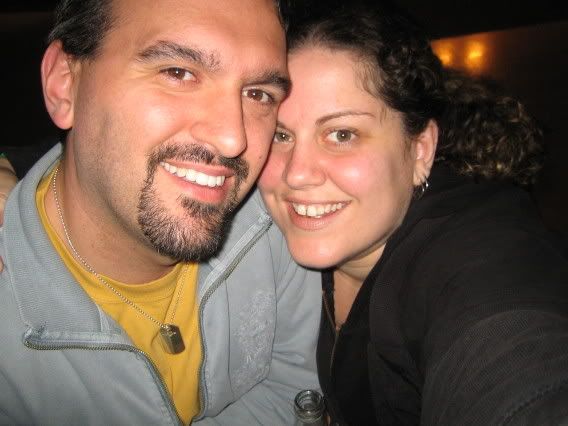 Less than an hour later we'd be home with a McDonald's bag to one side of the living room and a KFC bag to the other, with one large adult male passed the fuck out on the sofa and his drunken wife making long distance calls to anyone that could understand her jibber jabber. All in all… a very good day.
Thank you to Donna and Sally and Chris who gave me texts of support throughout the day. Though Chris's was a little cruel in wishing that I would wake up ill.
Next year will be even better.*
*if there is no surprise addition to the family.
I believe this last photo sums up our day….