No lines from songs to open this post. I figured that with New Year's Eve upon us, most of you would be tired of the Christmas Music Assault that has been waged against us since late November. Instead I will take you on a picture tour of our Christmas.
This year we did things a little differently. With worries over how I'd manage myself on Christmas Day, Lee and I did the family thing on the weekend leading up to "the big day". We spent Saturday visiting various Grandparents and then spending the evening/night/next day with his parents (and Russell too.. when he was popping in and out). It was a nice quiet time that saw me shed only a few tears here and there. Mostly because I didn't win at either Scrabble or Yahtzee… but I was oh so close. Damn that deduct the total of the value of your remaining tiles!!! Damn that rule to Hell!!
Oops. I lost the Christmas Spirit there for a moment.
So we left Stratford on Christmas Eve and returned to Milton Keynes. We did our last minute wrapping, delayed going to sleep, went to bed, got back up to open just ONE present, then I sat up reading whilst Lee enjoyed his PS2 for a while, by the light of the Christmas tree (which not as massive as last year's tree and shed far more needles, was still a good old tree and served us well!).
This is the night before. There were more presents under there on Christmas Day I swear.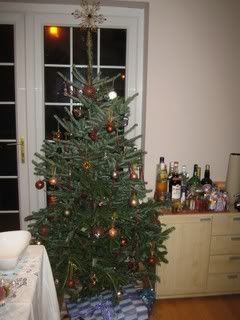 We also quite liked to turn the lights off to enjoy my "table feature". Instead of putting up lights outside, since I decided I was okay with acknowledging Christmas a little late, I tried to find different things I could do to Christmas Up The Place.
Please note that I who always seem to be procrastinating, set our table not one, two or three days early, but four!! I was so impressed with myself. Right… back to the goings on.
So we woke up Christmas morning and instead of doing the whole adult thing of getting showered and dressed, we threw on bathrobes and ran downstairs for the gifts. That was once we popped the cork on the Bucks Fizz (no, not the group that went on to Eurovision fame and fortune, but sparkling wine and OJ).
I'm almost scared of myself in that photo and it has nothing to do with the fact that my robe can bring a blind man sight or send a seeing man blind. I also don't remember the drinks being such a neon colour.
After the presents were opened, we finished the bottle of alcoholic goodness, got showered and dressed and then did the Gender Role thing which saw me in the kitchen whist Lee plopped himself in front of the PS2 to make sure he fully appreciated the games he was given, in case my Mom or I thought he didn't like them. We're convinced Lee, really we are. Another person who should feel they did some good gift giving is Stacy. As seen in the next photo, the fleece was barely out of the wrapping for 10 minutes before it was on him. At least he bathed first!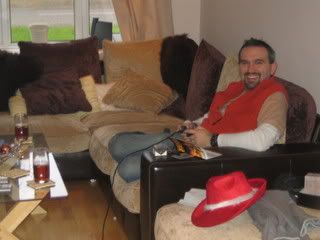 While I prepared our Feast For Two, I did my Saturday Morning butthistimeonamonday Call with my Mom, and aunts Sue and Cath. All that gossiping led me astray from my duties at least once or twice, and to be honest Lee and I kept up the British tradition of drinking all day (note the Winter Pimms in the PS2 shot)but I still managed to pull this off: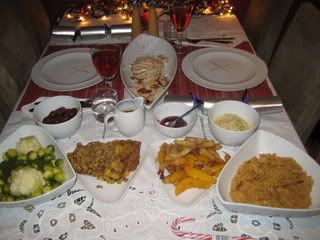 I am not sure you can really appreciate the sheer magnitude of the offering from this photograph. You'd have to realise that those plates are the super huge ones you normally get in posh restaurants where they then place a bread plate with three peas in front of you and then charge you £40. That is also set on a dining table that is meant to seat 6, but for this occassion and really all occassions to date, has sat just the two of us.
By this time we had changed yet again into our Christmas Dinner outfits. Though a good idea at the time, the outfits did not last long as lounging around was more important.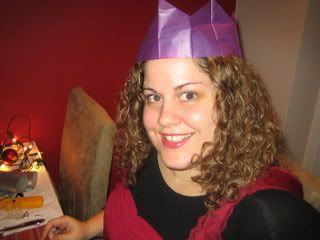 Throughout dinner we continued with the alcohol theme, complementing our turkey and sides with some Pinot Grigio blush. Personally I prefer the one at ASK!, but let's not kid anyone, at that point I was a bit beyond caring. I mean, proper wine would have been wasted on us when we were doing things like this:
And this! (Yes, that sparkler is being supported by broccoli and cauliflower on a fork)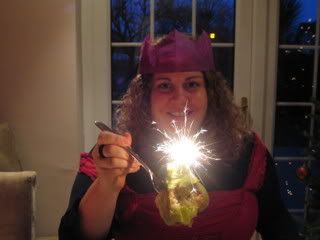 After dinner, which was a record short one seeing as we were both full halfway through one plate, I put on a One Woman Show of Not Much Other Than Being A General Tool …..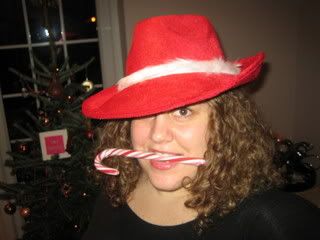 And realised that perhaps I would stop the drinking. After a few more family phonecalls and some teary outburts, Lee and I decided that all in all we had a Happy First Married Christmas and quite enjoyed spending our day how we saw fit. It also helped that there was no one else in the house to witness me talking to my Dad's photo while I cooked. Hey! Someone's got to keep me company when Lee is in PS2 Game Appreciation Mode, right?
So here's to a Christmas that we successfully saw through and our fingers and toes are crossed oh so tightly in hopes that the New Year holds more positive experiences for us. At least a month or two where I can just exhale a little and catch up on some sleep!
Oh!! OH!! P.S!!! I got a Pasta Machine! That means proper thickness when making my pasta. No more crazy rolling pin that is too small action. I cannot wait. Doesn't really go with my whole Need To Eat Healthy plan, but I can figure ways to incorporate my love of homemade goodness with my need to not love the results so much.
So I hope you all had a happy holiday and wish you all the best for 2007!
(and I miss you more than you could ever have imagined, Daddy.)