Okay, so he's not quite the president. In fact, he's not even American. But it is his birthday today.. and every 10th of April if you can imagine that. Who am I going on about? Well my baby brother, Scott, of course. Yes, my baby brother. All 27 years and 6'2 of him.
Instead of posting embarrassing childhood photos of him (only because I need to scan them and I have no time) I thought I would just leave some birthday wishes with a brief description of him.
For those of you who know Scott (who was actually named after a horse… nothing to do with any body part similarities), you know that he is a good guy. A good guy who can get a little wild once his blood levels are altered with foreign matter.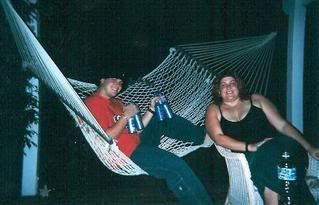 Note he is not double or triple fisted there, but quadruple fisted.
However, when he does drink, there is often nothing to worry about (mostly because he is not driving which means the road rage levels in Ontario decrease greatly). This guy LOVES a party!!! A little alcohol can assist in turning quiet, shy, reserved Scott into a dancing machine…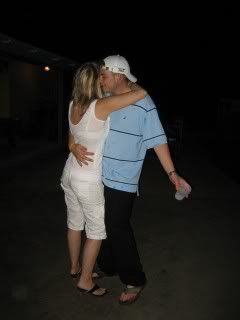 * note that he hasn't even put the drink down.
And he even introduces props to his act –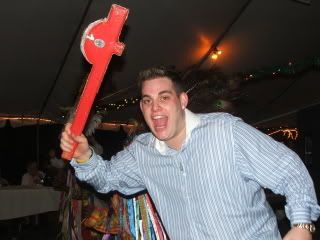 Even whilst drinking Scott's heart remains with his family. All generations of it …
aww, there he is with my mom.. and his.
Here is a photo of the two brothers…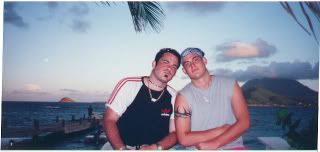 And here he is at his wedding with our cousins…
Yes, that Scott is a stylish man indeed. He once infamously said at the dinner table that he'd wear "nothing less than Guess". Little did he know that he would later on in life start a trend that hundreds of thousands would later follow… all the way across the Atlantic in England. Yes, Scott Astaphan was the Original Chav! Check out the Burberry shirt all those years ago…
When Scott isn't drinking, dancing or starting fashion trends that leave the rest of the world wondering WHY OH WHY?!, he likes to eat. His favourite food is … free. When he was little he was picky .. and clever, but his palate matured over the years and he'll eat just about anything (still won't fall for the butter sandwich trick though), as evidenced here with Scott trying to reach the Rice Crispies Squares through the plastic.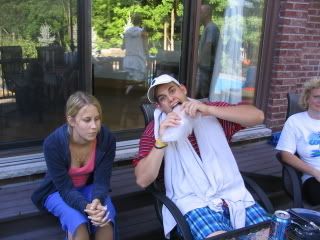 (Heather looks so proud to be with him!)
Through everything, Scott has been the best baby brother a girl could have. When I was still on his side of the pond we were really close and although I no longer receive daily foot massages, he still deserves to be celebrated today – his birthday. Actually he deserves it every day, but moreso today.
So Happy Birthday Scotty! I hope you get everything you want and need … and even more! Thank you for being you and for being such a great brother and friend.