Most weekends of this pregnancy have been spent in bed sleeping … or watching stunning small screen cinematic productions such as Classic Cops and Street Crime UK.  This weekend however, BOB's been forced to be jiggling and shaken about as I actually got out of bed to do something.   In fact, both days of the weekend will have been spent out and about.
Yesterday, we took BOB (along with Bambino D'Ambrosio), to Stratford-Upon-Avon's Festival of Food.  Okay, the zoo may have been more up BOB's alley, but Momma wanted some free samples!  And apparently a £6.50 bottle of Balsamic Glaze with White Truffles that she ( being me) has no idea what to do with other that to eat it straight from the bottle.
Before heading off to Stratford for our walk about the town, I checked the weather that said "light rain and a high of 13 degrees" so I decided to bundle BOB up nicely and head out.  Whilst doing that, I noticed that a shirt that had managed to cover my belly two weeks ago was struggling to do so this week, even when I was yanking down on it as though it would some how Go-Go-Gadget and become a longer shirt.   So I went into the washroom to look in the mirror to see what was going on and before my eyes I realised …. I'm too huge… from the side anyway.  I was just coming to grips with seeing my belly button changing shape, and now I've got to think about going and buying clothing that cover my burgeoning belly.
As I was safely tucked behind the over-the-bump panel of the maternity jeans I had on, I thought I'd actually start to properly document BOB's growth as my aunt has kindly requested me to do weeks ago.  Up until now, I just thought it was "me" that was feeling so big and that there wouldn't be all that much to notice in a photo.  Apparently, I was wrong… again.
So below you will find BOB at 19 weeks (+ 4 days):
Yay no popping belly button yet!!!
Not so bad from the front, but getting there!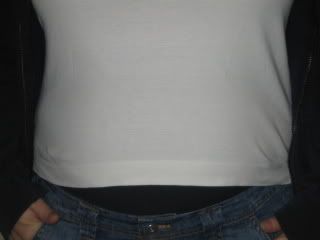 This shirt used to go past the top of the jeans!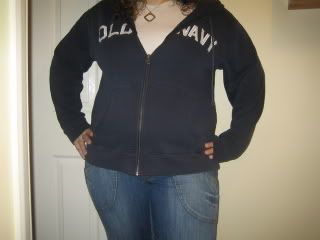 All tucked away and not so noticeable from the  front….
And then…..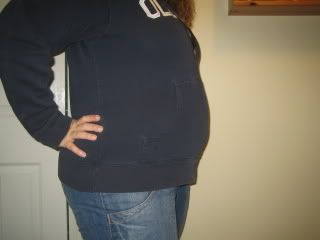 "HERE I AM!!!"
It frightens me to see these because all I can think is… Â  oO(and this is is only shy of HALF WAY!)