Today is Hallowe'en.  Yes, even in England.  They may do it a little differently; an example being that we were the only people on the street with any sort of sign that we were home and willing to shell out goodies.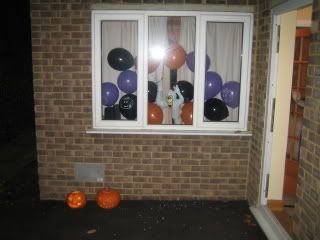 By sign, I am not talking a placard, but anything resembling something to do with Hallowe'en.   Somewhere some neighbourhood must be littered with it because they've been selling tons and tons of stuff in the stores for weeks now, yet with all of the kids that come knocking, no one else seems to make an effort.
Oh well, the plan is to have BoB walking by next year – he/she will have 8 months to get the hang of it – so that I can get back on my Trick or Treating game.  I'm not asking too much right?  That's what I thought.
This year however, we spent it shelling out candy to children of all ages … those that spoke, and those that you wish you had a supply of razor blade apples for (usually the age group of 14-17).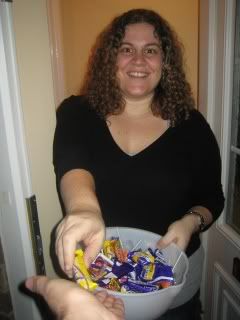 Okay, so we cheated.. that's Lee's hand, but if The Hills can fake it, so can we!
Between gaggles of ghouls (well actually, almost all girls are witches of some sort and all boys are skeletons or in Scream masks) and the exercise of getting up off the sofa, BoB and I chilled.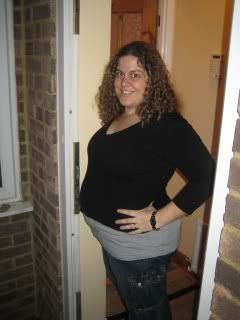 As you can see, this child has had enough of being held hostage in my womb and is trying heartily to dig his/her way out … via the belly button.  I am beginning to feel like a Weeble .. or Shamu.  Though I think that is just because today was one of those days where I caught a sight of myself in the mirror when I was getting ready and realised that I was sticking a lot further out than I was when I went to bed.  To think, that black sweater used to go midway down my bum!  Thank goodness for H&M Mama tank tops (or whatever they are called in England).  Then again, it could be because there are only 16 weeks to go.  That's right, I said ONLY.
Anyway, back to Hallowe'en… not that there is much else to say.  It came (early! people knocked on the door at 5.30!!) and it went (last Trick or Treater hit around 8.30pm) and I cannot wait to get BoB out there on the streets, pimping my child out in some lame costume so that I can go through their bag/bucket/pillowcase/what-have-you to pick out what I want and ration the rest to him/her.
Sure my mother thinks that this baby is payback for what I've done to her, but I've also paid attention to her tricks over the years and will be using them when and where I see fit.
Game On.