Man oh man. Last night I went to my first Grown Up Party. Thinking about it now, it was my first party of any kind, but it was a grown up's birthday. My Mommy was quite nervous because she hadn't seen the hosts in a while and wasn't going to know a lot of the other people that were there, but there was nothing to worry about because, as usual, I was perfect.
Okay, I cried a little when that one man ran his finger down the side of my face, but can you blame me? I mean, who was he and why was he touching me? Yeah, I'm cute, I know… but you don't have to touch me to let me know. I love cuddles and stuff, but not from dudes I don't know, and plus I was feeding off of the vibe my Mommy was getting and it was not a good one.
Anyway, after showing everyone how alert and curious I am, having a few snoozes, and having a feed, I was ready to go. And it was past my parents' bedtime, whether they like to admit it or not. When we got home, there was some mumbling about time change and feeding schedules and I had no idea what was going on so I let them know I was ready to eat and promptly fell asleep.
Then I woke up at 4am, which supposedly was 5am, but who cares…. because I looked at the window and it was lighter than it usually is when I get up for my late night snack and I was loving it. My Mommy wasn't. She didn't seem thrilled to lie there awake with me whilst I celebrated with flailing fists and feet for the next hour either, so the sneak pulled the move of bringing me into The Big Bed which meant that I was asleep within 5 minutes. And I slept for the next 4 hours.
It was great and we were all feeling refreshed so we headed off to the mall to get Daddy some work clothes and apparently to get my parents some ice cream.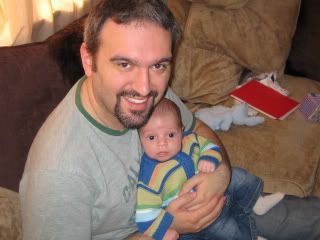 When we went outside I was treated to something I never imagined in my wildest dreams!!!! Did you know that the sun shines in England? And not just momentarily between passing clouds. The sky was blue, the breeze as not too cold and the sun was really bright. I LOVED it! It was so bright that my pupils were like pins, but no matter how my Mommy wanted to shade me, I just wanted to see more more more more more!!!!
So after shopping which put me to sleep, we came home and I ate and ate and ate and then my Mommy put me in some comfy clothes and let me sit in my swing and watch my Daddy scrub the deck… literally.
But my silly parents should have realised that I wouldn't be happy down there for long. I am too cool to be left hanging out at ankle level. I wanted the view of the world that they had, and a little exercising of my lungs and I got it.
Oh yeah, who's the man?