One whole quarter of a year has passed since the very early morning that you decided you were ready for the world. I'd never thought about it like that until this morning when your Daddy mentioned that you weren't just 3 months old today, that you were 1/4 of a year. That means there are only 3 more of these chunks of time left until we are celebrating your first birthday. I'm having trouble getting my head around this information!
This month has been easier and harder than the past two, but overall it has been way better because you're getting so much funnier. In the first two months, most laughs were had when you'd "wind" yourself… or simply, burp and fart. That trick still hasn't gotten old, but now when you sneeze you make a cute noise when you're done, you talk to everything (including tape measures, the television and stuffed animals), you hold on tight to things, you laugh, you smile even more, you get excited every time you are in the bath and you love love love love love to stand up.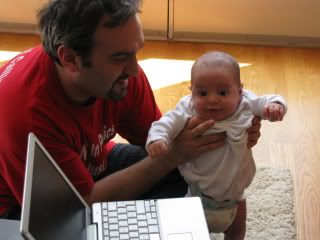 You also took your first trip on an airplane this month. I cannot begin to tell you how scared I was about this trip. The thought of close to 8 hours in an enclosed space where we cannot pace freely trying to calm you or escape the evil stares and wicked whispers of child hating passengers was enough to make me want to celebrate that we have cancellation insurance. But, we braved it and you were AWESOME. On the way there you slept most of the way in your special little bassinet and we were so proud of our world traveller!! I think the other passengers knew we were proud too by how many times the camera flash went off.
The only down side was that you were slightly overstimulated and the reunion with Kadie was not what we had imagined. In fact she had to work so hard to win you back over while you were quite intent on being a Momma's Boy. You've remained that way throughout this month and although it can be exhausting, I have to admit that it makes me a little happy as right now other than drooly smiles, it is the only way you have of letting me know that you know who I am and that you feel safe with me.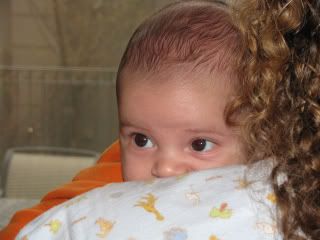 In the end, she won you back over. She discovered that the way to your heart is not through your stomach, but through a bath in her kitchen sink. And every morning the two of you would splish splash and you'd check yourself out in the mirror.
Once you were comfortable letting her back in to your tightly guarded heart, you never looked back. You loved her singing (and you are the only one who does) and had smiles every morning when you woke up. Even before you'd had a bottle!!!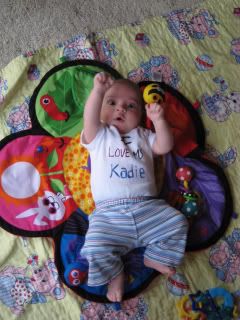 You also re-met, Zed. You didn't have the same extreme reaction as you did with Kadie, but perhaps because you were only minutes old when he had to go and catch his plane. Plus, he showed you two things that you instantly fell in love with… hockey (on the BIG tv) and boxing. In fact, you would get so hyper from the boxing that Kadie tried to ban it!! But you two dudes were not having one bit of it. You knew to put up your dukes when you saw him and who can resist a little dude in boxing gloves?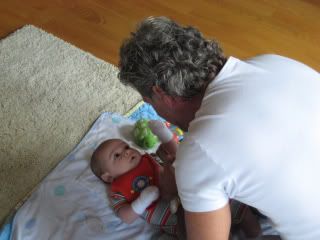 While you were in Canada you met a whole bunch of people you'd only heard about before. I have photos of you with each of them, but if I posted them all in this one entry, people would still be reading it when you turned four months old! On Kadie's side you met Gee Gee Margaret, Great-Aunties Sue, Cath and Suzanne, Great-Uncles Al, Aaron and Dave, cousins Kiera, Adam, Josh, Sarah, Ethan and Luke. On my Daddy's side you met Great-Uncle Chickie, Great-Aunts Verne and Lauren, cousin Becky and your greatgrandmom. Though you didn't like that experience because it was in a hospital and everyone was nervous about you catching something and you couldn't understand why we wouldn't give you your soother back when you'd spit it out.
You also met your cousin Calleigh. You were not that nice to her I have to admit. Especially when she sucked your thumb!! You cried. It was a sad moment for me as everyone discovered that you were not the rough and tough dude you'd been leading them all to believe. Reduced to tears by a girl 20 days younger than you. It's not like she stole your Bumbo… which would have elicited a similar response.
Calleigh's parents were also there, so you got to meet your Uncle Scott and Auntie Heather, and your Crazy Uncle Jamie and Auntie Stacy. So many people… too many restaurants. That may be the best way to sum up your time in Canada actually. But you loved them all!! Even if you couldn't be bothered with looking at the camera in the family shot.
So let's sum up the month: got two needles, cried, you flew to Canada, got grumpy, slept a lot, got happy, loved bathtime, loved boxing, tv, hockey, Dr.Phil and your Bumbo, met a lot of people, ate out way too many times for your liking, discovered that you hate Scarborough Towne Centre's food court, discovered your lungs and used them… a lot, started sleeping through the night, came back to England, stopped sleeping through the night, got more needles, cried some more, became extra clingy… fed yourself…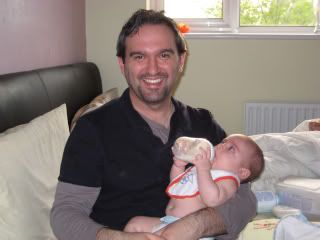 Through it all we've watched your personality bursting through like a packet of Jiffy Pop and have loved watching you get stronger, smarter, taller, chubbier and have wondered if you'll ever sleep through the night, if these screaming/crying fits are a phase, if we'll both be totally grey before we're 35, if our house will ever be clean at the same time as all of the laundry is done and the food in our fridge is in date. To be honest though, none of that really matters. A quarter of a year has passed so quickly and I want to make sure that I enjoy every moment with you. Even if some of those moments end with both of us in tears… at least we're crying together.
Happy Three Months, Grumpy Pumps.
Mommy Loves You!
P.S: We tried to get you an exersaucer for your three monthday, but we can't find one in a store to try out, so please enjoy the new BIG tv instead.