A couple of months ago, my sister-in-law, Stacy, blogged about getting a new vacuum cleaner (a Dyson) and it evoked unimaginable excitement from some of my family members.
A couple of weeks ago Stacy blogged about getting a new barbeque (a Weber!) and that's when the emotions were stirred within me. Let's be honest here, I am a girl who is far more excited by food than by cleaning. That's part of the reason I want to win the lottery and live in a hotel… daily maid service and no choice but to eat at restaurants…or 24 hour Room Service!!!!
Anyway, Stacy's entry got me all excited about BBQ Season! As we are into June, summer should be arriving soon. We've had a few warm days, but not "summer" yet. Last weekend was super sunny and we headed off to Homebase (just like Home Depot or Lowes) to see if there were any deals. Right in the centre of the barbeque section was a Weber stand. We looked and touched and oohed and ahhhed and then we ACKed when we saw the prices. Sure, they're pretty and they're the Kings of the BBQ World, but the price wasn't converting well. We could have bought one, but it would have been the size of a George Foreman grill on wheels. And not a Family Sized Foreman.
So we looked around and saw that there were a couple of Fiesta barbeques. Ooh, another name I knew!! I also knew that my Dad and Scott were both Fiesta owners so they couldn't be that crap.
— I should have explained in the beginning, Lee and I have never owned a gas barbeque so we were virgins to this whole experience —
We found one that was 1/3 off and we were happy. Then we realised that there was no way that it was going to fit in my car with Noah and his stroller (we learnt this lesson when we tried to cart home a 42 inch tv and there wasn't even a stroller in there), so we put it off until the next day.
Lee returned to Homebase last Monday to be told that they had sold out. I wasn't buying it, but that's because I trust no one. How could they not have it in? We needed it! We were waiting to play with it! We had waited a whole day to get the fire started and now we had to revert to our oven. What was that all about?!
Nothing was going to stop Lee on his mission though. He contacted a few stores trying to track them down, found out that the distributor had gone bankrupt so there would be no more deliveries, and then he struck Grilling Gold when a nice older lady at a Homebase store in Luton found the last one in stock and put it behind the counter for Lee. He went and collected it on Friday and brought it home. Unfortunately Noah was not a happy man on Friday, so there was no chance to get the assembly going. Yesterday though, success! Lee got down and dirty and put that bad boy together and when he finally finished at 9.15pm, we were ready to go!
Our first attempt at gas grilling has to be … chicken wings!! We have searched this country for good old chicken wings and have never truly loved any that we've had. TGIFridays has come closest, but even sometimes they have off days. So armed with a bottle of Frank's Red Hot and a brand new barbeque, we got cooking.
We called Canada twice to ask questions about the barbeque (Randy is the Barbeque Master!) and we were not sure how things were going as it started to hail during the cooking and got really dark (the sky not the wings), but once we brought them in and sauced them up we knew that we'd made the right decision in going Gas…. they were the Best Damned Chicken Wings ever to be eaten in the UK. That's right, not just England, the UK!!
Normally I'd put a photo up here of the wings, but I took the photos on Lee's camera. However, after we had our second BBQ of the weekend (burgers and ribs) I took a photo of the actual beast: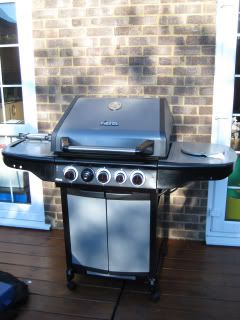 Check out all of those knobs!
I know a lot of people, especially in England, believe that gas barbeques are not "real" barbeques, but last time I checked, they were not famous for their grilling skills. When you head out to a Ribfest you see a lot of gas grills hard at work and to be honest I'd rather be producing finger licking meat than charred on the outside not so well done/way too overdone on the inside "meat".
And hey, if you come over for a BBQ and don't like the way things are done here, we can always run out to Tesco and get you some of these:
Uh huh.. Spam Fritters…pre-fried. All class and only £1.95 for the pack. Someone actually buys these!
Anyway, thank you Stacy and Jamie for lighting the fire under our asses!!! We are in love!