It was the best of months… it was the worst of months…
Overall, I think we can say that Month 5 was our most successful to date. Though it started out and ended on very sour notes. Or rather the notes of your screams when you realise the person you want to put you to bed, isn't the one doing it.
You started the month being babysat by your Nan and Granddad, and what looked like it was going to be a smooth night apparently went to pot 20 minutes after we'd left the house. You exercised your lungs, determination and charm as you let them know you were not taking this babysitting lying down, however you are too cute to get mad at so don't give up on me just yet.
All I can say is that they are very patient people.
Perhaps in line with your mood and my parenting skills, the weather also fluctuated greatly this month. We started off with lovely sunshine and took advantage of it by going to London where you were absolutely amazing beyond my wildest dreams. Other than that little bit in the restaurant where you wanted to sleep, but I had to be holding you so my lunch went stone cold, and as soon as your daddy was done his and was going to take over you fell asleep.
This also month also marked the milestone of If It Can Fit In My Mouth And Even If It Can't Really .. It's Going In My Mouth.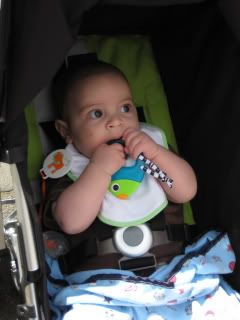 Toys, clothes, electronics, books, body parts and even plastic bags if you can manage to grab one. Mostly, you love FOOD going in your mouth. So much so that we've taken to having to trick you when it is meal time. The food portion of the meal has to stay out of the room that you are having your bottle in until it is done because you squirm and wriggle in an effort to look over our arms, shoulders, the sofa, the highchair, etc. in order to find the food that awaits you at the end.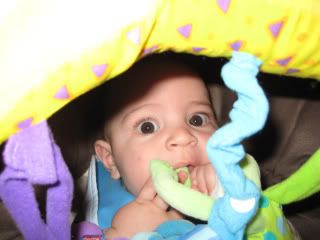 That being said, you are an AMAZING eater so far. Okay, so you went off of avocado as soon as you went on it, but I haven't given up there!! You seem more into your "stodge" (don't know the spelling as it is a word I've only learnt since moving over here) like sweet potato and squash or peas, potatoes and carrots mixed. And of course mango. Mango and banana. You could alternate those two for every meal if I'd allow it!
It's good that you're eating though because you need the energy as we've got our Gymboree membership now and the half hour constant play wears you out. It's too bad they don't have that class nightly at about 6pm, so we could avoid the pre-sleep struggle.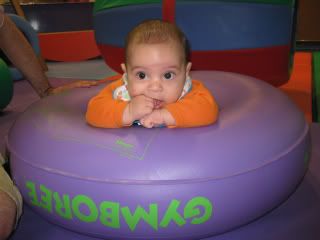 That is one this that I am struggling to understand. You hate going to bed at night. Hate hate hate it. Even when you're exhausted you don't want to go. Yet you wake up in the morning all Mr. Happy, have your bottle and a quick play with daddy and then you cuddle up to me and fall back asleep… for two hours. Those two hours would be SO much better if you got them at night. Trust me, I know what I am talking about because I need those two hours too!
Though we cannot really complain. Yes, you still wake in the night, though not for feeds or to be changed, but because you've dropped your soother. We're working on this though. At least now you will roll yourself back over if you end up on your back, so it has cut down your waking incidents. And as frustrated as we are that you've become a true sleep burglar, it is hard to be upset when we walk into your room to find you on your back smiling like a complete maniac back up at us.
The smiles are not just part of your waking routine either. You seem to find the world a funnier place these days and you love to flirt with everyone when we're out of the house. Inside the house you blow hot and cold. You can start to cry and it is a laugh within seconds or you will be smiling and talking and then just cry. I've not worked that part out yet. I'm not even close, but so long as there are smiles it can't be all that bad right?
Along with the increase in smiles, you laugh… a lot. You even laugh at yourself. I wish I knew what you were saying, but I know that you find yourself funny and you actually are funny when you do something and then look at us with that Aren't I The Funniest Person? expression on your face! Yes, you are the funniest… most of the time. Definitely funnier than your daddy. Not so sure if you're funnier than me. That may seem mean, but I'm still struggling with losing the Boss position within the household, so cut me some slack.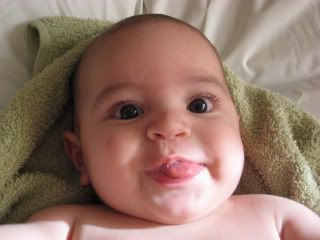 This month also marked a full month without a visit to the doctor, though you have now been to the dentist and you were a superstar. I swear, if you acted at home as you do in public, I'd be putting you into The Best Baby Of The Year competition. Well wait, most of the time when you are in public. Though I guess your nan and granddad's house and Luca's house aren't really public.
That's right… as you started the month exercising your lungs, you ended it that way. Though to be fair, I didn't witness most of it at your grandparents' as it was when I'd gone out with the girls. So I'll let you off and take the blame for that one. Plus, you were pretty happy the rest of the time!!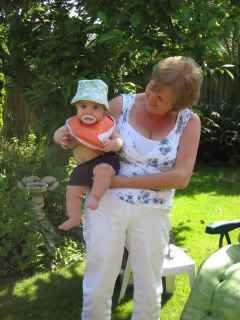 I cannot really complain about this month. It is hard when you hear about every other baby sleeping through the night and seeming to be perfect little angels, but you never really know what happens behind closed doors and although I do still doubt my possession of a maternal instinct and my ability to raise you the best way and right way, you seem to be doing alright. And you seem to love me still, even though I make you go to sleep at night, I take you shopping, I won't share all of my food with you, I ..on the very rare occasion… go out and leave you with other family members and all of the other horrible things I do.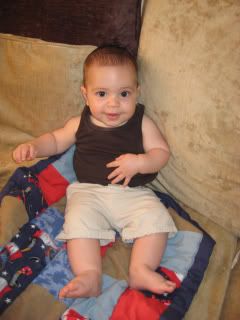 I'm still working on being a better mommy and learning to enjoy all parts of it, even the difficult ones, and I have to thank you for doing the little things which make it easier. At the end of this month you've started to lay your head on my shoulder out of the blue and just sit there for a few moments before you want to go off and bounce all over the place again.
If that alone was the only thing you'd started to do this month, it would have made all of the tears, nights of broken sleep, confusion and frustration over lack of ability to communicate between baby and parent, and the endless times you pee on us… all worth it.
You're starting to break me, Noha. It's the scariest feeling I've ever felt, but I look forward to even more.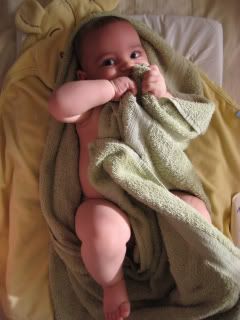 Happy Five Months, Grumpy Pumps.
Mommy Love You!