There have been many mornings, and afternoons, evenings and nights for that matter, when I didn't think that we'd reach the half year mark. Actually, I knew you'd make it, but I thought that I'd probably be spending it in a nice, tight white coat with lots of big buckles babbling to myself about needing to watch Hollyoaks or Judge Judy. But, we've made it!! You in one piece and me still hanging on to my last threads of sanity!
Month 6 was a mammoth month for you. Our journey into the World of Solids has continued and you have been a SUPERSTAR. Such a superstar that when I took you for your 6 month weigh-in, I nearly fell over when the lady wrote down 23lbs 6oz. You are 2lbs lighter than your nearly 2.5 year old cousin Luke!!
By the time of your Half Birthday Party, you were ready for your first Roast Chicken Dinner* (*adapted for the palate of a little dude) and a taste of Jell-O Pudding. You only got a little of that because I have become a bit neurotic over you having things with lots of sugar. I even threw out your Reduced Sugar Rusks because I thought they were too sweet. Yet, I let your Daddy give you Rum and Raisin gelato. One day you'll realise that sense and I … we don't often get along. But my not-so-normalness is also what makes me a fun Mommy!
This month I had to put Fun Mommy aside and tackle your sleeping issues. That was not fun. You'd developed this intense hatred for all things sleep related …at least when you knew it wasn't a nap. You'd scream and go rigid or wave your fists about like a raving lunatic, but lots of patience … on the parts of family members and friends… got us through and now you're a master sleeper. In fact, you became SO good at going to sleep, that our adventures in London with Kadie, Zed and Adam went a lot better than I'd anticipated! We were all so proud of you, as were the fellow diners at such places as Pizza Express and Boxwood…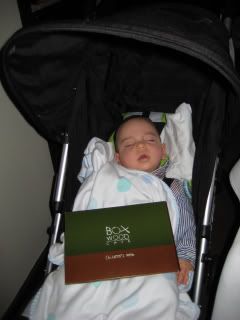 On top of mastering eating and sleeping, you also appear to have discovered a belief that you are funny. You are, of course …being my child, right. However you often, of course …being my child, think you are a lot funnier than you are which makes it all the funnier. You won't blow raspberries and rarely stick out your tongue, but always choose the best places for The Tongue to come out .. like the showers at the pool or Costco.
When you do things that you find funny, there is always this grin on your face like you are emoting "hey guys, isn't this/aren't I the funniest thing you've ever seen?". Luckily, because I am finally starting to get into this motherhood thing, I agree that you are and encourage The Sillies. I do realise that I am only going to pay later and will undoubtedly start looking for the hospital with the nicest padding on the walls shortly.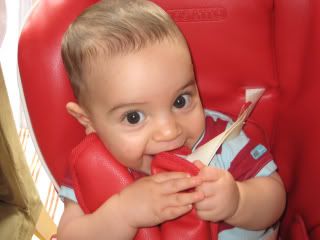 That has actually been the best part of this month. I've started to really enjoy this journey. Not enough to make me think a brother or sister would be a good idea right now or later, but I am liking watching the world through your eyes and getting to know you now that I am not so scared of you. And you seem not to be too scared of me either which really helps. There are some days when you raise those perfectly shaped brows of yours and look at me with an expression that can only mean "YOU're not seriously in charge of ME are you?", but that look is quickly followed by a sigh of relief when you realise that YES! I am the one in charge of you! Hooray!
I think my not-by-the-book approach has helped out a lot this month as we hit the road …or the train tracks for the bright lights of London. Hotel Life is my dream and you quickly adapted. So long as there was food on hand when you were hungry and a blanket nearby when you were sleepy. You became a people watching expert and for those five days I swear you thought you were 5 years old. And at times, I think we all thought you were too.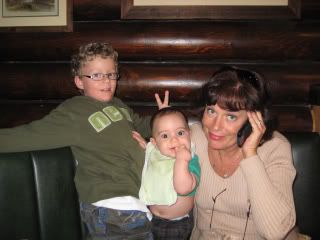 But there were also moments when I realised that you are still just a tiny little dude who is only 6 months old. You've done so much in the past 6 months that sometimes we lose sight of this fact. Sometimes we start to expect more of you because you seem bigger and stronger and older. I swore I would never put expectations on you, but you've already been through so much more than I'd thought, that we just tend to think that you're at least 1. I'm so grateful for the days where you just want cuddles, because those are the days that remind me. Those are the days that I know I am going to wish I took more advantage of when you're 12 and think I'm an embarrassment. And when I look back and watch the tiny baby screaming as Kadie is prepping him for his first video'd bath, I break down and cry and hate all of the memories I didn't get to make because my brain wouldn't let me. But now it will, so watch out, NoHa, the cuddles are coming!!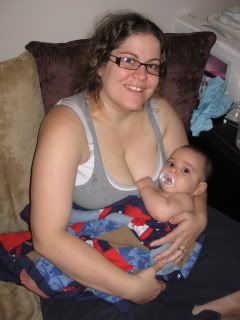 So Happy Half Year to you, Noah Alexander James! As hard as the past 6 months have been, you have been so worth every grey hair, laugh, nervous breakdown, smile, stomachache, headache, tear and tiny smack in the face that you give when you roll over and try and grab my pillow. I am looking so forward to the next six… and all of the half and full birthdays to follow (yours and mine)!!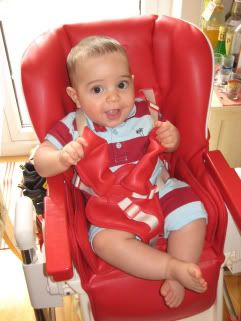 Happy Six Months, Grumpy Pumps.
Mommy Loves You!