I'm late, I'm late, I'm late! Sorry!! I keep telling myself that I am going to keep a draft of these entries so that I can add to it as the month goes along and then I'll be ready on the day, but it hasn't worked out that way. Part of the reason is my procrastination, but an even bigger reason … is that you've been keeping on my toes this past month. I am not sure how one not so little baby boy can pack in so much energy and development into that body!!
I mean, let's face it, with the amount of food you eat, you'd think there'd be no room for anything else. Though your teeth made their arrival this month (not all of them, only the bottom front two) so you can now make the chunks of food you swallow whole a little smaller. This may also help your Daddy's worry about you choking. Me, I know that you'd never waste a good piece of food!!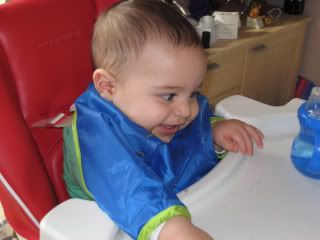 So we started off the month in pain from the teeth and then I got a cold and then we thought you were getting a cold, but you've managed to keep it to a slightly runny nose and some SERIOUS snoring. So serious in fact, that if I walked into a pitch black room full of sleeping babies and their daddies, I wouldn't need a light because you sound like identical twins. Sometimes when you come into our bed in the wee hours of the morning I feel like I am in a foghorn factory. Luckily, that similarity is only apparently when you're not well.
Another similarity to your Daddy has also come to light. You LOVE computers. Laptops, desktops, Mac or not… you love love love to bang away at the keyboard.
We even went so far as to buy you a 3years+ laptop that is orange and yellow and talks to you, but other than swinging it around by the mouse, you are not that bothered. When it was presented to you, you looked at us as if to say "who are you two fooling?! This is for babies!". Luckily your Daddy has in the area of 4,534,204 computers and found an old laptop for you to drool over and push around the living room.
That's right, you've become mobile this month too! This means that not only are you moving around the room, but anything that is not glued down or too heavy to push is also being relocated by your helpful hands. On top of the crawling, you've managed to learn to pull yourself up to standing. Noah, I have to admit, I was not prepared for this. We bought stair gates just in case, but have not put them up…. this is because we're too busy trying to move breakables out of your reach and figure out a way to make you less interested in wiping drool covered fingers all over Daddy's beloved plasma screen.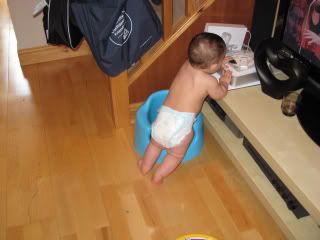 You've fallen and bumped your head more times this month than in all of your previous months. I know that this comes with the territory and I should be grateful that you've yet to crawl off of the bed (though you have given some serious time and dedication to that) or fallen down the stairs or actually broken the skin, but it still scares me every time. Sometimes you cry, sometimes you wail, sometimes you just smile, but every time I run to you and pick you up to give you hugs and kisses. Because not only are you clumsier this month, but you are also even more cuddly.
You randomly crawl over to us and snuggle into our legs before crawling off again, or roll back and forth looking for cuddles when you're in our bed. And you are even starting to give super wet sloppy kisses. It's GREAT!
Along with the extra cuddles, you've also become super smiley. You don't give them out to everyone, but once you decide a person is smile worth, you give them all you've got! And you love when people smile at you .. .which I'll be honest, is not hard to do.
It seems that this month we've both come a long way. I seem to be finding more patience and much more enjoyment in this motherhood thing and you just keep hitting milestones that you're not expected to hit for a while. It's super exciting and also makes me sad because I know that it is all going to start flying by and I'd love you to stay this age forever.
Though if you are going to insist on growing up, let's work on the sleep thing. It is awesome that you'll happily go into your crib at bedtime, but the whole staying asleep thing, you're kinda sucking at that. And lately it is not even a case of popping the soother back in, you full on wake up and crawl to the bars awaiting the arrival of the emergency services.
Often you're just wanting to be rolled over because that would just take up too much energy for you to do yourself, so you pull yourself up on the bars and call out for assistance. I'm just glad that you don't seem to have the energy to pull to proper standing in the crib yet. I have visions of being asleep in my bed, knowing that you're supposed to be asleep in yours and yet I'm rudely awaken by a tiny hand honking my nose, which seems to be your new "thing".
Mind you, I'll take the honking any day over your preferred method of waking your Daddy up (which involves tiny fingers tightly gripping eyeballs), and I'd like to put in a request for a little less of the hair "stretching". It's not elastic, dude. It's not going to spring back when you let go. At least not when you actually remove it from my head first. It is GREAT that you love my hair when it is all loose and curly, but if you could just pat it (even smack my head if you'd like) rather than pretend that your hand is a rake and my head is an autumn lawn under a maple tree I'd really be appreciative. I guess the good thing is that you've discovered that although much shorter than mine, Daddy's hair is scrunchable too!
I've got to say, all in all, you and me, we've had the best month yet. We both have to thank Daddy because he comes equipped with more patience than you and I have put together, and he seems to have enough energy for 3 people … or at least enough to make up for the energy I've never gotten back since carrying you around in my belly. If only he could bottle some of the Excess Patience for after swimming when you're exhausted and you think that us getting dry and changed is some sort of violent crime and scream and cry for all of the other swimmers to hear. Whomever it was that invented chairs that strap wriggly babies to walls is/was a genius.
If only they'd thought about it holding a baby that weighed as much as you, since not long after I took that photo, you tried to escape, I tried to unbuckle you, the seat bottom went down and I caught you mid air.
You cried, we cuddled, you pulled my wet hair and then you stayed as straight as a pin on the thin bench whilst I got you ready and once I picked you up, you held on to me like you never wanted to let go.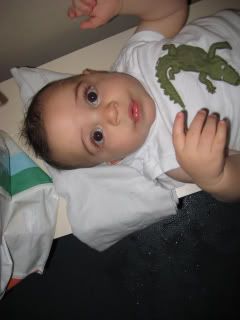 That was one of the scariest moments of our life together, but it was like you realised in that moment that if I was there, then you'd be alright.
I hope that realisation stays with you for all of our life together. Even when you're all grown up and moved on out and think that I'm so not cool to spend your spare time with, I will be doing whatever I can to make sure that you feel safe and that if you do falter in anything, I will do my best to catch you. Sometimes I may not be quick enough to break your fall, but I will always be there to pick you back up, give you cuddles and let you pull my hair. Gently.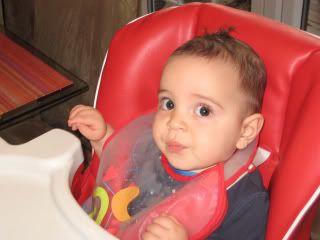 Happy Seven Months, Grumpy Pumps.
Mommy Loves You!