This month SUCKED.
Through no fault of your own, this month ranks right up there with Month 2 when we had to deal with a healing circumcision, though this time it was me who cried all of the time; whether due to the searing pain I'd feel in my back when I'd sneeze, or because I realised that that for the first time in your life I'd gone longer than 24 hours without taking your photo or that I was in fact less mobile than you!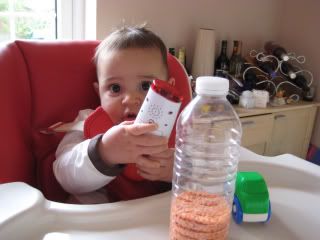 Oh, I also cried (a lot) when you were packed up and sent off to a "childminder" (I have no idea what they are called in Canada!). I always swore that I'd never leave you with a stranger and my heart broke into a million jagged pieces when I realised that it had to be done. Do you know how much pain I had to be in to give a complete stranger control over you and your day? To not know whether the ruffles on your diaper were pulled out properly (even though I'd included that instruction on the double sided Info Sheet that I provided), to not know whether you had to cry yourself to sleep or even worse, whether the face that you had to look at when you were having your afternoon bottle was an ugly one?!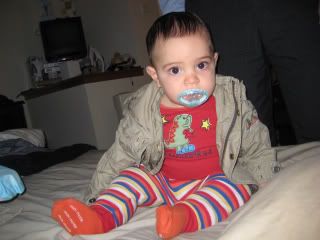 Luckily, you survived the two days that you were there. In fact, you survived the two weeks where I was not the same Mommy that you'd come to know. You adapted whether you spent the day at home with your Daddy/Nanny/Granddad downstairs and me upstairs in bed, whether you spent the day in Dunstable (not many people adapt to that well) or whether you woke up in Stratford.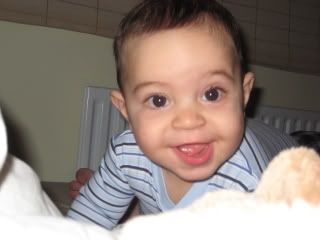 One thing you abandoned happily, was your skill of settling yourself when you were put into your crib to nap or sleep. Nope, you didn't so much as bat an eyelash when your daytime naps happened in bed next to me. In fact, you decided that this way was definitely the way to go and at night, your poor Daddy would have to stay with you until you settled, but you'd still wwake up wanting Mommy's bed and we'd give in because your Daddy was exhausted, you were confused by the changes and I was stuck in bed and of no help at all.
And then you started teething again.
How could we possibly force you to sleep alone in your state of confusion and pain? We couldn't … and now… we are paying a HUGE price. Come sleep time, you've become a monster; refusing to sleep, refusing to lie down and letting the neighbouring counties know that you do not want to sleep alone.
I told you at the start that this month sucked.
Then again, despite my medical setbacks, your teething pains and everyone's complete routine upheaval … you've thrived physically! You've remained steady on your 99.6 percentileat 25lb 8oz and have continued your mobility journey outward and upwards! You pull up on anything and everything and anyone and when you're not paying attention, you can stand alone for over 5 seconds. Though your progress there is often thwarted by your tendency to be distracted by the ties on your pants which you seem to be unable to resist bending over to try and stick in your mouth … resulting in a Head meets Floor situation.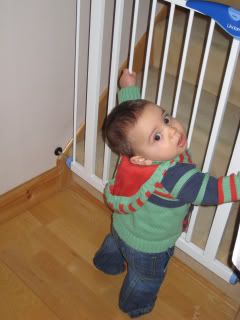 So despite it all, you've managed to thrive .. .and I've missed out on a lot of this and haven't been able to document it all with my trusty digital camera. So I hope that Month 9 is so good that you forget Month 8 and one day, I will too. Until then, I will have to get your Daddy to tutor me in using Photoshop so I can create some good memories of those wasted weeks. Mind you, due to teething, you spent a lot of that time doing your Frogger impersonation, so perhaps it is best that there are few photos.
But rest assured, Frogger was captured for posterity so there still remains the opportunity to bring the photos out to show future girlfriends or to put in the paper when you turn 18!
Happy Eight Months, GrumpyPumps.
Mommy Loves You!