Apologies for the extreme delay in getting this out. I actually had the photos all resized and ready to go in time for the 9 month birthday's arrival, but I've not found myself sitting at the computer long enough to actually start to write.
At the moment, I should really be in bed because I am flat out exhausted. Month 9 saw an ever closer resemblance to Human Cling Wrap in you than all of the previous months put together. It does not help that your little brother or sister is doing their best to drain any energy I have left over from being your human security blanket.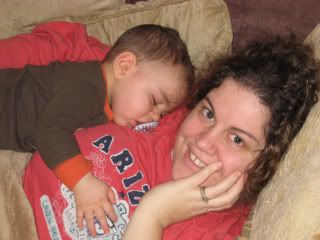 Month 9 was a month of firsts!! They all seem to be, but more first times appear to have made their way into November than any other month … except maybe March.
You were sick for the first time. And I mean proper throwing up and diarrhoea sick. Not a little sniffle or teething annoyance that we have had before. That being said, you didn't really allow it to slow you down. You still managed to get up and dance and smile and try to maintain your role as Centre Of Attention. And it worked.
Here you are not too long after covering me in vomit:
This month also saw you graduate to a Big Boy car seat .. a.k.a .. forward facing. It was worth every penny of the two seats to see your face on the first drive (which was to get Mommy and Cheese a healthy breakfast from McDonalds. Hey, don't roll your eyes or raise your eyebrows .. you got to try a hashbrown for the first time). You were in awe. The world actually came toward you instead of falling away from you or generally looking like the backseat of a car. You sat as upright as possible and looked out the window the entire time to make sure you didn't miss a thing. Other than "Aww he's so cute!", I kept thinking "how sad that the poor little guy has been stuck staring at the backseat for so long that he actually thinks Milton Keynes is something worth never blinking again for".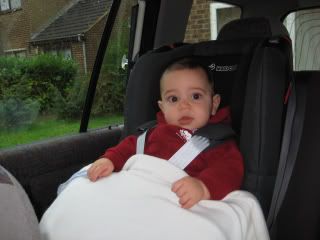 Other firsts this month included your first overnight at a Premier Inn! Lenny Henry would have been so proud of the way his marketing worked on you. You loved it. You couldn't get enough of the bed and did laps of the playpen like it was an Olympic track, only taking breaks to bust out some dance moves. You seemed a little disappointed that there was no rubber ducky like in the commercial, but they had beans for breakfast, so you weren't too worried.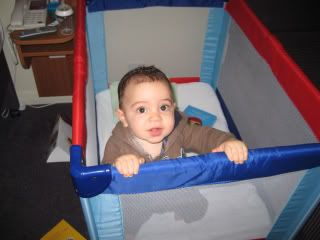 You also became truly British this week (other than the whole being born here thing) when you literally got to grips with your first sandwich. Sure, I gave you a grilled cheese back in September, but this was a two slices of bread with filling (cream cheese and avocado) and hold it yourself job. Man alive… you are a carb FIEND! Each sandwich experience has gotten progressively messier as you manage to get the bread in and then like the filling off of your knuckles. It's quite cute at the moment, but a helpful hint – it's not going to score you any points with the ladies!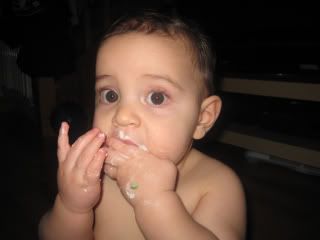 Other firsts this month were even bigger than the ones already mentioned! You climbed the stairs alone … over and over and over again … and took your first steps. In fact, a few times you walked across the room (living room and bathroom!). Of course, I forgot to get photos of that ready for this month's entry, so you'll have to refer to the videos on your website for refreshers. Sorry. Blame the Baby Brain that is taking over. You're lucky I remember to put your diaper on the right way most days!!
It just wouldn't be a proper month without me mentioning your sleeping. Trust me, I wish that there was nothing to mention. You are getting worse. Don't get me wrong, you are great when it comes to naps: anywhere, everywhere … you could nap for a living. When it comes to your bedroom though, you LOVE to play in there, you love to drink your bottle in there, but sleep!? HAHAHA. Dude, we're going into month 10 now … just one night is all we ask. Your poor tired parents. These aren't Halloween costumes that we have on, just really massive bags under our eyes from never having a full night's sleep. Ever.
But how can you stay mad with This Guy?:
You can't!
In fact, I wish that we could trust you not to roll out of our bed or try and crawl out head first in the middle of the night because we love waking up and seeing you there and we so want to get as much you time as we can from the next few months of your Only Childness. Though I'd love it if the you time had a lot less pulling of my hair or headbutting me in my sleep, perhaps even a smidge less of the eyeball grabbing that you tend to wake your Daddy up with. But you know, we can work on that.
For now we'll just enjoy what we've got and if that means ripping my bicep muscles from constantly having to pick you up or losing my pants nearly daily in your pursuit to climb my body to get to the food faster or even if it means having to share my pillow with you (even though you have your own) … I'll do it. And I promise not to cry about it (every day).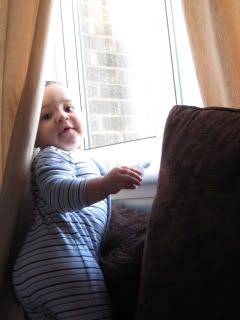 Happy Nine Months, GrumpyPumps.
Mommy Loves You!
P.S: Congrats on the arrival of tooth number 3 today!