After a successful Christmas and overall very good month 10, month 11 blazed in like a raging inferno and went out a similar way. Luckily, the middle bit was the best so far!
You started your 11th month with a fever. A fever that ended up being tonsillitis which could not have been worse timed because we were heading to St.Kitts for your first trip to the beach. We were worried that you would not be able to fly, but a nice little doctor gave you some medicine and your love of Nurofen helped get you through this very rough patch.
To say we were nervous about flying with an active and whiney baby boy would be an understatement. Especially since the first leg was all the way to New York. But you were a star. You loved the plane, the plane food, the cab ride from JFK to the hotel, the hotel and didn't really start complaining until you were forced to go sightseeing and you couldn't work out why it was so light outside when it was so late in your head. Totally understandable.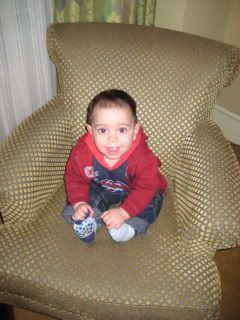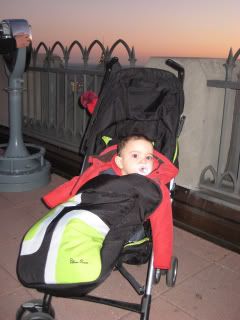 The next morning you were woken up super early and you had a bath, fell off of the bed, had a muffin and were bundled back into a cab toward the airport for yet another flight. The day was LONG due to delay after delay, but you explored the departure lounge and could not have behaved any better on the plane. Everyone loved you. And rightly so! You are a flying Super Star!
You were much happier in St.Kitts than in New York, though you kept this to yourself for a while. There were a lot of family members around and you were being cautious in getting close or trusting them, and you don't even realise the family you were born into. You are so much smarter than you realise….
But you instantly fell in love with Crazy Uncle Jamie and started a serious flirt-a-thon with Auntie Stacy!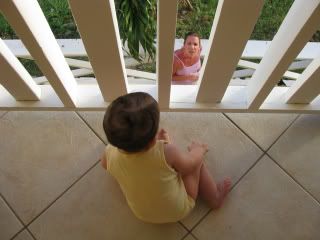 And you also started a love affair with the beach. It was not love at first sight. Like, yes. Love, not so much. There was a little anxiety present as you tried to figure out how to walk on this weird floor that seemed to sink beneath you. And that water that looks like a pool, but then sneaks up and wets your legs… what was that all about?! But you didn't complain, just went quiet and decided to give it a go.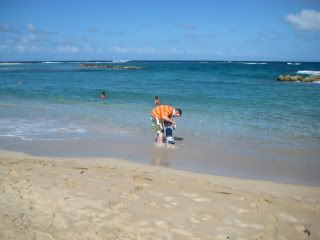 After a while you loved it. Especially eating it. But each time you went in you got a little more comfortable..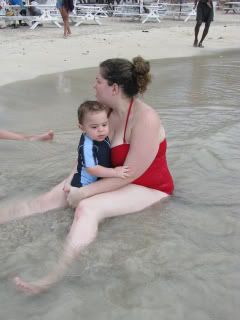 .. until we took your pants off and you realised that there was no better place on earth than being in the ocean! Sting rays and all!
While you were there, you got reacquainted with your cousin Calleigh. At first you were unsure of her. Here was this little girl who was shorter than you (bonus), but who didn't care if she had to knock you over, pull your clothes or even grip onto your hair to get what she needed (not so bonus). After a while you realised that you too could knock her down if you needed to get by and that even though she was louder than you, she was pretty cool. In fact, you quite liked chasing her. Even if she didn't know that she was part of a game.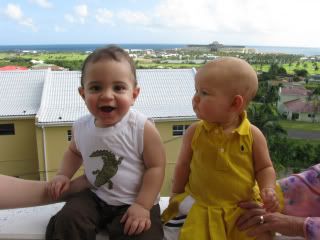 While you were in St.Kitts you also got to meet cousins and great-aunts you'd never met, and got to re-meet your great grandmother. This time around it was much more pleasant for all involved. She was healthier and in better spirits, which meant you were also in better spirits. And not just because there seemed to be food whenever you saw her. In fact, you went into her house and it was like you felt right at home. Seeing you so happy and comfortable there was one of the best feelings I've ever had.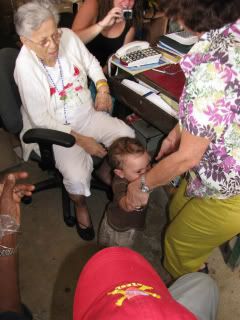 The feeling was almost as great as the feeling I got when we went to the cemetery to visit my Daddy. You were so peaceful, so smiley, so giggley, so perfect. Going there was so hard for me, but you made it one of the happiest experiences and I am so grateful for that. In fact, I could not have hoped for you to love St.Kitts more than you did: the people, the country, the food! Once you recovered from the jet lag, you were one smiley boy!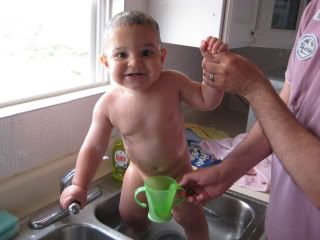 Unfortunately, we had to leave St.Kitts. Once again, you were amazing on the plane .. allowing Daddy to change your diaper on the seat tray and all.. and you were great when we got to New York too. We let you sleep in the next morning before sticking you back on another plane, but this time you had your own seat and the flight attendants gave you lots of yogurt drinks and Daddy played a lot with you. You loved it again.
And then we were home.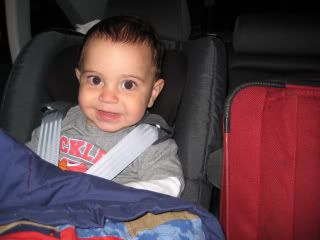 And not long after, the raging fevers returned. You went off of your food, you stopped drinking your bottles and you had to endure a urine sample. It was rough. For you, for me, for Daddy.
It is so hard to watch you feeling so poorly and not really being able to take the pain away. I have hated every moment of you being sick and cannot believe that you were sick twice in one month. Let's hope that we have a bit of a break from The Sickness now. We want mid-month Happy Noah to return!
Because this guy: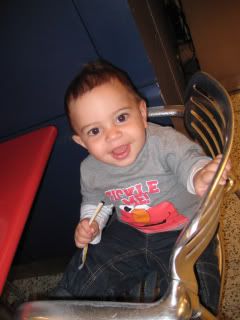 is so much easier to parent, than this guy: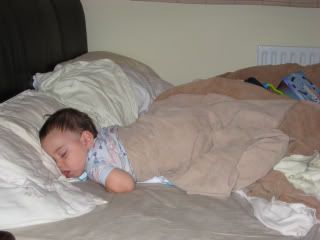 Next month you turn a whole year old. Let's end the first year with a happy baby. A happy, walking, babbling, hugging, eating, drinking, not too messy diaper having, baby.
And then we'll tackle that sleeping in your own bed thing.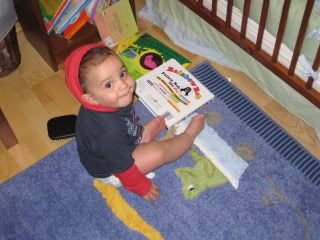 Happy Eleven Months, GrumpyPumps.
Mommy Loves You!