One year ago I was propped up in a bed at the Horton Hospital in Banbury, unable to take my eyes off of you as you slept in the plastic cot next to my bed. I cried. I cried because there was this perfect little baby next to me and I had no idea what I was doing and was terrified to fail you.
Today I woke up and I cried again. Your fever was so high and even though we've gone through a lot of growing in the past year, I am still terrified that I am failing you and often find that I have no idea what I am doing.
Luckily, in spite of my many shortcomings, you seem to think I am wonderful. Thank you for that.
This past month has been a very hard one. Definitely not one of our best, but it ended on a high note because it ended with you turning a whole year old! You started the month with bronchitis and ended it with a cold on top of which we took you to get your 12 month booster vaccinations. You and vaccines … not a pretty mix.
We've struggled with eating and drinking due to your illnesses this month and you have become a lot more opinionated when it comes to what you are willing to try, do or whether or not we are worth listening to. Often, we're not. Don't get me wrong, you've come back well with the eating, but you refuse to drink milk or formula unless it is from a bottle and you refuse to use any soother that is not the kind that has been discontinued!!!
Not that you eat with a soother. I let you eat with your hands, cutlery or even face first, but I do stop at some things. We try to use the soother only at bedtime or when you're feeling sorry for yourself .. err.. I mean when you're feeling under the weather.
When you look back and cannot remember your 12th month, I don't want you to think it was all bad. It wasn't. You got to go to Luca's birthday party which you loved, and we met up with Luca and his Mummy at Rug Rats and Half Pints which you both thought was great. You did fall out of love with Gymboree and you weren't impressed with your PixiFoto experience (to be honest, neither were we), but generally when you were out in public you were loving it! And when you were at home, you were quite happy .. just as long as I stayed by your side the entire time, which I have to admit has been frustrating.
For some reason, when you are in front of other people you are this little independent dude who will walk off and play with things and act like you do not have a care in the world, but when it is just the two of us .. which it is a lot .. you seem to think that if I leave the room for over 3 seconds, that I've stopped loving you and am going to give you to the next person who rings the doorbell (though let's be honest, what an irrational fear that would be since we never answer the door unless we know something good is on the other side).
Let me ease your fears little dude. I am not leaving you. You are stuck with me. I may be crap at this Mommy job I've signed up for, but I'm trying and I am so sorry that you have to be the one I practice on. I'd like to have had an opportunity to make all of my mistakes on someone or something else so that you could have a more relaxed, less panicky and all around better Mommy, but I'm afraid you were the first living being that the world trusted me with (other than plants and fish..and they haven't always worked out for the best). I am learning as we go, just like you are, it's just that my mistakes are the ones that are more noticeable because I am the grown up and you are the one who is allowed to make mistakes. Hopefully, your second year will be a lot happier and we will do this learning and growing thing a lot more smoothly.
I love you more than you will ever know and even though I've cried at least a million tears since you've been born and wondered if it was legal to sell you on EBay a couple of times, I wouldn't trade you for the world. And I hope when you grow up and change your mind about wanting me to be around all of the time, you'll remember that I would do anything for you (within my means and mostly within the law depending if I agree with the law or not).
Happy TWELVE Months, GrumpyPumps!!!
Mommy Loves You!!
You on Day 0: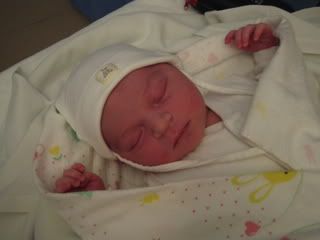 1 Month Old: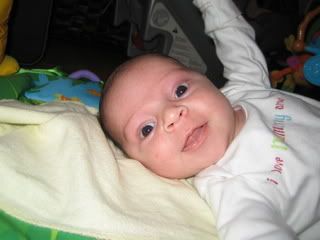 2 Months Old: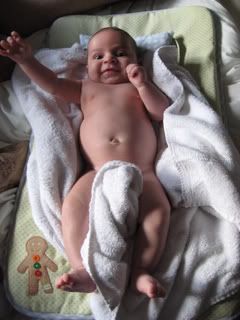 3 Months Old: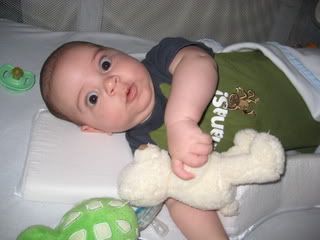 4 Months Old: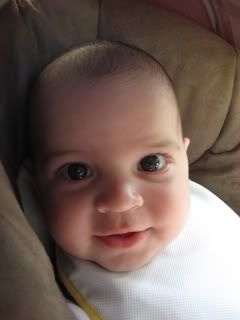 5 Months Old:

6 Months Old: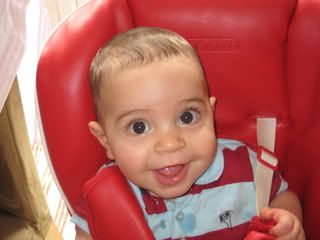 7 Months Old: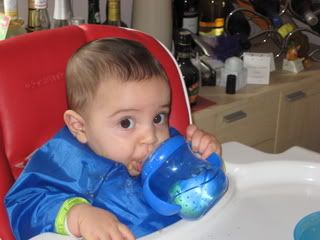 8 Months Old: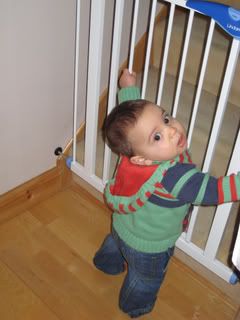 9 Months Old:

10 Months Old:

11 Months Old:

One Year Old!!!!!!

Birthday Boy!