This has been the BUSIEST month of your life. It has been the: Month of Hair, Month of Phones, Month of Teeth, Month of Coughs, Month of Clapping, Month of Tongue, Month of Family and the Month Where You Appear to Have Left Babyhood Behind.
Yes, we started this month sick. Nothing says Bring on the New Month like a raging temperature, a runny nose and smoker's cough. At the end of it, the only thing you've been left with is the smoker's cough. Perhaps when your Daddy and I fall asleep at night you sneak out on the deck and have a couple of Bensons. Though with as funny as you've been finding everything lately, I fear it may be something even stronger!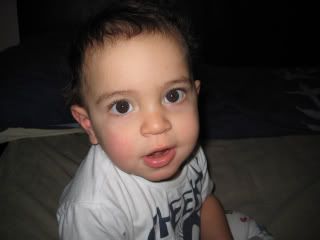 You haven't only developed more of a sense of humour this month, but we're now up to 8.5 teeth. Yes, a half. That weirdo molar that busted through the side is playing Silly Buggers and driving me crazier than you! Not that you're crazy, just that you're less bothered. And although you still have the tiniest teeth in the universe, your jaw appears to be changing because you seem to show off your pearly whites more often. Mind you, that could be due to your new Totally Wide Mouth Grin. It is similar to the Frog look of early teething days.. only even wider… and with teeth. And no matter how often you do it, it cracks me up. I hope this is only a phase, because I don't want to give you a complex or anything when you're 4, 12, 25 or 39 and I laugh at you when you smile.
Along with your teeth, your hair has been growing. Not all that much longer… but outwards. If any doubt was had before that you may have escaped The Curl, all doubt has been removed. Your hair is out of control. I cannot tell you how tempted I've been to put curling gel or anti frizz products in it. When I see your hair poking out in all directions and flicking up into wings over your ears, it brings photos of my youth before my eyes and I am sent spiralling into a panic over whether you too will be scarred by the various hairstyles your parents (that's me and Daddy to you) thought looked good on you.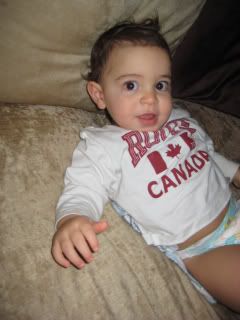 At least when we go out in public I attempt to dress you in okay clothes to make up for the hair. It is the least I can do since I am the one that you got those genes from. Actually, until the curls are fully developed, I am not sure that I want to take the blame just yet. I will however, take the blame for the Crocs. Though I will remind you when you're older that you actually liked them. When Kadie and I put them on your feet in Bonnie Togs, you were off like the wind. It was as though your feet felt that they were walking on clouds. At least I think that is what your expression was trying to convey. It could have been "I bet you'll wonder where I am when I take off into the change room".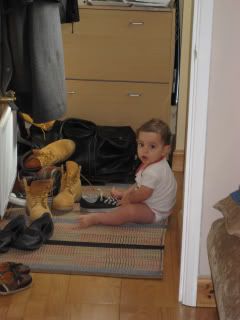 There was a point where I thought you actually liked shopping, but now I realise that you just like the opportunity to take off, play with hangers and climb through the clothes racks, all whilst finding yourself to be hilarious. I'll let you in on a secret.. I may tell you to come back and to stop it.. but I find it hilarious too!
Month 13 also saw you conquer your fear or rather strong dislike for tunnels. From the first time you crawled in (when I think you were showing off for your Daddy), you've become a tunnel maniac! Even when we were at Z and Kadie's house you were crawling under the coffee tables as though they were tunnels. I cannot tell you how proud I was when you first got in that tunnel .. even though you chose to exit through the hole where I wasn't waiting for you! Though I wasn't as proud when you kept trying to sit up under the coffee tables as though they'd magically get taller to suit your wants and desires.
Actually, come to think of it, you've done so much this month that I am proud of. Although you have been Mr. Cling through a lot of it, you are becoming much more independent and mostly well behaved in public! When we went for a 2 hour + lunch with your Nan and Grandad, you were amazing. So amazing that we didn't even realise how long we'd been in the restaurant.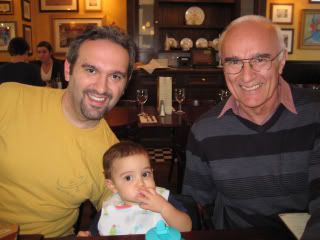 When you and I were due to fly alone to Canada, I was SO scared of how I would cope with you on the plane .. but once again.. you were amazing! Nearly 8 solid hours of sitting on my lap and you hardly ever complained. You even let me change you in the cramped airplane washroom without too much wriggling around!! The way home was even better. You had your own seat and slept so much that I got to watch TWO movies. You don't even let me watch ONE when we're at home. You didn't cry or moan going through immigration or waiting for the bags and you even helped me out massively in Toronto by walking out of Customs all by yourself.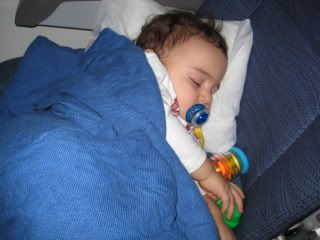 While we were in Toronto you were amazing. You took just over a day to get adjusted to the timezone, the people, the fact that it wasn't your house with your bed and your toilet handle. But once you got settled, you were right at home and soon let people know that there was a new boss in town .. unless they were feeding you.. then they could think that they were the boss. And oh my goodness, the food you ate – Dim Sum, Sushi, Deli, Diner, Tex Mex, Thai, Indian and West Indian .. and Kraft Dinner. You were GREAT! Even better than eating octopus, was the fact that you slept so well at night. You slept through. From the moment you'd fall asleep until I'd come to bed, you'd barely move a muscle .. even though you were in a bed with no head or foot or one side. Unfortunately you left that sleeping talent in Toronto, but I am still proud!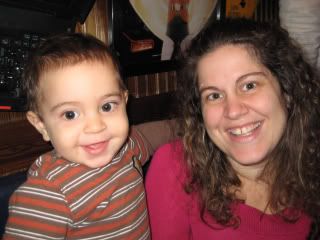 In all, this has been my favourite month of your life, but the one that makes me saddest. You are clearly shedding your Baby Skin and becoming a full time toddler. I know that this is what happens and that I've been wishing this day since I realised that newborn babyhood kind of sucks, and I really am happy with the little dude you are at the moment, but you are changing SO quickly now and I'm suffering from pregnancy brain and am scared to forget all of this time.
So thank you for this month. You've made Month 13 excellent and I feel honoured to have been with you for almost every single moment of it.
The only thing we need to try and get rid of for next month is .. the tongue.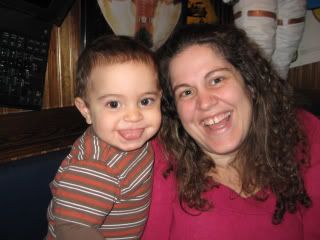 Happy Thirteen Months, GrumpyPumps!!!
Mommy Loves You!!