I swear I only gave birth to you 17 months ago, but in this past month it would appear that you turned two. Or at least took on all of the required traits for a toddler going through the Terrible Twos.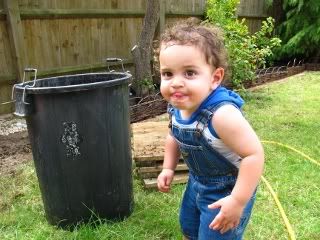 Other mothers say that their 17/18 month olds are acting the same way, so at least I can breathe easy for now, knowing that I am not raising a complete CrAzY. Trust me, if it weren't for the reassurance, I would be seeking out special padding for all of the walls in the house. A padded floor might be nice too. Though that would be for me since I seem to forever be tripping over your cars, buses, trains and all other wheeled toys that you never tire of playing with.
There is nothing so cute as seeing you get right down on the floor with your head on your arm as you "mmmmm" "brrr" as you roll your vehicles back and forth. There is also nothing quite so un-cute as you getting frustrated that the magnets on various magnetic vehicles are pushing apart rather than pulling together. I try and tell you to turn it around, but you'd rather deliver a sweeping blow to the toys. I totally understand that they are getting on your last nerve, but if you just listen, you will learn how to fix it and it won't annoy you again.
That being said, you are my child, so I can't really fault you for your short temper. I can however let you know that we don't do things like that in this house. Just like we don't willfully empty the basket of remotes behind the sofa, pour water in your electronic toys, put pillows on top of your baby sister, push all of the buttons on the washing machine, pull whatever is in your reach off of the kitchen counter, or dump your raisins all over the floor.
We do however enjoy your random outbursts of dancing, the endless hugs you want to give Amy and the kisses and cuddles you have for us.
Month 17 was also the month that you decided to show us that you had grown the perfect amount to open the front door and walk out. That's right. We returned from a trip out and I had to pee very badly, so after I had you and your sister in from the car, I told you that I was just running up to the bathroom, only to get back downstairs and hear your familiar "uhh? uhh??" in the distance. Where on earth was that coming from? And then I saw the light in the front hall that was like a beacon screaming to me "you are the Worst Mother Ever! Your toddler escaped all because you just HAD to pee!". I moved as fast as my fat and frightened legs would take me and found you standing on the driveway with your arms up in the air "uhhing" as you looked around wondering where I was.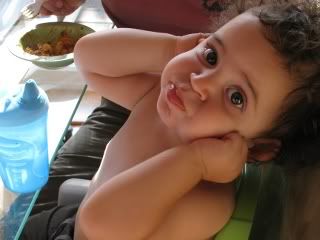 Month 17 was the month you nearly killed me. Now my heart skips a beat when you slip out of view and I have to keep the front door locked even when I'm sitting in the room next door.
Other than highlighting that I cannot imagine what my life would be like without you in it.. even for half a minute, your escape highlighted that you are growing up so quickly. You are trying to walk up the stairs and not crawl, you can open and close doors, you come to get me when you think Amy needs me, you try and pick her up to give her a hug, you ask to brush your teeth at least 3 times a day – though not with words. And although you can "moo" and say only a couple of words here and there, that is totally fine by me, because I need something to remind me that you're still just a little dude. Not even a year and a half old.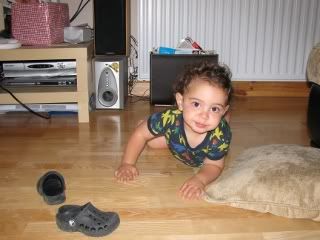 What I wouldn't give to keep you this age forever, but I know I need to let you grow and explore and go through the phases drive me up the wall, and cherish the stages where you ooze cuteness. Even though there seem to be more of the crazy stages, I am so proud of you.
Don't ever stop being you.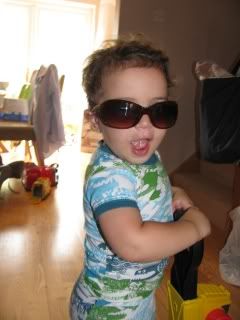 Happy Seventeen Months, GrumpyPumps!!
Mommy Loves You!!