The delay in getting this out may lead people to think that month two was as rough as month one. They'd mostly be wrong. I mean, it was rough. I'm still recovering from it, but to be fair, I spent a lot of it recovering from month one.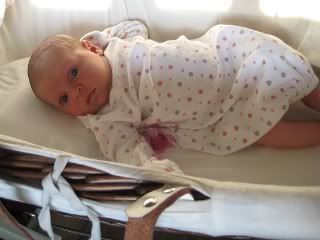 But this month you started to smile. Often. Between the lengthy bouts of grizzling, crying and screaming, you spend a lot of the time smiling at me. You smile way more than your brother did which is wonderful, because you are unhappier a lot more often than he was too. On thing you do that he never seemed to do, is look at me when you wake up and give a little smile that grows into a medium sized smile and then takes over your entire face and your eyes crinkle and your mouth swallows half of your face and every single morning I just want to pick you up and squeeze you so tight until you can hear my heart screaming how much I love you.
And then, I close my eyes tightly and hope that we can make it through the day as friends.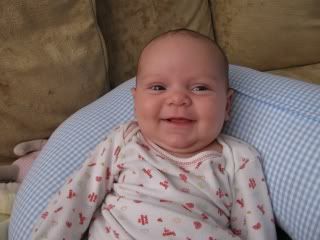 It would be a lot easier to deal with your grump if you were an only child, but you aren't. It is a constant struggle to try and give you both so much of myself and my love and attention in order to make sure that neither of you feel the other one gets more. Right now you need me a lot more than Noah does, but that doesn't lessen the fact that he still needs me a lot. This leads me to hope one moment that you two will alternate nap times so that I can be with one of you whilst the other sleeps, but that leaves me so exhausted that I then hope that the next round of naps happens at the same time so I can breathe.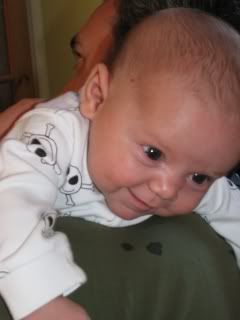 The trouble is, no matter when you nap, you appear to want me within 3mm of you. And that is the days that you decide to nap. For some reason I thought I remembered that Noah started to sleep better after his 8 week injections. You, you barely slept at all that day, even with a dose of Calpol … which you hate.
That's right, we let some lady stick two needles into you this month. You were not happy. But you were amazing when it happened. You cried.. briefly. It was over so quickly. Or so you led us to believe. Wow did you find your lungs later. Especially as we took you to get weighed after and apparently making you get naked and putting you in a plastic tray to see how much weight you have gained is not your idea of a good time and you let us know.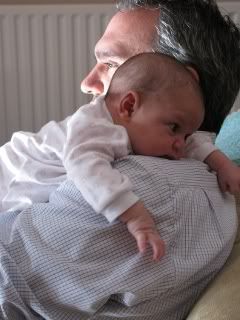 You also had two 6 week checks this month. First the Health Visitors weighed you and measured your head and told me that they thought I was feeling too sad and should come and talk to people there to cheer me up. That gave me a giggle, so it worked I guess! You passed with flying colours although your head is bigger than your brother's was at that age, so let us hope it slows down.
We went to the GP to have the second check later in the week and she reconfirmed that you were healthy and strong and gave us a useless cream for your skin.
Ooh, your skin. The baby acne cleared and appears to have left behind eczema. This has led me to cry a lot because I can see when it is bothering you and your tight balled up fists rub rub rub your face in an attempt to relieve yourself of the annoying itch. Luckily Kadie came through and sent you something from Canada which has helped SO much and has led to a whole lot less scratching and face rubbing. We'll keep an eye on that and I will try whatever it takes to make you feel more comfortable, because you are about to experience a lot of frustrations.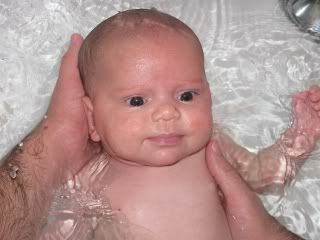 The drool of teething has started and you are constantly trying to get your fist in your mouth. I'm not actually sure if that is a teething sign in your case as I swear that you are trying to suck your thumb. I've tried to give you a soother but you are not the biggest fan. You go days without ever touching one. I'm not complaining because it means not having to break you of the habit, but I am not sure I can wrestle your thumb away from you if you choose that route because you are so strong – physically and willed.
You are also starting to try and properly roll and not just do the flukey rolls you've been doing since birth. We watch as you try and swing your hips and legs to move your body from being on your back to your front. You can get on your side pretty easily, but the full back to front happens less often. Once you get the hang of it, if you are like your brother, you are going to do it in bed and annoy yourself when you end up in a position that you didn't start out in.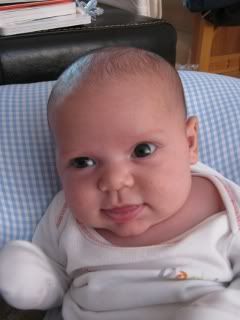 But, we have to focus on each day as it comes and not worry about tomorrow or next week because with you, each day is so different from the last. Except when you're in the bath. That is the only place where we know what we are going to get… contentedness. Whether you are in the bath or in the shower, you love the water all over your body. You don't even mind when the water runs down your face. It is silly, but you being such a water baby makes me happier than you could ever know.
So you see, this month has not been easy, but it is getting better slowly but surely. Whether that is true or I've just convinced myself of it matters not, because I just know that I am starting to enjoy you more that I did last month and I swear that when I tell you that I love you, you know what I am saying because you smile at me… or sometimes you say something back.
And I hope that you really do know what I am saying or at least you can feel that I'm saying mean that although I may struggle sometimes, that those words are letting you know that I will do whatever I can to keep you happy, healthy, safe and wrapped in love.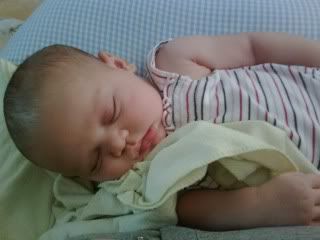 We might make it through this newborn thing after all!
Happy Two Months, Squawkers!
Mommy Loves You!