Daddy's Boy
I have to let everyone know how much I love it when my Daddy is at home!!!
My Mommy is cool and everything, but she is always Go Go Go. She wants to dance, she wants to play, she wants to talk…. she wants to put me down when I finally decide that it would be nice for her to carry me around so I can see the world with my eyes open…
On the other hand there's my Daddy. He is not around as much as Mommy because he has to dress up and go to the office. He thinks that this means that I won't "bond" with him as much or that I might not know who he is, but he is SO wrong. When I hear his voice I stop what I am doing right away. When Mommy cannot do anything to get me to sleep, Daddy just puts me on his chest and there's no place I'd rather be… and his doesn't even come with a Milk Bar!
Today he is supposed to be at the office, but he is at home with me. It has been great so far! We all danced this morning, and I smiled and smiled and smiled, then we went shopping which I slept through, and then we came home and Daddy and I napped. I must have done something good to deserve this treat!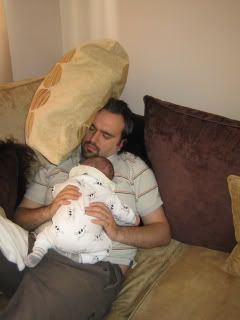 Yes, I am one happy 40 day old baby today… even if my parents never bought me that toy I heard them talking about this morning. Who needs toys?! I've just discovered my ears and tongue… they're better than any boat or car!!