To Keep You Going
It's been a long week for us here at Noah'sTheBoss Central what with me turning 8 weeks old and getting my first immunization needles. I've also discovered that the girl that's been hanging around me every day of my life is really nice. So nice in fact, that I've not wanted her to put me down much at all this week. I've even heard her say that I've been "clingy" and "cranky". Whatever! I just know what I want and how to get it.
Because I thought that people might be hearing about this new "phase" I am going through, I wanted to remind you all that I can be cute and there are time when I do smile and giggle. It's just that life's rough right now and sometimes a little dude just wants a cuddle, some food and some sleep. Is that so bad?
Plus, I've been growing!! On my 8 week birthday or whatever it is called, I weighed in at 13lb 14.5oz! That's right, almost a full stone of pure cuddliness to love. That takes it out of a guy! Just look at the way I barely fit into my moses basket!!
I'm so big that my Mommy even had to cave in and let me sleep somewhere that I could thrash about safely until I passed out…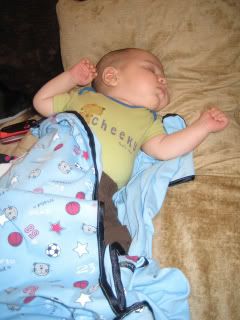 And I'm not just growing in weight and height, you know. My personality is growing. I am smiling a lot more, and not because I have gas/wind or because my Mommy is being crazy again, but because I feel like it. In fact, sometimes I have to give thought to whether I am in the mood to…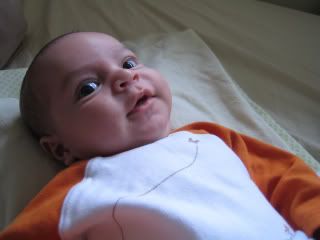 But most of the time I give in because I know I'll get an even bigger one back…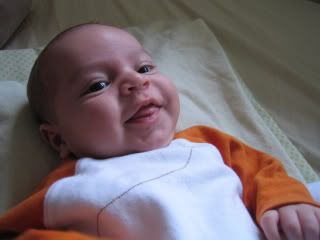 Now I've got to go and have a cry to let my parents know I mean business about having a nap. So have a peep at me getting down to some MC Hammer and let's hope she remembers how much I loved her when we're in Toronto next week and I'm spreading my love around to everyone else!!

Can't Touch What?! from Kirsty B on Vimeo.
and P.S: for those of you who noticed that I loved spending time with "Bubbles" my changemat, I am happy to announce that "Bubbles" has been retired to Post Bathing Naked Time only and I now get to be changed on this posh number ..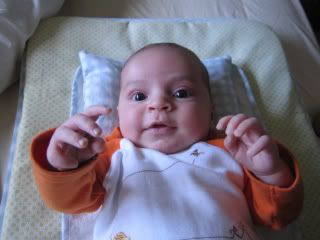 It even has a pillow! So worthy of a definite reach out.. if only it could reach back.