Halfway Tree
Last Thursday I celebrated my Half Birthday. Until last Thursday, I didn't even know that these things existed. The day started out like any other day. Well, any other day that involves a trip to get weighed, playing with some toys that my Mommy says are older than her, sitting on the scale naked and having to hold on to my Mommy when she nearly faints because she learns that I'm packing 23lbs 6oz of love somewhere in this body.
After that, we rushed home (it was so busy and instead of the usual in and out, my Mommy actually had to socialise and talk to other mommies who were waiting to have their babies weighted too) so that I could eat breakfast and change into Gymboree clothes. Then we were off to play with all of my friends. I was tired, but my Mommy gave me a bottle during the break out time and I was re-energised and ready to play. I just LOVE those bubbles and the parachute!
When Gymboree was over I thought that we were going to head home so I could stare at the big box covered in colourful paper some more, but my Mommy took me to buy some groceries. I decided to play a game of Toss the Soother and had her scrambling all over the floors of M&S to find out where the projectile had gone. It was great!!
Then we got to go home and I looked and looked and looked at that colourful box, but i was not allowed to touch it. Yet.
My Mommy gave me some lunch and I spent almost the whole time hamming it up.. laughing between spoonfuls and just being a super smiley guy..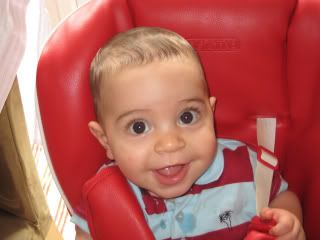 After lunch I played in a suitcase. It doesn't sound like fun, but I thought it was hilarious and kept almost falling out because I'd laugh so hard I'd fall over. It made it difficult for my Mommy to take my photo, but that didn't stop my personal paparazzi. Plus, I think she just wanted me distracted from the colourful box.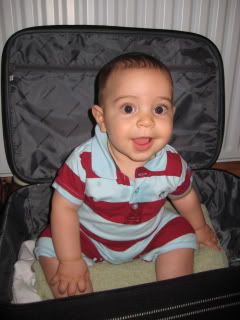 Eventually my Mommy got me to have a nap and I slept almost all the way until my Daddy got home from work. I did this as a special present for my Mommy who was cooking up a storm in the kitchen in an attempt for our family to all sit down at the same time and eat our dinners! And she succeeded.
We had chicken and roasted vegetables to start. It was my first taste of meat aside from the free sample of ham at Costco! Oh man was it good!!
But the best part was what came after dinner. No, not the dessert… a huge monkey from out of nowehere!!!! I don't know where he was hiding while we ate, but I couldn't believe my eyes when all of a sudden my Daddy turned around and there was a monkey standing with him. I loved it!!
Though I did try to eat the monkey after a while. Seeing that I was still hungry, my Mommy brought out dessert. Now I was only allowed a little bit, so I was given a little taste of what my Mommy made and then I got Plunana (plums and banana!). I can't wait until I'm older and she lets me eat more of "bad" stuff!
After dinner, instead of heading straight for the bath, my Parents gave me a card to open and read. It was all nicey nice stuff about them loving me… I won't get into it, it makes me blush.
It was then finally time for me to touch the colourful box. I was SO EXCITED!!! Usually my Mommy says "Aww.. Noah, we're not supposed to crinkle/tear/chew that!" when I get near paper, but this time they were both telling me to rip it! So, I did!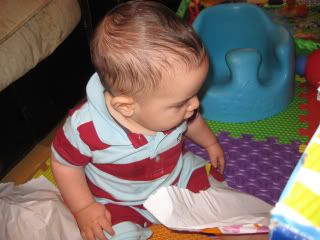 It was SO very worth the wait. Do you know what? There was more than just a box! There was something inside of it!! Something with lots of colours and buttons. My Daddy got it out for me and I was right into it, bashing the buttons and drooling all over it! These half birthday things are great!!! Why didn't I learn about these sooner?!!? When do I get another one?! All of those thoughts were racing through my head as I spun the steering wheel of my new toy and honked the horn over and over and over and over again.
Finally it was the end of the day and my Parents took me up to get ready for bed. I wore my special birthday hat whilst they got me changed. I so didn't want the day to end!! It was definitely the best day of my life by FAR!!!
My Mommy kept saying, "I can't wait to see his reaction to Christmas". I have no idea what she's talking about, but if it is anything like a Half Birthday, I'm so down with that!!!!
Thank you so much to my parents for that whole day. It was so great!!! Hopefully we can do it again soon!!

Happy Hilarious Half Birthday from Kirsty B on Vimeo.