NAJB: Month 15 in Review
You've made it to 15 months as an only child! There were days along the way in the past few weeks that we were not sure it would happen, but it has. I'm not sure that it means as much to you, but I have really enjoyed our past month together. Even if you decided to bring The Sick back and we decided to suffer at the same time.. with different ailments.. but we suffered. That part of the month, let's not repeat.
The rest of it we can though! Even the parts where you've decided that your best friend in the entire world is your Daddy. It started at the end of last month and trust me, this month was full of those moments/hours/days/weeks. It would appear that you only really need me now when it comes to bathing and sleeping. Otherwise, you've become a dude's dude and sure it is okay if I'm there too, but you don't really need your Mommy hanging around.
Even if you do not need me around, I have loved watching how you follow your Daddy all over the backyard. How you call out for his attention with your finger gestures, just so he'll look at you and you can bust a dance move or run to him with your eyes closed as you laugh so hard to yourself because of course you ARE the funniest person who has ever lived (that you get from me).
In fact, you've developed quite a few talents this month; spinning around in circles while stood up .. or whilst sat on your bum, trying so hard and getting so close to mimicking dance moves you see on television (Boogie Beebies is one of your favourite shows now), mastering the art of fork feeding, sleeping in a big boy bed with no bed rail, climbing up everything you see .. and most recently you've become addicted to participating along with my singing Head and Shoulders, Knees and Toes. At first everything was your head, but you are learning and now you bend over and go straight for the toes. It makes me jealous because bending over is not something I can do easily these days!

Head and Shoulders…

Knees and Toes…
In fact, nothing has been easy to do the past couple of weeks and you seem to have sensed that and become even more independent than you were last month. Sure, you will try to get me to do everything, but you do give in easily and carry on your merry way and do it yourself. But you always come back for a quick cuddle to make sure that I know you still need me and maybe to check that I do need you too. Which is a given. A person can't have someone like you come into their life and ever stop needing them. Your laugh is infectious, your smile is contagious and when your heart breaks with each tear you cry, you break my heart too. And when you sit there innocently doing something simple like eating a banana or your corn on the cob, or spinning the wheels of some toy, stroller or cart, I just want to scoop you up and cover you in kisses.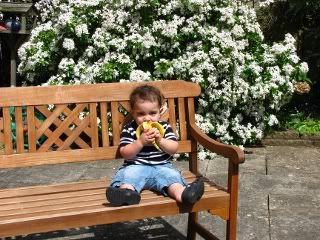 A Boy and His Banana
I've almost willed this month not to end. Not just because I am terrified about the arrival of your little brother or sister, but it has taken us so long to get here, that I am afraid of what is going to happen when your whole world is turned upside down and we don't get to spend as much "us" time together as you are used to. I'm crossing my fingers that this baby will let us have our morning naps together at least because I really want there to be time each day where you get your Mommy all to yourself. We've tried hard to prepare you for the arrival, but I know you are still just a little dude as grown up as you seem, so now I need to remind myself to be patient with you and be understanding if you don't just accept this change with open arms. You've worked so hard to get where you are now and it is all about to get flipped over on its head. I've asked a lot of you in the 15 months you've been around, and I'm asking once again to bear with me. This is new territory for us all.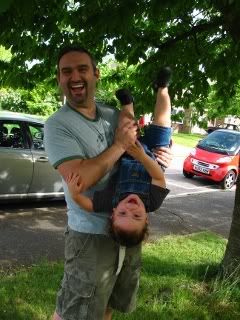 Your World Flipped Upside Down
I promise, in 15 months I will not be telling you that you have to prepare for yet another sibling's arrival. And if I do tell you that .. then look around for hidden television cameras, because one of us will just have been Punk'd. You have no idea what that means, but I am sure that it will be back on tv in syndication eventually and you will finally be filled in on the joke.
Thank you for yet another amazing month. Watching you grow up has become the greatest pastime a person could have. Though perhaps, it'd be even better without fevers or teething and those not so solid diapers you give us now and again. Month 16 is going to be a crazy one for all of us, but I promise you that I am going to love you even more next month than I have in any of the past ones and that you will still get as many cuddles as you need. Plus, your other best friend Zed is coming in a couple of days and bringing the one that feeds you anything you want (Kadie). You're set! In fact, come to think of it, I hope you remember who I am by the end of next month!

The Happiest Little Boy Ever
Happy Fifteen Months, GrumpyPumps!!!
Mommy Loves You!!