New and Improved
Welcome 2010. I am very happy to see you. Already I feel like it will be a good year. At least better than the last.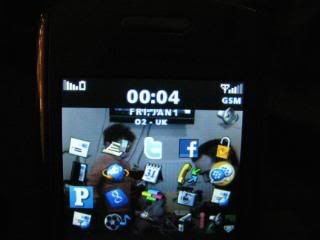 Don't get me wrong. 2009 was not ALL bad. Amy came into our lives and that has been a wonderful* thing. But in general it was pretty much a 'meh' year. A roller coaster ride that made me more nauseous than filled with adrenaline and fear and exhilaration. A noose of stress seemed to linger round our necks for most of it and the lack of sleep didn't help to pretty us up.
I don't generally make New Year resolutions, because who actually keeps them and how different are they then the promises people make themselves throughout the year? But I do promise to actually update the blogs. And even throw in some older entries that should have been added ages ago.
There will be a change. I fully intended to give Noah and Amy their own monthly review, but as you know, this fell apart in a spectacular fashion. It pains me to not have kept on top of it because I have serious issues about giving Amy a 2nd Child complex. But years of perfecting procrastination skills mixed with exhaustion levels of untold proportions have created a cocktail that has turned my brain into something resembling maggot cheese (feel free to Google it or just imagine). With only 7 to 8 days between "monthdays" as well, it is a lot to put together in such a short space of time, so I am going with the monthly thing! That way I can guarantee they both get an update each month and it means going through less of the thousands of photos I take every month to choose the good ones. And I am pretty sure that there will be more going in in the months to actually update about non-mommyhood stuff too. I think. I hope.
But if not, it is only because that is who I am. Last night was the first night in 22 months where I felt like a person separate of anyone else. I wasn't just a mother. It was weird, but it was great. And as short as that liberation was, when Amy awoke hacking up a lung and hoping that we'd left some Moet for her, I was thrilled to see my baby girl and her ear to ear smile. Though I was even happier that Noah stayed in his room until 5.25am when he climbed into our bed and snuggled up with me and fell asleep holding my hand.
It may be exhausting, confusing, frustrating and stressful, but I love these midgets of mine. It might seem a normal thing for a parent to say, but considering there were days when I was convinced I didn't even like them, never mind love them, it fills my heart with joy to know that I've made it through to the other side. Even if that other side means stepping on Hot Wheels and having someone spit up between my toes, wipe their nose on my shirt, wake me up 5 times a night for a snack, cry because I dare touch the other one, etc.
So bring on 2010 and the adventures that shall come with it. With a break every now and then to remind myself that I am still me underneath this Mommy costume, I look forward to what is ahead of us and experiencing it all as a family of four.
That's right. I'm not giving birth this year. 2010 is looking better with each minute that passes!!!
Our NYE in Pictures:
May 2010 continue to be as wonderful as it started for me, for us and for all of you! Happy New Year!