Smells like fish…
…tastes like.. HEAVEN!
Seriously. In the word's of Lee's nan: "That was heavenly!"
So I've been here (in England, not in this actual chair) for over 6 years now and since before I even arrived to live, I had been on the search for the perfect fish and chips. Batter not too doughy, chips not soggy and definitely neither to taste like 3 week old oil. Or in the case of the closest chippy to us, fries not to taste like spring rolls and fish not to taste like death.
When we were in Uxbridge, there was a place that was oh so close. Maybe 1 in 10 times it didn't work out right. And I can't even remember what was wrong, so it had to be minor. But here in the booming metropolis of Milton Keynes, we've tried at least 6 places and we settled on one that we liked the most. Didn't always love, and in fact sometimes downright didn't like, but for the most part they did what they said on the door.
Then on the weekend we were going to Stratford for a birthday party and we also had a house viewing so had to leave way before we needed to and due to Noah's Party Anxiety, we couldn't go to Lee's mum's pre-party for fear of Noah going into EXTREME MELTDOWN mode. So we thought we'd go to Marks & Sparks and get a few finger foods that the kids could eat in the car. Only we arrived earlier than we thought, scored a Parent and Child parking spot and thought we'd treat the children to a gourmet dining experience at … Subway.
On the way to Subway though, we spotted THE big FISH. Lee's mum had told us on our last visit that a chippy had opened up at this block store/strip mall place and we were all "Really? Fish and chips there? How odd." So of course when we were standing outside the door and saw that it could be just as cheap to eat there as Subway, we felt we had no choice but to try it.
Right away I was loving it .. and so were the midgets (at least they liked the aquarium on the wall and Noah loved looking at the traffic out of the window). It is British themed, with the seats being red, blue and white and some even has union jacks on them.
Even the salt and vinegar made us audibly 'Awww' when we saw there were on the table in the cutest little fryer baskets.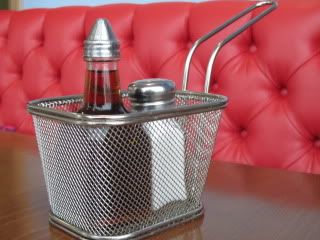 It was right after this point that I started to get a bit nervous. Was this place too gimicky? Could something this cute produce a quality fish supper?! Had I torn away the Midgets' dreams of ham and turkey subs in exchange for something that might just be … gross?! I looked around and everyone seemed to be enjoying their food. And with the majority of clientele being under 10 and not complaining I thought it might be safe to relax a little. And then the food arrived.
Oh the food. It was so pretty. (Totally on a tangent here, but when I look at the word 'pretty' it doesn't look like it should sound. Why isn't there an 'i' in Prit – ee? Or Pri – tee?) We had gone with the Big Fish Combo – A platter of Haddock Goujons, Scampi, Kalamari,Whitebait, Mini Cod & Chips with Coleslaw and Tartare sauce. We figured we could share it and sample a variety of their offerings in one go. Sometimes, we are so smart.
This was definitely one of those times. Everything was made to order. Piping hot .. the way Lee likes it. I had to wait a bit. After sampling everything, we couldn't fault it. Can too hot seriously be a complaint? I'm thinking, 'Excuse me, but this food you've served me is far too fresh. Please give me something you've got laying around", really isn't a valid complaint. Everything was tasty. The chips.. exactly how I like them too be. Not crispy, not soft, not greasy.. just right. And the Haddock Goujons (bits of Haddock in lemon pepper coating/batter) … I could probably describe it better if the thought alone didn't elicit a Pavlov's dog reaction in me and I wasn't busy trying to clear my mouth of saliva before I turn into a drooling idiot. Or more of a drooling idiot.
Oh wait, it's coming to me… tastiest morsels of fried fishy deliciousness to grace my tastebuds with their presence in almost forever. In fact, they were so awesomely awesome, that I had them for dinner!! That's right. We had to share this discovery with Lee's mum and nan and we all had it for dinner. Not the haddock, just the food in general. Oh and we discovered on the second experience that all the fish is skinless! HOORAY!
We also ordered a Kid's Meal of sausage and chips and for the price expected something rather small. Especially as it came with a drink and a gift. Okay.. the gift… pretty shit really. Some Despicable Me activity pack. Requiring just a bit more skill than a 20 and 35.5 month have. When it came, we looked at each other in shock: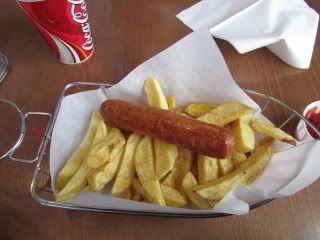 That sausage was 2x the size of the one we get at our chippy and with 2x the amount of chips, for maybe £0.20 more.
Unfortunately, neither midget was interested in eating the food, so we can only assume that it was tasty.
They did however enjoy their orange squashes.
I honestly cannot say enough good things about this place. Love love loved it. It is at it said on the wall:
Best of British
There is only one negative that I can think of. We didn't discover this place earlier our quest to find fish and chip utopia.