Gorillas in the Vanilla Mist
Okay, so they're monkeys, but the important part is that they are there. That's right, the room is painted, the cotbed and dresser all raring to go, alongside the Nappy Wrapper. Today was a day of far more ups than downs, though we have discovered that there is not room enough for a glider and a chest of drawers, so one has to go. Good thing we have such a massive chest of drawers in the spare room! BoB and I can still rock on glide on in peace. Though we do need to figure out shelving or some other form of storage. For now though we shall focus on the positive!!!
I am not sure how this will work, but I tried to capture the difference between white and Vanilla Mist. The left side is white and the right… well, is obviously Vanilla Mist.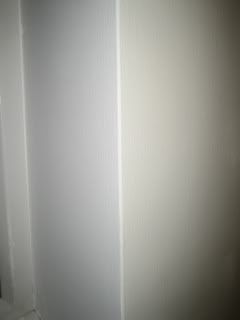 Once the tape came down and the floor was mostly cleared up, Lee got to work building BoB's crib (cotbed). At this point in time he was trying to work out which way the drop rail fit on. He didn't see the sticker that read "This side facing inward".
Tada! All done! The man is a master furniture putter togetherer. And it looks GOOD. I must say. He did a great job picking out the paint, but I did just as great picking out the bedding and the crib. I almost want to have a nap on it. Well I do, I just don't want to break it.
Here's a look at the crib and matching dresser! The dresser which was going to be more like a toy receptacle and shall now house sheets, blankets, toys, diapers, and some clothes.
Lee's favourite part of the room. Scratch that… Lee's favourite part of the BoB Shopping so far!! The flat monkey!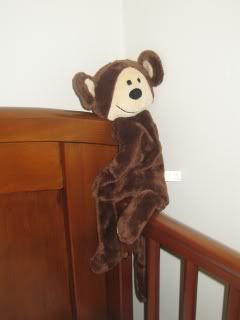 I do like the monkey, however I am far more partial to his friend… the donkey:
And just in case BoB decides to spring out of his/her water chamber early, we are ready for the diaper changing! Well as long as he/she waits for the towelling mat to dry first. Dang things that aren't allowed in dryers!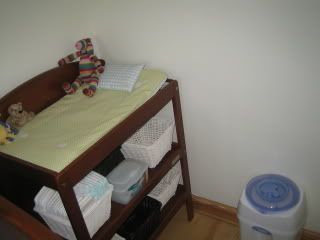 Now to hang some shelves, get the blinds, figure out what curtains to get, the alternate storage, the glider and most importantly… the BoB!
Oh, and a light shade.