Groundhog Day
I was having a nice sleep (I think) last night and then I started to have a weird dream where I was being warned "watch out for the two o'clocks".  I couldn't figure out what a "two o'clock" was for the life of me.  All of a sudden I woke up and looked at the clock and it was 2.00am …and I was having massive stomach cramps.  It was like New Year's Day all over again.  Except this time, Lee only woke up for the period between me leaving the bed and getting to the bedroom door.  He did not come to endure the feverish sweats, tears of pain, sounds of BoB doing cannonballs in my belly….
But I survived once again.   I just hope that's it now until the end of this adventure.  *knock on wood* *cross my fingers, toes and whatever else will help me out here*.
On the upside, Lee returned the powerless electric steriliser today and got one that came with…. you guessed it – a plug!!  Hooray!  So now the plastic contraption that holds the bottles will do more than sit on the counter and hold the bottles.
As for me, the excitement of the steriliser was all I could take.  I've not been out of the bedroom much since.  Except to pee. And pee. And pee.  I never had this increased need for peeing at the beginning when everyone else would mention it as a symptom or side effect or however you'd like to class it.  BoB is now making up for it and I think he/she is either using my bladder as a pillow or as a support to do push ups against.  So long as the activity remains on the inside for now, I'll take the urgent need to pee all day long.  I'm still not ready.   6 weeks and 1 day to go and I am trying to make use of them all.
So.. another photofest is on its way. Not just because I cannot get over how photoshopped my head on my body looks when I am wearing a turtleneck, but since BoB has started his/her decent, the change in my body completely boggles my mind.  In some ways I think I look less pregnant.  In some ways I am shocked that there is actually space between my boobs and my belly.  In a lot of ways, I think I look more like Santa or Jim Carrey in The Grinch with the sagging belly.  Just when I got used to having this mass sticking out in front of me, it decides to change and throw me off all over again.   Just when I get used to this, I may be thrown by BoB being on the outside instead of inside.  Either way, these photos tell me that I need highlights in a bad way!!!  That and I really do like the change pad, even though I swore I'd never buy one.
While I am admitting things…. after I posted the photos of the nursery progress, I realised that I forgot to add the bumpers to the crib!  Now though, we've got the sheet and dust ruffle washed and added and bumpers sort of there.  Though we are having technical difficulties with the aquarium and the bumper and haven't worked that arrangement out properly yet.  Good thing BoB will be chilling in the moses basket for a while.  We have time for my Mom to come and figure things out!
PHOTO TIME!
The crib WITH bumpers: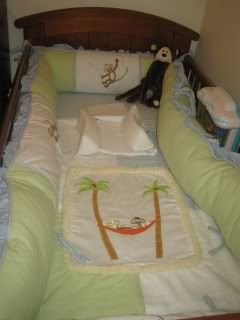 Lee gets down to business building a crib-side table…or monitor holder: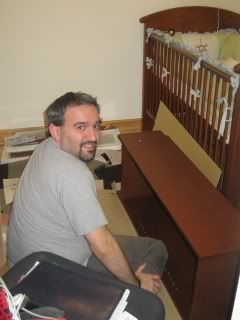 And Tada! The Monitor no longer lives IN the crib!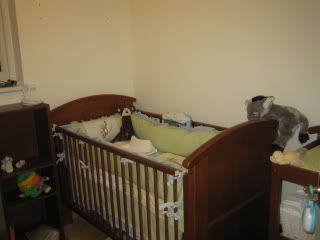 Surprise!  I'm not really pregnant….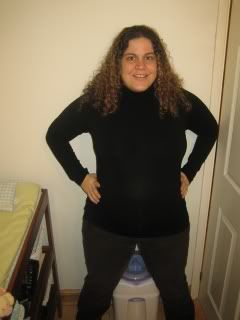 But I swear I felt something moving…
Ahhh, there he (or she) is!
Here is BoB house getting lower…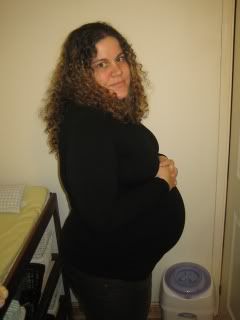 Hrm, perhaps not as small as I thought!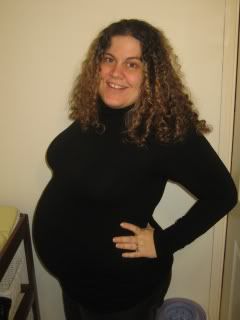 And finally, BoB gets a hug.  Or the closest I can get at the moment!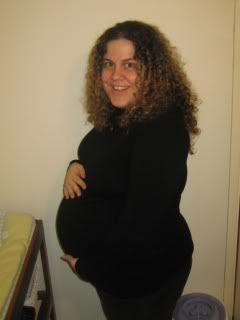 It is so hard to believe that at any time between now and a month and a half from now, I'll be able to give BoB (or whatever his or her name will actually be) a hug in person!!!
I'm torn between pure excitement and sheer terror!