I've been quiet (for me) this past week because I've had a return of the Pre-Baby Blues.  My energy is non-existant and I just cannot be bothered with much.  After staying home from work on Thursday and Friday and spending most of those days crying or angry at the NHS, I decided to try and cheer up for the weekend.  It mostly worked.  Mostly as in, I left the house for non-medical reasons and didn't cry while we were out.  BIG achievement for me as weekend outings seem to be Teary Time and either leave us amused or drained.
We've really got a start on turning the Geek Room into a nursery.  By "we", I mean mostly Lee.  My contribution has been painting the walls – not proper painting but rather testing the colour on different walls.  It is hard going from DARK blue and light blue to Banana Dream #5.  It is quite a difference, but Lee approves and I am sure BoB will.. if he or she is in this house long enough to even notice what colour the walls in his/her room are.  So far it just looks like I've started painting fried eggs with broken yolks on the wall:
It's hard to tell the colour when we've got a naked bulb lighting this room.  Which reminds me: must get lightshade before baby burns their retinas staring at the naked bulb.
I've also had a weekend of realising that I might soon run out of skin for this belly to expand into.  However, I cleverly purchased a ROOTS sweatshirt last year that masks this fact and I LOVE IT!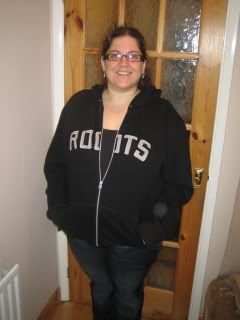 Hooray! I just look flumpy, not massive! Even with it open I can create the illusion of The Disappearing Bump…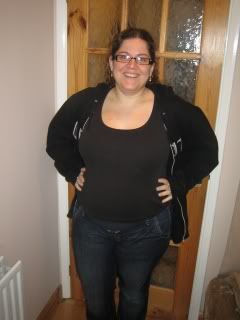 But ditch the hoodie, turn sideways… and I'm back to BLAM! Face Full O' Belly!
It is something I am not dealing well with.  I've always wanted a Mummy Tummy, but now that I have one, I actually wouldn't mind the smaller version.  It's like when I was a younger teenager and everyone else had boobs. I so so so wanted some too, but when I got them I realised I didn't want as much as I got.  But, I guess I shouldn't be looking gift horses in the mouth.  There's a very hyper active reason for this belly and I'll gladly have my body rip and stretch and deal with the crying and painful "bits" in order to accommodate the little Mr. or Miss that is setting up camp.
See look… we're happy…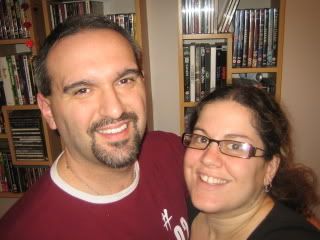 Check out that Roger Ramjet chin I've got going on. Eat your heart out Reese Witherspoon!
Today we went for a tour of The Horton Hospital maternity ward in Banbury.  It was our first viewing of potential Escape From Milton Keynes locations and it was alright.  We only got a brief viewing of the labour ward because they were "busy" and all of the rooms were full.  We then went upstairs and saw the SCBU (English NICU) section where we saw itty bitty bubbas being fed through tubes in their noses and one that wanted so much privacy that they had a blanket over the incubator.  I was jealous.  I wanted an uninterrupted  sleep like that!  There was also a few rooms for the babies that didn't need incubators, but still needed to stay in while their mommies went home.  Hopefully BoB will escape having to be in one of those rooms.   The final part we saw was the actual post birth rooms.  There were some single bedded rooms ..with ensuites… without and 4 bedded bays.  If we end up going there, you know I'm going to fight tooth and nail for the single room.
There were plus sides and down sides.  The pluses were a) the midwives we met were really nice and friendly b) security there is awesome  c) internet is free if you pay £2.90 a day for tv  d) it is not Milton Keynes.  The downside.. and this one nearly made me cry – I asked one of the midwifes if my Mom could stay with me during the "husband + partner" hours because she was coming from so far away…and she said NO.  If I had a pacifier in my mouth at the time, I would have spit it out and stormed off.  Instead I just sulked and walked away.
So we'll see about that.  We still have to tour Bedford in a couple weeks and Lee needs to get the scoop from a guy at work whose wife had a baby there this week.
Oh, another downside to this tour – I saw women with smaller bellies that I just know are due before me.  AND one woman who I figured was due next month or early January…and she is being induced tomorrow at 42 weeks!!!  FORTY-TWO.  Forty Freaking Two weeks of carrying that belly around… and she was not that much bigger than me.
BoB and I need to go on a diet!
These are from today.  I thought I looked smaller until I got home .. Lee took these photos and I realised that I am a house on legs.  No scratch that… I am an entire Apartment Building!
Oh look.. not that big.. you might think: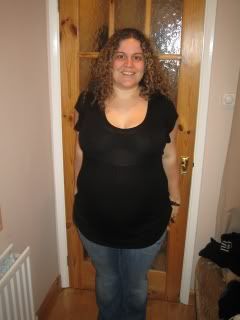 Wrong again!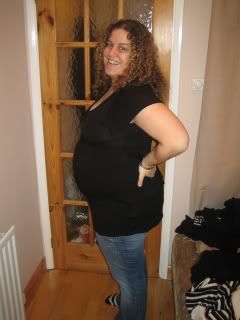 They are going to charge me for concealing extra baggage when  I fly to Toronto next month!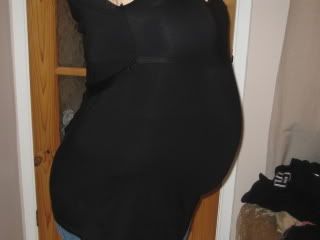 It's like an old man with a beer belly in maternity pants.  I think I might have to give up this thing of weekly photos.  Unless Lee invests a lot of money into a wide lens.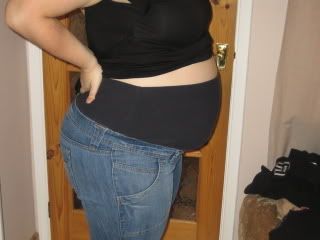 Just be happy that I am covering the thing up and you are not witnessing the attempt at the belly button to pop out since it only seems to be happening on the left side.
Luckily I have my ample butt or else I think I'd be falling forward!
25 weeks and 5 days. That means there are about 14 weeks and 2 days to go yet.  I may yet end up on Jerry Springer in one of those Geraldo-esque episodes where they need to crane lift me out of the house when I go into labour.
Right, it's not even 9pm and I am going to bed.