It's a good thing that I don't get paid to write this thing, huh?  I mean, who disappears for nearly three months without a word.  Well, other than the words I've written on Twitter or Facebook.  Or BBM and texts and emails.  But yeah, barely a word.
Well, if you are moving to a new continent (not new to me… but new to live for Lee and the midgets) and then doing the look for a job, a house and car thing, then you sprinkle a bit of stressing over when the hell your stuff from Point A is going to arrive in Point B … you might slack in other areas too.
Especially if when you arrive you start feeling ill.
For the first weeks we were here, all I basically said was: I'm freezing! Am I getting a cold? Is that an earache coming on? Fuckity Fuck Fuck.. we have no doctor.. I can't be sick!!  Ugh, my stomach hurts.   I need to sleep.  My back. My ovary.  I think I'm going to be sick!!
Then I peed on a stick.  I mean there was no way right?  I mean there is a way.  But chances were super-duper-practically-totally impossible.  Only, less than 2 minutes later I was met with THIS:
YES +?!  + what?!  Plus a new car? Plus more babies?!   A simple YES would have been cool.  Though, to be honest, a NO would have also been most excellent.
So I tried to do the math.  Only one date fit and it still made no sense.  But there wasn't any other possibility.  Unless out of nowhere I've developed a crazy sleepwalking habit where I slang my wares to random strangers in my sleep.  Only I think someone would have noticed.  I HOPE someone would have noticed.
With our shaky history, we didn't want to say much.   Plus we were just about to take on a huge mortgage and having started basically from scratch when we got here, the reality of adding an extra mouth to feed and diaper was and remains TERRIFYING.  And that economic car that we bought with the astronomical insurance because I am 'new' … in the land where I got my license …  it doesn't fit three car seats.
So we kept it pretty quiet.  I didn't even get any medical personnel involved until last week, when I went to my first midwife appointment.  There we discussed the fact that stomach was out of control and I couldn't believe how much it had grown for only 9 weeks.  So I got sent to have a dating scan to make sure that there was only one and that nothing was going crazy up in there.
It's so not like in England.  I had to go to a generic lab where they were doing x-rays and ultrasounds for a variety of things.  They don't have the flat screens for you to watch and they don't tell you what they are doing as they click away on their keyboard right next to you.   Luckily for me I got a chatty technician and after she was done the official stuff, she gave me a look at all the vital parts and I made a comment about that looking more baby like than I thought 10 weeks would be and she came back with …
That baby isn't 10 weeks.  That baby is 14 weeks.
Say what?
How?
Who?
Huh?
I couldn't figure out the math or how on earth that was possible.  I still can't get over how it is.. but it is.
And holy shit! I have a whole less month to prepare.  This is crazy.  I am crazy.  I need time to spread out the crazy.
I sat up like a bolt of lightning. But I got drunk! Like stinking drunk! She said what was done was done and the baby looks fine and healthy.  Guess it's a good thing I didn't decide to start shooting up as my last hurrah before leaving England.
So I walked out of the appointment yesterday on a cloud.  A cloud made of crack.  YAY no twins!  But where'd I lose a month!?  Why the hell am I still SOOOOOOOOOOOOOOOOO nauseous?!!?  Am I going to fit into the seats at the ACC on the 17th of December when my presence is required to cheer on my Canucks when they skate into town?  And what kind of car fits three car seats, that isn't a minivan?!  Does it exist?!
That last one was serious.  Does it exist?!
So here, for all of the Internet to see is the tiny person we've been calling +1.  Though Noah has put in a demand to change his/her name to Hamster.
Hamster Brotherston.
I know. That shot makes the baby look like a Mii. S/he has their Halloween costume already!
This one make me worry about the stomach to butt ratio.
That is one tiny bum! Perhaps this baby will finally inherit the long leg, normal thigh, non-J-Lo butt combo that has escaped the other two!
I guess we'll see in April!
When I was in my Mommy's tummy, I found a really comfy position and stayed in it for a long time. Apparently it was the "wrong" position to be in. Well, excuse me for not wanting to hang upside down for forty weeks! In the end I figured out that if they were going to force me to move, I may as well do it myself so that I could do it on my terms and take my time doing it.
Everyone was relieved when they found out that I had turned around. But not everyone can be happy about everything all of the time and when I was getting checked over by the paediatrician before I was heading home from the hospital, he found out about my rebellious position and said that because I was chilling out like that in the last trimester, that I had to get my hips checked. Couldn't he tell that I was fine the way I was pushing him with my legs?!
Well yesterday the appointment to check me out came around. We all piled into my Mommy's car and drove to Oxford. I didn't get to see the posh old school buildings or eat at Jamie Oliver's 'Jamie's Italian', but I got to take my first bus ride.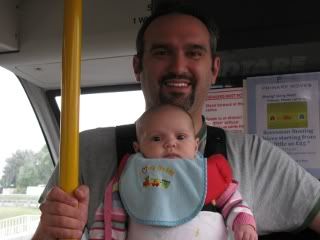 I know I look serious, but it was more that my Mommy kept wanting me to pose for photos when I was trying to look at the world fly by through the window. My big brother on the other hand has done the Oxford bus thing before and just chilled out eating his Fruit Flakes.
We got to the hospital and it wasn't like what I remembered from the couple of times I had to see the midwives in Milton Keynes or like the place where I was born. It was new and shiny and didn't smell of old people or old things. My Daddy and I got a seat and I had a bottle while I checked out what was going on around me.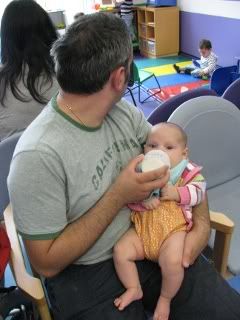 My big brother Noah LOVED it. There were toys and dress up clothes and a see saw and giant Connect Four outside where he kept making my Mommy go. I think he thought we were at a mini Toys R Us or something. He just didn't know what to play with first, or second or last. In fact, my Mommy had to drag him into the room when they finally called my name.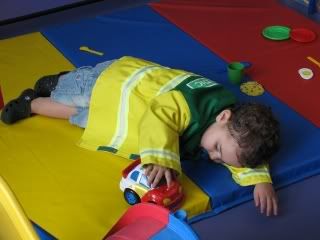 When we got in the room, a lady came in and started talking about "what ifs" and a bunch of stuff my Daddy understood, but that my Mommy didn't and didn't want to. Then they made me take my clothes off. I was quickly starting to dislike this place.
Noah on the other hand loved it because he found something with wheels. That and he didn't have to take his clothes off!!
Then we had to go into another room where the lights were dim and these ladies wanted me to lie down on my back. Obviously they are crazy. And trust me, I let them know what I thought. I screamed that place down while they tried to ultrasound my hips. Once again I was kicking, curling my legs up and uncurling them, and trying to stand when they wanted me to relax. Obviously all being well with me, but no… they had to keep holding me down.
Well it is a shame that my Mommy didn't get photos of the next bit because when they tried to move me from the one "bed" to the other where the next lady wanted to test my joints and strength, I peed all over the one who had been holding me down. Ha! Ha!
I kept crying until my Mommy and my Daddy finally got me dressed and took me out of there back into the light and away from the machines. I fell asleep as soon as my Daddy put me in the Baby Bjorn! After what I'd been through and being told that my hips were perfect – duh – I needed the sleep. And sleep I did.. for the next 2.5 hours!