All About BoB Weekend
Until I sat down to write this, I hadn't realised that we had spent time every day (or night) of this weekend doing "baby stuff".  On Friday night we hit up Toys R Us for a Tommy Tippee Nappy Wrapper (or as Lee prefers to call it, the Poo Sausage Machine) and a Summer Infant Prenatal Heart Listening Device (or as I like to call it Heart Attack with Headphones).
The Poo Sausage Machine still sits in its box where it shall remain until this nursery gets done…or started… or BoB's born – whichever comes first.  However, we were SO excited to listen to the heartbeat.  Something that we… rather I…. had thought would calm me down.  I had been warned not to get one because it can cause a great deal of stress when you get no heartbeat.  That person should be listened to.  I wanted to throw this thing at the wall a couple of times because I knew that there beat a heart somewhere in there, but this thing refused to find it.  Sure we heard hiccups  and a kick here and there, but in my mind it was all gas because feet cannot function without a heart right?!  So just as I was about to take a sledgehammer (had I had one handy) to this crap piece of plastic, Lee decided we would turn it off and he placed his hand on my stomach when low and behold… BoB decided to kick his so hard it was visible.
Just another example of my child already playing mind games with me.  Little does he or she know that I am keeping score here.
We've now put it away somewhere so that I cannot find it, strap it on and convince myself that BoB's escaped or that all of this activity in my expanding belly is just the universe play a mad mad trick on me and it is just the motherload of gas.
I'm better not be turning into Teenwolf for some Cosmic practical joke!
Right.. on to Saturday (we'll skip the bit where we tried for the heart again and I swear we could only hear mine… )! We headed out for the booming metropolis that is Bedford, to visit this baby stuff store that I had found online and that stocks the crib (aka cot-bed) and highchair that we want.  They did have the crib in (though in a box) and it was way cheaper than anywhere else, however she wasn't sure if it was sold to anyone else so they said they'd call me on Monday to let me know. Fair enough.   I then asked about this highchair. I'd seen it online and wanted to see it in person.  She took us up to the store room, past the sign that said Please Do Not Go Upstairs – Staff Only, and there it was… in a box.  There it remained … in a box.
So we left empty handed, and after realising that the people of Bedford are scarier than the one in Milton Keynes, we headed back home.  Taking an alternative Tour of the Crap Estate of the MK on the way.  People are right, they were crap.  I felt like I lived in Laguna Beach by the time we got home.  Perhaps it was the lack of Stella cans on our driveway or the presence of all of our windows.
Today we headed out to The Baby Show in London (right across from our old stomping ground of West Brompton tube station, Mom!).  I was hoping to score a lot of freebies and see what was out there that I had no clue about.  Oh, and see if anyone had that highchair… not in a box.  At first I was overwhelmed. So much to see, so many scam draws to enter, so many bags of useless flyers to collect and SO many big bellied women.
It was weird.  Weird, but worth it.
We found a tiny stall with a cute little stuffed monkey and Che Guevara baby gros which we loved.  We got the monkey – 25% off!  Then we made our way through the larger nursery supply stores looking for the cot-bed and highchair.  It looked like we were going to go home with nothing but a monkey and free nipple soothing cream, until I saw it standing there.  Right by the weird Mork and Mindy egg shaped highchairs, and sat in amongst the $459 strollers… the red leatherette beckoning me.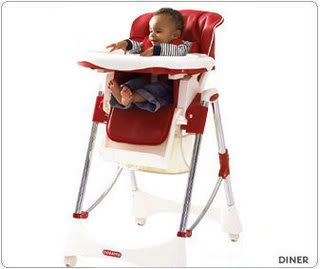 No, that's not BoB.  Just focus on the chair.
So yes, it folds, it has rear wheels (even though the photo has front and back), the tray is big enough for a plate and cup (I am paying attention, Cath!), it folds in half(ish) to store away, the seat is wipeable without many places for the food to disappear, it reclines, the height is adjustable, it has a funky placemat toy thing and most of all I LOVE IT! And even better,  we OWN it! Poor Lee had to lug it all the way back to the car – thanks to the collections place being closed an hour and a half before the event was over, and us not knowing you could drop it off earlier.
I make so many spur of the moment decisions, that when we walked away and I saw the Fisher-Price Healthy Care Highchair, I started to panic.  But when we got closer I hated the material it was made out of and Lee pronounced that he preferred the  one we'd just purchased.  I took the opportunity to exhale and throw away most of the doubt.  Then we walked around and Lee said how much he now disliked the Stokke style highchairs and I felt a little better, and then we went to collect the highchair and some lady said "We have that highchair at home. It is amazing. My little boy LOVES it.  It is worth the price".  Hallelujah! I made a correct decision.  Universe 3429324 – Me 1!!!!!!  Actually Me – 2 (marrying Lee was kind of smart too)
So other than the highchair we picked up a couple of Tommee Tippee bottles on sale along with a baby monitor.  A slow closing toilet seat (okay, you had to know we'd get something not normal) and lots of free samples of laundry detergent, breast pads and two hats that are too big for a newborn, but might come in handy in case we need to protect BoB's baldy head from the bright Milton Keynes sunshine a few months down the line.
We also booked our 4D scan (I was completely against this in the start, but certain events and people have brought me around and convinced me of the good that will come of it) which we got a great discount on.  And we've booked it so that we will be able to show BoB off in Canada when we head over there in December.  They even gave us an extra week in between in case BoB didn't behave the first time – I informed them that there are already some behavioural issues that we are working on.
So all in all a busy weekend, but a productive one.  And… I only cried on the Sunday.  One out of three ain't bad!  Oh wait, I lie, I think I cried on Saturday too. Crap, well Meatloaf still thinks two out of three ain't bad.  Just this once, I'll have to agree with Mr. Meat Loaf.