BoB Humbug
As I've written on my normal blog, I've yet to be consumed by The Christmas Spirit.  I want to be. Desperately, but it just isn't happening.  Perhaps it is the pure exhaustion of being quite pregnant, the fears and worries and stresses that come with the pregnancy, my inability to concentrate on anything for an entire minute added with my fragile mental state.
Yeah, we'll go with the All of the Above choice there.
I've been slacking on the BoB blog due to the physical and mental exhaustion.  We're still taking the photos, and I still think "ooh, I should write about X or Y", but I just lie there like a lump of moss on roof tile.
This week I've passed my Life in the UK test which means should my application be sent in on time and approved, BoB's Mommy will be legally allowed to stay in the country once BoB is born.  It won't be a birthing equivalent to a Dine and Dash where I've got to push push push and then be deported once the cord is snipped.
Hooray for that!   As I feel I may be a little tired when BoB arrives.
As well as I did on the test, I failed my Blood Test last week.  My iron levels have dropped again and I've been put on iron pills.  Luckily I am going away on Wednesday because that will give my midwife enough time to forget her threat that she was going to tell me off if it went lower than the last test.
Though it means I have to have another test next time. That is worse than the side effects of the iron pills, which have seen me up at all hours with stomach cramps.
Over the next couple of weeks the postings may continue to be slow in coming because we are off to Toronto for some of the week ahead and some of the week after.  Then there is Christmas and New Year's Eve.  Then only 3 and a bit weeks of work left before I get to sleep in, if I am not too busy having mini heart attacks at what is about to happen.
I am going to be a mother in just over 10 weeks.  That is if BoB is on time and not early… or late.
So here are some photos to hold you over in case I have a total emotional meltdown not being able to cope with all of the events and stresses ahead!
From Monday: 28weeks 6days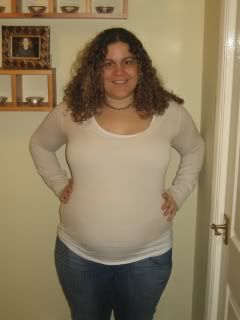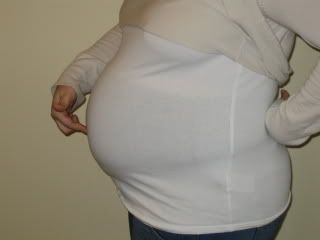 Friday: 29weeks 3days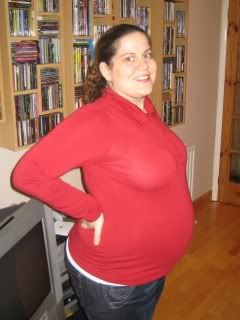 Get in mah bellah!
People say pregnancy suits me.. I think it is because the belly finally balances out the bum!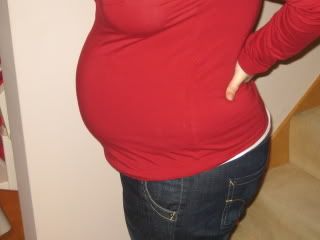 Saturday: 29weeks 4days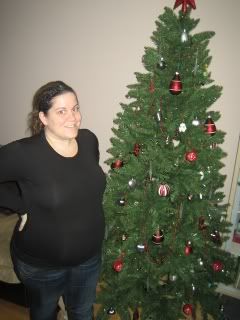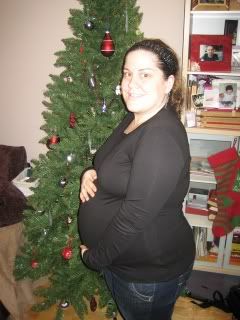 BoB gets a close up of the tree: