It's all gone It's all gone!
Somehow, there are only 52 days left until BoB's estimated date of arrival. Many other prepared parents would be sitting back relaxing on the sofa with their feet up, enjoying their last days of freedom. Lee and I …. are not prepared. Sure, we are getting there slowly. Slowly. Very slowly. By the end of this weekend we may even have the dark and light blue walls of the Room Formerly Known as The Geek Room covered with white paint in order to prepare it for whatever colour is coming next.
Throughout this pregnancy I've felt like we've had all the time in the world, even though time has flown by. On the days where I was constantly on the verge of vomiting, it didn't really feel like time was moving at all, but then I'd wake up the next day and realise there was one less day for us to get things done in.
One thing we have accomplished, is that we've packed BoB's bag for the hospital. So should this Womb Raver make an early entrance, he or she will have diapers and clothes at the ready. My hospital bag… umm, not quite there. I could be using this time now to do it, but instead I am sat here with earphones on, hooked up to the Crappy Listening Device I suckered us into buying all those months ago and Lee is building the "dresser" (more like below waist level shelves) in BoB's room so we can have a better image of the colour of the wood as we cannot find anything that matches it and need to see what other colours go.
Do not get me wrong, it is not like we've just been lounging about. BoB most definitely has not. In the past few weeks he or she has really picked up the pace on the movement. Sometimes when it is least desired by his or her extremely exhausted mommy-to-be, and always at the utmost amusement of his or her daddy-to-be. The Almost 3 Brotherstons of Milton Keynes (only Temporarily we hope!!! Bring on anywhere else that isn't here!) have actually been across the pond and celebrated "Christmas" with my family, endured a snowstorm and my aunts threw me a baby shower. Then we came back here, returned to work for a few days and celebrated Christmas with Lee's family, returned to work for a couple of days (at least attempted to before my episode yesterday) and now we're exhausted with a million things left to do.
Being 30 weeks pregnant on a plane was somewhat worrying as I was dreading having to ask for a seatbelt extension or simply fitting in the seat.  Luckily BoB hasn't made me grow sideways and rested comfortably above the seatbelt, so all fears there were for nought.  I had been told that my sister-in-law had just flown to Toronto, slightly less pregnant (a whole 19 days), and found it uncomfortable so I was worried about that too.  However, BoB was a born traveller.  I guess already having been tossed about on planes to Toronto, San Francisco, Las Vegas and back in the early days let him/her know what sort of thing they'd be putting up with by taking residence in my tummy.  The only thing BoB decided to do was to make my belly lopsided bycurling up on my right side which seems to be his/her preferred place.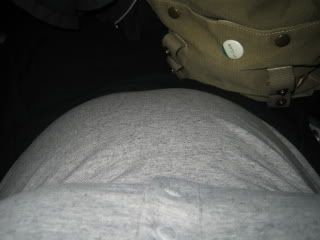 …We interrupt this programme for an important news update…
Lee's just completed the "dresser" and it is a nicer colour than I remember and matches the Banana Dream colour we'd thought of going with. It is so so so confusing. Cream or Banana Dream? They both go and now we are confused. Happy, but confused!!! Where is Martha Stewart…. or my mother… when we need her? Oh yeah, my mother is somewhere in a plane over the Caribbean Sea at the moment *grumble grumble*
Back to your Original Programming.
So, as this has become a lot longer than planned, we'll do a mini round up in photos.
December 12th we arrived in Toronto to see snow on the ground (YAY!!!!!!!)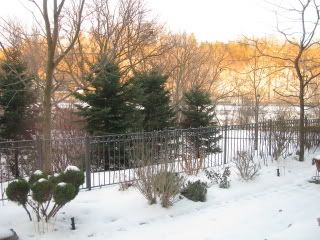 Even the excitement of the fluffy white stuff couldn't distract me from what I really wanted though…
WINGS!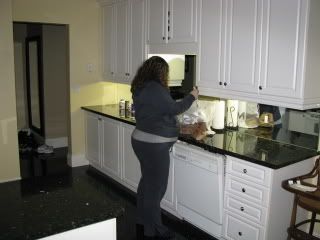 The next day Lee, my Mom and I braved the snow for some last minute shopping.  My jacket couldn't do up, but who needs a jacket when you've swallowed a personal heater!?
(p.s: my hair didn't look that good after trudging across the parking lots of Woodbridge in the snow)
The next day saw Lee off to work at Oceanfresh and my Mom and I off pyjama shopping and eating West Indian food in the car like the true Ghetto Queens that we are.   When we set off for the day, my mom forgot to inform me that Lee was wearing the same top as I was.  This was the SECOND time we've been caught matching unaware.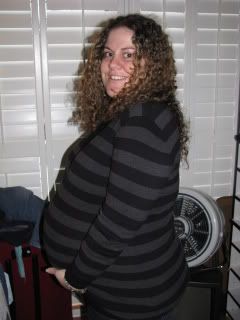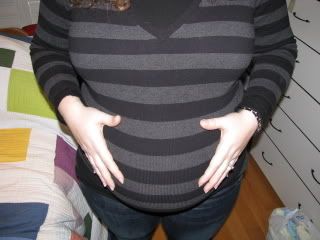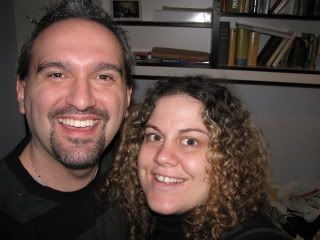 On the 15th of December it was time for the Barlekushnaphan Christmas.  This involves food, drink, six children 8 and under, a party room, presents and tears.  Though this year being Lee's first was actually tame. No food or drink was thrown, no one wet their pants (regardless of age), no major adult tantrums were thrown and no one dropped the gloves when it came time to the adult gift exchange.  It was like everyone behaved for Lee.  Where was he our whole life?!
It was smiles all around that day.  At least once the party started.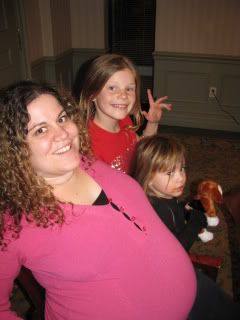 Perhaps too smiley on some occassions…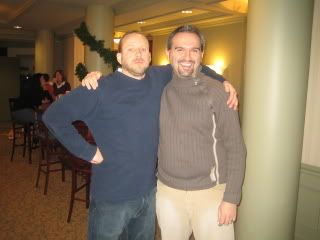 The following day was my baby shower than my aunts held for me.  Like every other big occassion in my life, Mother Nature was royally pissed that she hadn't received an invite and decided to chuck the snow down.  It was the highest one day snowfall in 60 years, but that wasn't keeping my mom, BoB and I away from Pickering. No Siree!! We got ready early and made our way slowly but safely.  The only times it got really scary were on the way there when I kept thinking I had to go to the washroom and there was no where to go.  But I held it in like a big girl and we made it.   What an effort they went to as well!! I had been nervous because Cath kept telling me that it was going to be the gayest shower ever, but Sue and Cath could not have held a more perfect shower for me.  There was jerk chicken, macaroni pie, rice and peas, cake, presents and lots of laughter.  I am not sure how I will ever be able to let them know how grateful I was for the day!  It may not have been the turn out that they were expecting, but I had a GREAT time!  As did Luke when he returned and found his new love Pennie sat in his living room.
I have no photos of the shower (my Mom has those I think), but here is me getting ready to go.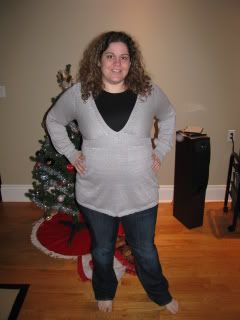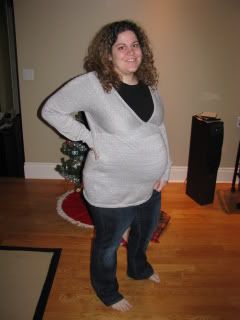 The next day everyone was relaxed.  Cath came by with the boys for one last pre-BoB visit and the afternoon saw Lee back working at Oceanfresh and then a chilled dinner with the parents and back home to pack.
This is how chilled the day was…just take a look at Adam lounging: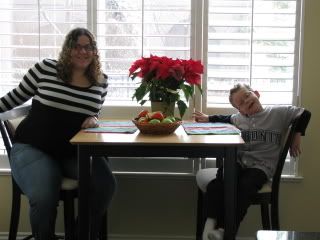 The trip came and went in a flash, but it was the taste of home I'd been needing for a while and should keep me going until my mommy arrives (hopefully) in time for BoB's arrival!
Since we've been back Christmas has come and gone.  We had a nice quiet Christmas in front of the Wii with Lee's family.  We've found out that Russell had a heavier brain than the rest of us, but I shall keep working on it.  It might actually help me regain all of the brain cells I've lost over the past 32.5 weeks.
One thing has remained.  My inability to stay in one outfit as demonstrated on Christmas Day….
The Morning: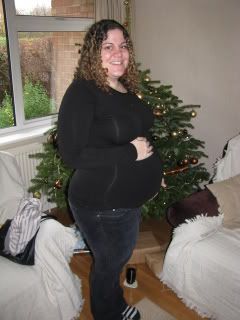 The Afternoon: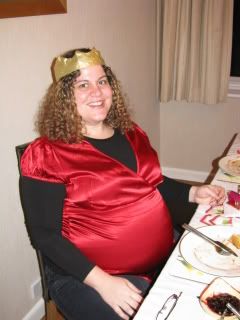 The night:
So there we have it.  A quick  long drawn out bring-you-back-up-to-speed update on how things are going in the life of Kirsty, Lee and BoB.
I think I need a nap now.  And then I will really start working on the nursery.  I swear.  Really.  Well, probably.