There is light at the end of the tunnel…
or at least a bright glow in the nursery.  The only downside is that the upstairs of the house smells like paint, though that may be what aided our sleep last night.
The Before:
Yes, I know that any talent that can produce art like that should be displayed somewhere open to the public for mass consumption, but I am a bit shy about my paintbrush skills!
The During: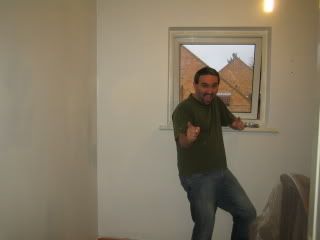 Lee takes the task seriously as always.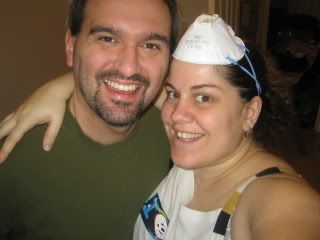 No SARS here!
The After (at least until we get another colour up there):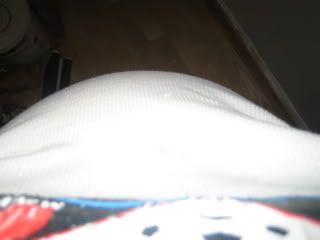 BoB has a nose around the "new" room.
He cannot believe that it is all over!  But I could. I was absolutely shattered and I've discovered that although BoB is quiet when I am active, the slowing down of any activity leads to his/her consumption of whatever adrenaline I had remaining and the Womb Raving begins.  I won't be shocked if this kid comes out with a toned body from all of the dancing he/she is doing in there!
After the painting we settled into our pyjamas and got on the sofa for The Big Fat Quiz of the Year, during which I believe BoB had a growth spurt.  At least that is what I am telling myself after seeing the latest photos.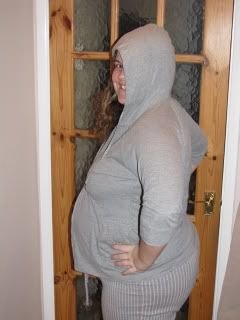 My Mom was right once again… I am only going to get bigger before the end.  Hopefully it will slow down with 7 weeks and 1 day left.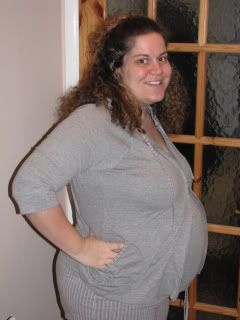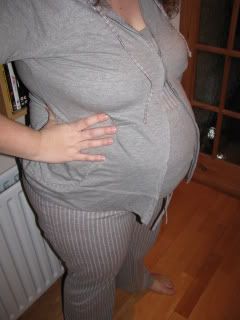 My belly button even seems to be making a last ditch effort at becoming an outtie.  Lee even saw the bottom of it for the first time yesterday.  However, this morning it has returned to "normal".  That's normal for you… not me and my much loved cavernous tummy button.
And on that note, I need to get ready for work. Yay Me. 🙁