Sometimes I wish my Mom could be wrong about things
My Mom always tells me that I may take the bumpiest or most indirect route to get where I am going, but that I always get there in the end.   Most of the time I try and keep that in mind when things start going astray and I am always careful not to be too optimistic when things start going well.
Okay, not always, but most of the time.
This time isn't one of them.
I was SO proud of the fact that my couple of hours in the hospital had kicked our asses into gear and that we were making headway on the nursery.  Okay, so the dresser we want is out of stock. No biggie.. we either wait or order a different one.  That bump in the road I had actually anticipated.   Having dashed our plans of a night at a Malmaison hotel (we love them!) and a lovely dinner somewhere after realising that we can barely fit into a bed other than our massive one, my inability to do long car journeys well, we were both working New Year's Eve and then my hospital trip, we had settled on the idea of staying in and eating ourselves silly… with bouts of finishing off the nursery.  At least the white paint part until we settle and buy the other colour(s).
As we prepared to get things underway, Lee decided to blurt out "I am going for a wee and then I will give you the bad news!".  Typical man.  After gentle prodding he explained that where some of the paint had started to peel off of the wall before, he noticed there was a little more looking like it wanted to peel.  So I went to take care of it…and in less than half an hour the beautifully white wall looked like this: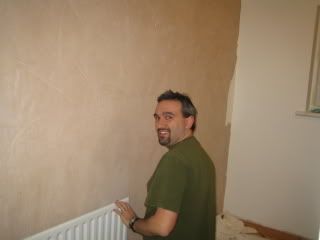 That little patch of white on the right side of the wall… that is what peeled off last night that we'd already painted over.
So once again my mother was right.  I swear one day I will listen to everything she says.  For now though, I am going to drown my sorrows in mini beef wellingtons, prawn wontons, mini melting chocolate cakes, lemon cheesecake, vol au vents and some good old Canadian Dry.
Happy New Year!!
Let's hope yours is slightly less labouring.