BoB the Bilinguist
Today we made our third IKEA outing in a week.  I'm starting to think that hearing us say all of the product names may turn BoB into a bilingual baby.  Infant Swedish is a hot thing these days.  BoB actually seems to like IKEA because he (or she) starts to wriggle every time we are there.  Not the mad baby in a mosh pit movements I get when I am trying to fall asleep, but nice little wriggles that seem to say "it's nice here".  Either that or he or (she) knows the smell of IKEA means soft serve ice cream cones!  And who wouldn't get excited about 35 p cones of dairy goodness?! (or 65p if you opt for a sugar cone).  I know I do.  In fact I almost wish that I measured the window wrong again and we had to go back to IKEA tomorrow to exchange them.   I'll have to think of something else.  The "this rug is small, maybe we should buy a second one" excuse didn't go over too well, and even though the lamp shade doesn't fit snuggly, apparently the bit we need to correct that is found at Homebase, which is a good store too, but it doesn't have soft serve ice cream.
We've continued work on the nursery (my bum pain went away) and changed the door from left opening to right opening, only to realise that the light switch is on the left side of the door.  Now I've got to figure a way to work around that. BoB might be able to handle the dark, but I'm not certain that I won't wipe out as I try and tip toe into a pitch black room.  We'll think of something whether we put in a nightlight for me or try and fix a lamp somewhere in there that is easier to get to.  In the meantime we'll be hanging up the blind and curtains, ordering the glider and then just chilling out awaiting BoB's arrival (at least in regards to the nursery. I still have the same million other things to do!).
Speaking of BoB's arrival, I am debating on whether I think this baby is coming early or late.  Deep inside I still think late, but I've been trying to convince myself that BoB will be early so when I am caught off guard I am semi-prepared.  If that doesn't make sense to you, it's alright… a lot of what I think would only make sense to me and a goldfish.   Right now Lee is guessing early – a girl – and bang on 8lbs.  I'm still going with boy even though Nicole Richie has thrown my by having a girl, and I am still going with at least 9lbs.  Three people at work are convinced I am housing a 6lb baby.  Does this look like the house of a 6 lb baby!?
BoB's house at 34weeks 4 days:
(please mind the ashy elbows)
The Huckabee (or right) wing of the house…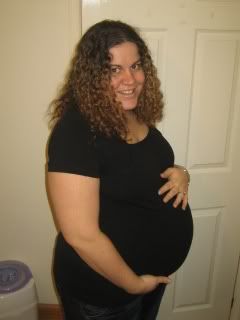 A close-up look at the Hillary (or left) Wing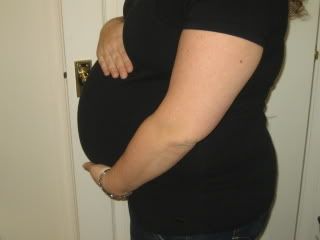 And finally the Alanis One Hand In The Pocket Wing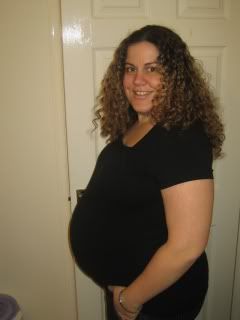 There's got to be more than 6 pounds of BoB in there!