D.I.Y S.U.C.K.S
After a massive effort this weekend, the nursery is almost complete.  The only things left to do are hang the frames and a shelf and get the glider.  Other than that, it is ready for BoB to move on in.
It has not been easy, and I take my hat off to Lee for persevering as this weekend has thrown as many curveballs as it could at us (more specifically..at Lee).
In order to change the door of the nursery from left opening to right opening, Lee had to chisel, plane, sand and refrain from kicking the door.  It would appear that like most things in our house, the previous owner did a quick and easy job to try and make things look okay.  I guess I cannot blame him for the sloping floors, but I will anyway.  The door took a long time, drained a lot of patience and is finally closing the way we want it to. Yay Lee!   I did undo a few screws, use the cheese grater thing a bit and try my hand at the chisel, but when it comes down to it… it was Lee!
Here he is hard at work on the pesky door!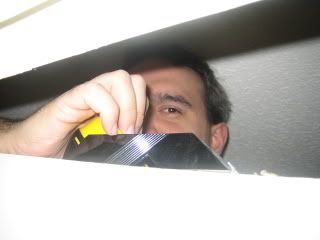 The door was not the only accomplishment.  BoB's light is no longer a naked bulb as Lee fitted the lampshade adaptors and the economically priced lampshade is on and looking good.  It's actually white despite what it looks like in the photo that will be posted below!  (edit: Lee's just called me in to see the New Improved BoB's Room and I took the opportunity to take a photo of the lampshade looking white)
And the barenaked window is now home to blinds, a curtain rail and a curtain.  We were going to to with two curtains, but the blinds block out a lot of light and the one curtain covers the entire window when you pull it across.    I've kept the other one in case we change our minds, but at the moment we are LOVING BoB's room, so I might just have one extra curtain for no reason at all.
Once again, 95% of the work was completed by Lee.  I project managed by saying how high to put the curtain rail, how much of the pole to cut off and I even hemmed the curtain which was 1.2 metres longer to start with.  Alright alright, I cheated and used the melty plastic insta-hem thing that came with it, but it involved using an iron which anyone that knows me well will be aware that I am not well versed in doing.  That was the first time this year that I actually used an iron… equalling the amount of times I used it all of last year!
So now, we are going to take a well deserved rest and this evening I shall rope Lee in to helping me pack my hospital bag and repack BoB's hospital bag. Â  I've already completed my birth plan, complete with side comments like I'd make in person and now we just have to get the rest of the house ready, get my legs waxed and await the arrival!
It's getting close and I am getting excited.  Scared senseless, but even more excited.
Time to plant my backside on the sofa. Or on the floor near it as not to anger my right bum cheek any further!
The New and Improved And Almost Finished Nursery  ….
Check out how well the blinds match the crib! Yay IKEA!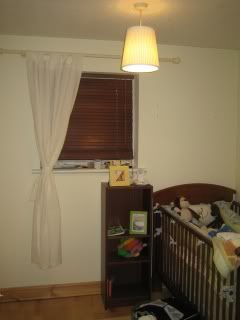 See, it really is white…
The other direction, with BoB's fancy laundry basket (Homebase – for all of your wicker basket needs!)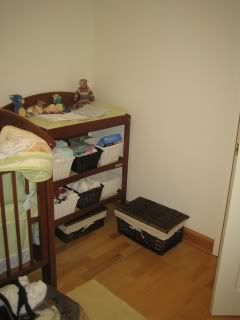 And one tired and relieved Daddy to Be, ready for a nap on the sofa!