It's all in the belly!
This week has been, so far, the most trying week of this journey to BoBdom.
I've barely been sick, though there was a brief return of The Vomits and a lot of nausea, but the stress levels have been through the roof thanks to incompetent medical professionals that I've had the misfortune of being around.
On Monday we had the Your Baby Is Too Big panic from the consultant, Tuesday was Immigration stress that came and went and Wednesday we got a final pre-in person peek at BoB to check how big this baby actually is.  At the scan the lady was really nice and showed us BoB from head to toe, missing out the "surprise" bits below.  It was established that BoB is a Fatty.  At the time we were not sure what that meant.  She wouldn't tell us much more than "that is a Reasonably Large baby.. not something that causes medical concerns, but jut large" and "I wouldn't waste too much money on Newborn size clothes, go straight for 0-3 months".  She said that the midwife would explain more when we saw her that afternoon.
Only my midwife wasn't there was she.  No, she decided to take a study day and I was left seeing the midwife that had sealed the no Milton Keynes deal the last time she stood in for our midwife.   This time around she was just as crappy.  Didn't pay attention to the notes on the screen or in the book, told us things we did not ask about and didn't answer what we did.  Made her mind up about the baby's size without measuring me or looking at the scan results.  Even when she did, nothing was going to change her mind.  So I left there raging.
Knowing we were going to the hospital yesterday left us with some hope though.  I mean someone has to know what is going on right!?
So we headed off to Banbury to meet the midwife at The Horton.  Because we bring luck wherever we go, the original midwife who was meant to see us had hurt her back and couldn't be there. BUT, at least she sent her apologies and a super nice midwife in her place.  We spent over an hour with the midwife and a student.  They went over the birth plan with us, pointing out what didn't make sense or suggesting to add things that might help and even put a copy in my hospital notes.  We were given a private tour of the labour ward and the maternity ward, I was finally weighed, we listened to BoB and went over the ultrasound results.  She confirmed that BoB appears to have a nice pot-belly but that it was nothing to worry about. In fact she made us feel like we were lucky to be having a fatty and said that it is better than a skinny baby and because BoB's head is dead on average size, it shouldn't cause any troubles or any worries.
We left there walking on air. I am SO happy that BoB will be coming into the world surrounded by people that actually want to make sure that the birthing experience is as least traumatic as possible for the parents and baby.
One of the things that made me happiest was that I've only put on 22lbs.  That may be a lot for some women in pregnancy, but considering my tiny mother put on double that with the boys (I'm not sure about with me) and that I am naturally a fatty like BoB, I am over the moon!  Though I think it was the slimming black shirt and lightweight Crocs!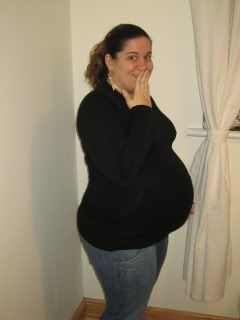 It's getting lower… and lower… thank goodness for maternity jeans with their belly support!
BoB's 36w2d Close Up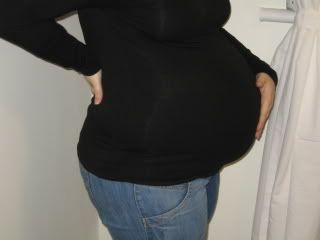 MY FAVOURITE – From Behind!!
There's hope for my celebrity like transformation to pre-pregnancy size yet!  So long as everyone looks at me from behind!