The Last Date
Lee and I never really had a first date.  Not a "proper" out for dinner kind of get-to-know-each-other date.  Mind you, have we ever done anything in the normal way?  No.
But Lee pointed out this week that whether BoB arrives early or not, this was our last full weekend alone as a couple as next weekend he'd either be a father, or living with his Mother in Law.  I'd never even thought of it like that.  To be honest, a little panic set in because although I am aware that BoB is not staying inside forever, and I know that the due date is…well, 10 days away now… I keep telling myself we've got LOADS of time.   Apparently not.
So last night we decided to have Date Night.  We went to dinner (the 4th restaurant we tried as everywhere was packed) and then to the movies.   As the ultimate Last Weekend Alone Movie, we saw Juno; a film about a 16 year old girl who gets pregnant.
Now we had a great time all night and laughed a lot and I cried a little (at the movie), but one thing was for certain, there was no way that BoB was letting his or her presence go unknown.  During dinner it started out like a West End Show with some high octane dancing going on, and then Braxton Hicks kicked in.  Not ones I couldn't handle, just ones that made me look awkward every now and then as I tried to mask the Wincing-In-Pain-Face with the Mmm-This-Tastes-Nice-Face.
We went up to the movie and at first all was well.  It was pretty empty and we were comfortable with our space. I knew if I needed to make a toilet break I could escape quickly so I could sit back and relax.  And then… and then the people came.  I have no idea where from, but with 5 minutes before the movie starting the theatre became packed. I had to take my feet off of the arm rest in front of me  (which proved a harmful move as my feet started to swell as I sat there…to the point where I felt like I was wearing the wrong feet.  Luckily I had changed my shoes just before we got into the car) and my speedy escape would now have to be a long drawn out Sorry – Excuse Me – Pardon Me stumble over popcorn and feet.
That's okay, I would just sit back and watch the movie.  And for the first 15 minutes, that is what I did.  Then, BoB decided he or she wasn't getting all of the attention and on came the Braxton Hicks.  The most painful and uncomfortable ones I've had so far.  I tried to tell myself to calm down and just focus on the movie, that I didn't want to look like a fool as I stumbled out of the theatre being by far the most pregnant woman in there as this 20 foot 16 year old we were watching seemed to be doing a lot better with her pregnancy than I was.  So I shifted back and forth and up and down in my seat trying to find a position that would lessen the pain and allow my uterus to chill out a bit.
Of course, between squeezings of his or her house around their chubby belly, BoB wanted to dance!   At one point in the movie someone talks to the belly to see if they can feel movement, well I think BoB thought that they were talking to him/her because he/she was going crazy trying to respond.  It provided a brief moment of relief and humour to my suffering.
I kept wanting to run out, but I just knew this couldn't be the real thing.  I couldn't be going into labour whilst watching Juno.  Okay, if anyone was going to do it, it would be me, but karma wouldn't let me suffer an embarrassing fate like that right?
Once the movie was over, Lee helped me waddle to the car, sat patiently whilst I suffered through another contraction and then urged me to check my phone as I was at that point convinced that I must have been going through sympathy labour for Sally.  But there were no messages, so we went on home where Lee ran a warm bath for me and BoB and I tried to figure out a way to actually make it through proper labour when the time comes.   I've still not managed to work anything out there.   I just keep telling myself that in actual labour the contractions will actually be doing something and not just practising.  Yeah yeah, practise makes perfect, but I'm tired of the practising.  Let's either get the real deal under way or allow me to enjoy my last few days (or weeks) of this pregnancy.  PLEASE.
So, as you can tell by the fact that I am writing this, I lived through the night.   I sit here typing in mild discomfort rather than the crazy pain I was in last night.  We're still trying to keep BoB in until my Mom arrives, and I'm sure this child isn't going to come easily even then, so I will wince, whimper, moan and cry in frustration until she arrives to whip me into shape and continue to be grateful for having Lee here with me.  His excitement to meet BoB allows for extra patience during my suffering, which is coming in really handy.  Plus he tells me little tidbits about babies in their first days/weeks of life whilst I try and deal with things which takes my mind away from the pain if even for a moment.
Our Date Night might be over,  and it was a really good night, all in all, but what I've learnt from it is that we don't actually need proper dates, because we just really enjoy being around each other whether we are in the kitchen folding laundry, trying to fall asleep at night, just driving in the car or sitting in silence reading magazines or on the computer.  And that, that means so much more than dinner and a movie.  That, is what is going to help get us through the changes to our life that are just around the corner.  And for that, I am grateful.
Now to de-cheese.  Here are some photos taken last night.  Please note that my maternity sweater can barely reach the bottom of my belly now.  There is some serious stretching going on, so BoB better not grow too much more!!
38w3 days in….and they say J-Lo is huge?!  Look again!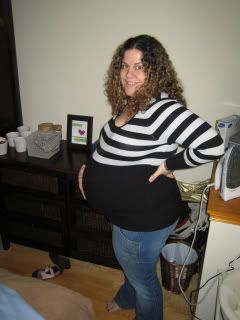 My sweater blends in with the dark wood of the dresser, so look carefully at where my thumb pokes out to see the true measure of this belly!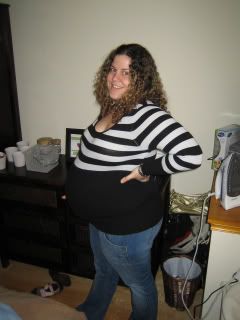 After seeing the behind shots of me lately, I've contemplated walking backward for the rest of this pregnancy!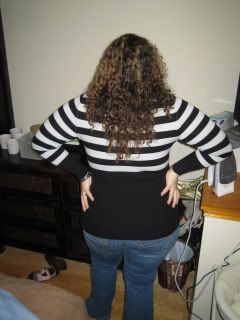 My detachable bump, or so it seems:
A close up of BoB in his/her house: